From working remotely and taking business calls to relying on your smartphone for your to-do list, it can be hard to imagine a day when you can truly enjoy your surroundings without glancing at your phone every few minutes. This season, consider hitting the reset button and taking a break from technology to explore the world, experience new cultures and enjoy a well-deserved vacation.
Whether you're a solo traveler or want to enjoy a digital detox with your significant other, you can make lasting memories and recharge in some of the most beautiful places on Earth. If you're not sure where to start when it comes to your trip, here are some off-the-grid vacation ideas to help you put down your device and soak up all the world has to offer.
In This Article
13 Destinations for an Unplugged Vacation
The first step to embracing a break from technology is choosing where you want to travel. Here are 13 unplugged vacation ideas:
1. Alaska
When you think of an unplugged vacation, do you picture stunning glaciers and roaming wildlife? Alaska is one of the most popular cruise destinations for a reason. Known as the Last Frontier, this state has plenty to offer with its national parks, whale-watching opportunities and unique port excursions.
If you want to enjoy snow-capped lands and charming and free-spirited towns, an Alaskan cruise can be just what you need. Nature and wildlife lovers will certainly get their fill, from spotting grizzly bears and bald eagles to experiencing the strong Alaskan culture and a real-life screen saver right before your eyes. A trip to Alaska will be as relaxing as it is thrilling. It's the perfect destination if you want to escape the hustle and bustle of everyday life and immerse yourself in a natural habitat while dining on delicious Alaskan dishes.

2. Australia
If you love wildlife and nature but want to go to a place where you can have a little more fun in the sun, then a cruise to Australia is perfect for you and your loved ones. From stunning beaches to safaris to lush rainforests and the largest reef system in the world, Australia is the place to be if you want to explore what nature has to offer while coming back home feeling refreshed. Of course, you can't visit Australia without snorkeling in the crystal clear waters or visiting a koala sanctuary.
In addition to the wildlife and water activities, you can also enjoy scenic views in popular cities like Sydney and Melbourne, where you'll find the famous Sydney Opera House, botanical gardens and museums that showcase the country's history and culture. You may even want to enjoy some of the fresh local coconuts and seafood.
3. Iceland
Explore all the Arctic has to offer with a trip to Iceland. With islands, geysers, ice caves and volcanoes, there are more than enough opportunities to get lost in Iceland and unplug from the day-to-day responsibilities at home. If you want to explore one of the most dramatic and diverse island nations on Earth, Iceland may be the destination of your choice.
One of the most popular cruise attractions is the Blue Lagoon, where you can bathe in milky turquoise waters and feel the relaxing and rejuvenating effects of soaking the water all day. Or, perhaps, you'd like to explore the quaint, scenic towns with cascading waterfalls or journey into the Langjokull Glacier to be illuminated by the ice formations deep in its tunnel.
4. Italy
If you dream of taking a scenic cruise on Lake Como or strolling down the street in Rome, an Italian cruise can immerse you in the history and culture of this beautiful European country. You and your significant other can try delicious authentic Sicilian pizza, take in the views of the Amalfi Coast or experience unforgettable moments in the Sistine Chapel or the Vatican.
Italy offers the perfect balance of rich history combined with glamour and charm, ensuring you make the most of your trip. If you're interested in seeing more landscape views outside of the towns and cities, you can even enjoy Italy's stunning beaches, coastline excursions or even get a taste of genuine Italian wines at the local vineyards.
5. Scotland
Have you ever wanted to explore an old Scottish castle or lose yourself in the vast and historical Scottish Highlands? With a Northern Europe cruise, you can immerse yourself in quaint stone villages, learn about the mythical history and even sip a dram of malt with the Earl of Cromarty as you tour Castle Leod.
In the Scottish Highlands, you'll certainly feel no need to look at your smartphone when you're in search of the Loch Ness monster or simply taking in the ruins or dramatic landscapes that stretch as far as the eye can see.
You and your group may even spot some wild deer, cows and sheep roaming the mountains near deep valleys and waterfalls. You can also visit the historic city of Edinburgh and walk the Royal Mile, filled with shops, eateries, distilleries and activities that fully bring you into the Scottish culture.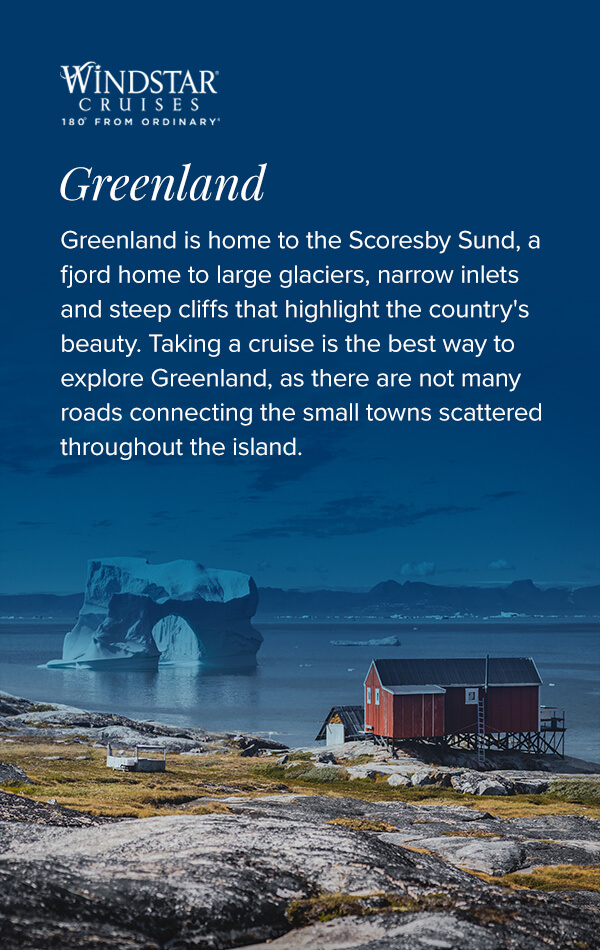 6. Greenland
Greenland is home to the Scoresby Sund, a fjord home to large glaciers, narrow inlets and steep cliffs that highlight the country's beauty. Taking a cruise is the best way to explore Greenland, as there are not many roads connecting the small towns scattered throughout the island.
Sailing around this country lets you bask in the unique wildlife, such as bearded seals, arctic birds, grazing muskoxen and humpback whales. At night, you may even get to see the northern lights dancing across the night sky for a mystical experience during the months of September and April.
You can also learn about the country's local Inuit culture or take in the view of the brightly painted homes in the fishing villages along the coast. No matter where you're docked in Greenland, there are endless opportunities for unplugging from your phone and losing yourself in the vast and remote stretches of nature.
7. Norway
Journey across the Norwegian Sea with stunning waterfalls, colorful piers and dramatic scenery with a cruise to Norway. Be sure to step out on your balcony as you sail across fjords. Once you dock, you can sample local cheeses and cuisine from the goat and fishing villages as you absorb the beauty around you. A day trip to the small village of Olden will have you feeling like you're in a storybook with its unique design and many activities for outdoor lovers.
You can even get your hands on some Olden Mineral Water, which is the closest you will get to tasting the cool, crisp waters of the glaciers on tap. In addition to the breathtaking views, you and your group can also take a ride on the famous Flam Railway and journey up the mountains to see the magnificent views from above.
8. Amsterdam
If you're looking for a fairytale getaway, picture yourself in the Netherlands' capital on a cruise to Amsterdam. This city is known as the Venice of the North due to its elaborate canal system and artistic character. With thousands of historic buildings and beautiful bicycle paths, you can instantly immerse yourself in the culture of Amsterdam and feel like a local.
You can explore this city within a short time during your cruise as most of the sightseeing attractions and educational experiences are located close together, such as the Anne Frank House, the Red Light District and the Royal Palace. Of course, you can't get back on the ship without stopping at one of the local tulip stands or getting a glimpse of the Tulip Festival during the spring.
9. Puerto Rico
San Juan, Puerto Rico, is one of the most popular cruise destinations in the Caribbean for its exquisite ocean views and resort strip that features casinos, bars and nightclubs. If you're looking for a getaway that includes some fun in the sun, taking a cruise to Puerto Rico should be on your list. You and your significant other can stroll down the Atlantic coast sipping frozen cocktails and basking in the warm weather or enjoy the history of the Spanish colonial buildings and cobblestone streets.
You'll also have plenty of time for an excursion around the El Morro National Monument, a citadel that features beautiful hiking trails and sandstone cliffs. Don't leave without exploring the gorgeous blue waters and snorkeling among the secluded coves or hiking in the national rainforest.
10. Canada
Surround yourself with French and Canadian history as you explore various cities in Canada along the coast on a cruise that lets you indulge in unique cuisine and historical attractions. There is so much to see when you dock, such as colorful lighthouses and fishing harbors, mountain views and beautiful water and wildlife excursions.
Canada has so much to offer, whether you're traveling on your own or taking a few friends with you. In the course of a day, you might be able to tour a historic garrison, browse hip farmers' markets and take in the smell of fresh French pastries baking as you walk along streets filled with rich colonial history.
Quebec City is particularly magical for those who want to escape to a sleepy village and walk down the Petit Champlain, the oldest street in North America. A cruise to Canada offers a taste of French culture and customs that meets everyone's needs, from hiking old weatherworn stone forts to enjoying the many boutiques, artists, shows, cafés and restaurants around town.

11. Greece
There's nothing like seeing the Acropolis at sunset while enjoying cocktails by candlelight near the warm waters. This is the type of unplugged vacation you can expect when you take a cruise to Greece. For a truly incomparable experience, take a trip to the land of the gods and lose yourself in the mouthwatering foods and refreshing beverages as your eyes take in the medieval ruins, breathtaking beaches and a moonlit evening in the Celsus Library in Ephesus to dine under the stars.
You can make your dream vacation a reality by exploring both the attractions on the coast and the charming old towns scattered inland across the country. Wander into historic churches, ruins and Mediterranean castles under a cerulean sky.
Or, take a dip in the waters of Greece's thermal springs and enjoy a refreshing Greek lunch before your relaxing, scenic ride around its volcanic islands. Greece's unique island culture has so much to offer, especially for those looking to escape a hectic daily life and absorb the treasures of the Greek Isles.
12. Tahiti
Do you dream of drinking a tropical cocktail on the beach and spending all day floating in clear, warm waters? If so, Tahiti is the place for you. Taking a cruise to Tahiti is perfect if you want a combination of natural landscapes, wildlife, adventure and tranquility. While there are plenty of opportunities to explore waterfalls, gardens and lagoons, you can also enjoy the nightlife, shopping and local island crafts during your visit.
Once you dock in Tahiti, you're sure to be overwhelmed by the sight of black-sand beaches, volcanoes and palm trees lining the inviting beaches. You can also sink your feet into the island's pearly white sand beaches to instantly feel a sense of calm as the rest of the world fades away.
13. Japan
Traveling to any country in Asia is sure to help you escape from the stress and responsibilities you have to deal with at home, but Japan, specifically, has everything you need for a truly unplugged vacation. From bustling cities filled with culture and mouthwatering cuisine to remote, tropical regions that let you get close to unique wildlife, taking a cruise to Japan will be a blissful experience for everyone in your group.
The historic subtropical island of Okinawa has distinct culture transformed from foreign influences and feels like another world compared to the rest of Japan, with unique music, food and traditions. Once you dock in Japan, you can wander around the many gardens, find paper cranes fluttering over your head or take a relaxing dip in a heated sand bath. During the spring months, you can also catch the beautiful Cherry Blossoms in all their glory, perfect for photo ops and getting to immerse yourself in a truly tranquil experience.

Enjoy an Unplugged Trip With Windstar Cruises
No matter where you choose to take your unplugged vacation, it's important to choose a cruise line that will truly enhance the experience for you every step of the way. At Windstar Cruises, it's our goal to provide you and your loved ones with an unforgettable experience aboard our smaller and intimate ships that allow you to avoid crowds and noise as you sail away to your dream destination. Our ships always carry less than 310 travelers, meaning you can share unique, immersive travel experiences with like-minded people.
Instead of dealing with crowded ports and ships, make the most of your enriching experience and see how our cruise adventures can help you absorb new cultures and unfailingly attentive service. If you're ready to step away from your devices and be present in the moment, request a call from our Windstar vacation planners today or find a cruise that meets your group's needs.