Traveling to Hong Kong is a feast for the senses. There is plenty to take in, from local culture to bustling markets and famous nightlife. Your travels to this exciting city are only complete if you try plenty of traditional Hong Kong food.
The people of Hong Kong are known for their multifaceted local foods, from fine dining to street food served from open-air food stalls known as dai pai dong. To fully immerse yourself in the varied Hong Kong dishes, go beyond the tourist offerings and eat food like a local would. Knowing what food to try in Hong Kong can make your trip even more colorful.
In This Article
20 Foods to Try in Hong Kong
You can get up close and personal with local culture by sampling the colorful range of local foods in Hong Kong. The city has an eclectic food culture and boasts an intoxicating combination of traditional Chinese food and a unique take on some dishes from other parts of the world.
Sampling the local cuisine is a must when visiting Hong Kong, so keep the following foods in mind for the complete experience:
1. Dim Sum
A trip to China's capital is only complete once you've eaten some local dim sum. These traditional Chinese dumplings are served in bamboo steamers and are designed to share so everyone can taste everything. There are many variations of dim sum dishes to choose from, all with their own unique charm.
Some must-try dim sum includes the following:
Shumai: Deliciously steamed pork dumplings
Har gow: Shrimp dumplings with a delectable sweet taste
Char siu bao: Barbeque pork buns
Dim sum is traditionally eaten with tea, so you can find many varieties at the tea houses spread across Hong Kong. Try as much as you can from the menu, and you'll get an authentic taste of some Hong Kong traditional food.
2. Roast Goose
Hong Kong is well-known for its decadent and tender roasted meats — or siu mei. The roast goose may be the ultimate roast food to try in Hong Kong. It's a traditional Cantonese specialty beloved by locals and tourists alike.
The whole goose is marinated in aromatics and spices, slow roasted, then cut into small pieces and dunked into a special plum sauce. The meat is unbelievably tender and flavorful — crispy on the outside and succulent on the inside for the ultimate fine dining experience.
3. Nai Cha
Milk tea — or nai cha — is the perfect way to satisfy your sugar cravings and experience the quintessential treat for many people of Hong Kong. You can have this delicious combination of Ceylon tea, sweetened condensed milk and sugar, hot or cold.
While milk tea is popular throughout Asia, Hong Kong milk tea might top the list. You can try the silk stocking variety, strained through a material similar to silk stockings.
4. Douhua
The people of Hong Kong have mastered turning tofu, or bean curd, into several stunning local dishes. We might consider tofu a savory vegetarian option. Still, you can turn this preconception on its head with tofu pudding — or douhua.
Made from the smoothest bean curd in Hong Kong, this dessert is served with sweetened syrup and will melt in your mouth. You can add different toppings, including traditional ginger and syrup, or find it with additions like sesame paste. You can order douhua at many dim sum restaurants across Hong Kong and enjoy it warm in the winter or cold in the summer. It's also perfect for vegans and vegetarians.
5. Egg Tarts
While you can enjoy egg tarts in many countries, where they go by different names — custard tarts in Britain and pastel de nata in Portugal — trying the Hong Kong version is a decision you'll never regret. Many Hong Kong restaurants, cafes and dai pai dong offer these irresistible confections — sweet custard filling baked to perfection in Chinese puff pastry. They are best straight out of the oven, paired with a glass of milk.
Egg tarts were invented in Lisbon but spread to Hong Kong, Macau and other parts of China, where they earned a traditional Chinese twist. You can try both the shortcrust and puff pastry casings for good measure.
6. Wonton Noodles
Wontons are known as chāo shǒu. This simple and delicious dish is a staple throughout China and common throughout Hong Kong. Wonton noodles are a perfect combination of freshly made egg noodles, soft shrimp and pork dumplings and a sprinkle of green onion, all immersed in a light broth flavored to perfection.

This dish personifies Hong Kong comfort food, and you can enjoy it in many Hong Kong restaurants and dai pai dong. Although there are many variations, typical wontons are made with shrimp and pork meat. Finish the noodles first so they don't go soft, and top off your meal with the gorgeous, warming broth.
7. Curry Fishballs
Curried fishballs are perhaps Hong Kong's most legendary street food, available at dai pai dong across the city. They're popular among the locals, so look for the stalls where people queue to get their hands on these springy, bite-sized balls of fish paste cooked in a robust curry sauce.
Curry fishballs are an iconic taste sensation on the streets of Hong Kong. Depending on where you go, you can enjoy this tasty snack skewered on a kebab stick or in a bowl. Each dai pai dong claims to have its own secret blend of herbs and spices, so try as many as you can until you find your favorite.
If you're in the mood for a noodle dish, combine the two and try some fishball noodles for another peek into famous local cuisine.
8. Char Siu
You can't go wrong with char siu, or barbequed pork, for a traditional sweet and savory taste. As you can expect from Chinese meats, the cuts of pork — often loin, pork belly and pork neck — are juicy and tender, marinaded in a rich blend of honey, five spice, rice wine, soy sauce and hoisin sauce.
Enjoy your pork with a plate of rice or noodles to complete the experience.
9. Lo Mai Gai
You can enjoy more than a dim sum at many local restaurants in Hong Kong. It's worth trading in your dumplings on at least one of your visits for some lo mai gai — gorgeous Chinese rice and a combination of chicken, pork and Chinese sausage wrapped in a lotus leaf and steamed until gooey, with all the flavors mixed for one out of this world taste sensation.
The fragrance of the lotus leaf embeds itself into the rice and gives everything a rich and earthy flavor. Lo mai gai is a definite contender for Hong Kong's best comfort food. It's worth a try, so ask at any dim sum restaurant.
10. Roast Pork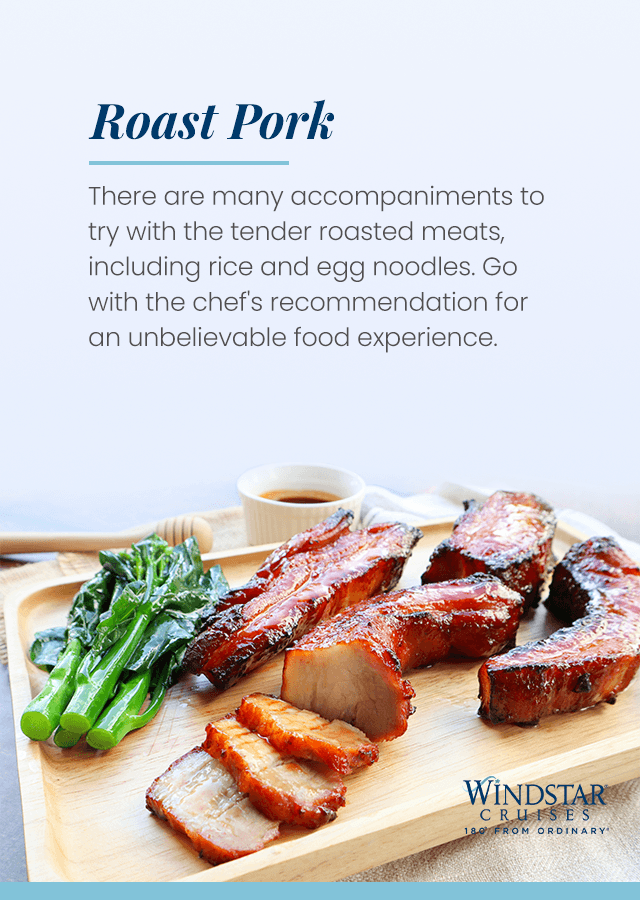 Cantonese roast meats are practically a food group, so no list of Hong Kong foods would be complete without mentioning roasted pork. You can find variations of roast pork throughout Hong Kong. If you want the best experience, try the pork belly, slow-roasted until crispy on the outside and buttery soft on the inside.
There are many accompaniments to try with the tender roasted meats, including rice and egg noodles. Go with the chef's recommendation for an unbelievable food experience.
11. Phoenix Claws
While this Chinese delicacy is available on many dim sum menus, it's for adventurous eaters. Phoenix claws are chicken feet, fried and simmered for a few hours until the meat is tender and flavorful, then smothered in black bean sauce. Phoenix claws — or fung jao — are full of collagen, making them a delicacy and a healthy snack.
12. Bo Zai Fan
Claypot rice, or bo zai fan, is a simple yet flavorful dish that is a staple among Hong Kong locals. It's satisfying and nourishing — perfect after a long day of sightseeing. Enjoy a combination of steamed rice, Chinese sausage, carved pork, fresh shallots and chicken or beef cooked traditionally over charcoal stoves in a glazed clay pot.
This dish is cooked slowly, creating a crunchy rice crust on the edges of the pot and a crisp, smoky flavor with various textures. Clayput rice is a must-try, without a doubt.
13. Beef Brisket
Beef brisket alone is a mouthwatering option. When combined with noodles or shredded into an aromatic curry, it's a meal to remember. Several iconic restaurants in Hong Kong serve beef brisket stewed to tender sublimity in a secret combination of herbs.
You can choose how you eat your brisket. You can have it with noodles, in a soup, or shredded, curried and served with nuggets of tendon. Try them all and see which you prefer, but whatever you do, don't leave until you've tasted it for yourself.
14. Egg Waffles
Egg waffles — or gai daan jai — are undeniably part of Hong Kong's street food culture. These bubble-shaped desserts are crunchy on the outside and irresistibly warm and puffy on the inside. You can choose from many colors and fillings and experience many unique flavors.
The batter is made of eggs, flour and sugar, then cooked on a hot, specially shaped griddle. You can find them at many dai pai dong throughout the streets of Hong Kong, where you can get a multitude of flavors and varieties as each shop owner adds their flair.
15. Pineapple Buns
Despite their name, pineapple buns don't contain any pineapple. Instead, this sinful sweet earned the title due to a passing resemblance with the well-known tropical fruit. The sweet dough contains sugar, eggs, flour and lard, baked until golden brown.
You'll likely find pineapple buns on many must-try lists in Hong Kong. This treat is fluffy yet crumbly and considered an irreplaceable part of local cultural heritage, and for good reason. The perfect harmony of flavors and textures is comforting and exciting at the same time. The best way to enjoy pineapple buns is straight out of the oven, with a serving of cold butter in the center for the ultimate hot and cold, sweet and salty experience.
16. Cheung Fun
You can find cheung fun at many dim sum parlors and dai pai dong across the city. These rolls of sheet rice are smooth and liberally smattered with sesame seeds, and they boast the warm and comforting aroma of fresh-steamed rice.

You can bump up the flavor profile of these gorgeous snacks with soy sauce, sesame sauce or even chili sauce for an extra bite, and different meats like beef or shrimp. If you're in the mood for dessert, you can switch things around and choose peanut butter sauce for a sweet sensation.
17. Hot Pot
Hot pot is part of Chinese dining culture and is as much about the gathering as it is the food.
Hot pot is similar to fondue but with specially seasoned broth. You and your counterparts can get together and choose from various quality raw portions of meat, fish and vegetables. Dip them into the boiling, flavorful broth until they are cooked to your liking and enjoy.
This traditional dining alternative is popular in the winter. Still, die-hard hot pot lovers enjoy the social dining style throughout the year. The condiments are an essential part of the overall experience. You can choose from many sauces and aromatics, from traditional options like soy sauce to sesame paste and deep-fried garlic.
18. Cart Noodles
Cart noodles are the ultimate mix-and-match Hong Kong street food. You can tailor-make your noodles, choosing from various ingredients, including meats, vegetables and broths. Pick from staples like beef brisket, fishballs and dumplings, choose a soup base, add your favorite extras and build your own bowl of feel-good food.
19. Three-Stuffed Treasures
If you're looking for a snack while on the town, keep it traditional with three-stuffed treasures. They might sound sweet, but you can expect the opposite. Combining the three main ingredients — tofu, pepper and eggplant — and the soy sauce and fish paste drizzle create a fish-like taste sensation.
The flavor is challenging to replicate and gives you a superior taste of Hong Kong's culture in one bite. You can find three-stuffed treasures at many a dai pai dong around Hong Kong.
20. French Toast
French toast may originate from somewhere other than Hong Kong, but the locals have made it theirs. Instead of the traditional grilling, the bread is dipped in the egg mixture and then deep fried and served with butter and syrup. You can choose from a vast array of fillings and toppings, but Hong Kong French toast is known for its sweet, decadent fillings.
You can play it safe with the popular peanut butter option or get adventurous with ingredients like molten salted egg yolk, cheese or meats. This dish is more of a dessert than anything else in true Hong Kong style.
Immerse Yourself in Hong Kong Cuisine With Windstar Cruises
Planning your trip to Hong Kong with Windstar Cruises gives you an immersive boutique experience like no other. With a maximum of around 300 people on our luxury ships, you can look forward to an intimate and welcoming ambiance, making it easy to connect with your crew and fellow travelers and enjoy the unique experiences Windstar is known to provide.
Our unfailingly attentive service and regular visits to small ports that get you to the heart of your destination let you experience local culture like never before, with fewer crowds and tourist cliches. Extend your exploration into local food culture with the official cruise liner of the James Beard Foundation and get closer to every port. Request a call to learn more and start planning the trip of a lifetime with Windstar Cruises!