With its picturesque landscapes, remarkable attractions and kind people, Canada is a popular traveling destination for millions around the world. From bustling Montreal to stunning Vancouver, you can find adventure at every turn. Whether you've been to Canada dozens of times or are planning your first trip, you're sure to make unforgettable memories.
One of Canada's best features is its food. Canadian cuisine features influences from England, Scotland and France. Their distinctive dishes can enhance your vacation and leave you wanting to return. But with so many foods to try and only so much time on a vacation, choosing the best ones can seem tricky.
Here are 12 Canadian dishes to try during your next trip.
In This Article
Popular Canadian Foods to Eat on Vacation
From choosing a mode of transportation to making an itinerary of destinations, your trip takes planning. To make sure you enjoy classic Canadian foods, check out our list of 12 Canadian foods and pick your favorites. Then, look for restaurants or vendors that sell them so you know where to stop when you're out and about.
Read on for 12 popular Canadian foods to eat and think about incorporating them into your travel plans.
1. Poutine
Poutine is a classic Canadian dish. Consisting of French fries, cheese curds and gravy, this delicious snack is an iconic Canadian staple. It was created in Quebec in the 1950s, and soon became a popular dish for restaurants all over the country.
The word "poutine" has origins in the English word "pudding," which traditionally means a mixture of something. In Quebec, "poutine" was slang for "mess" until it became synonymous with this popular meal.
The meal starts with a bed of French fries. Then, you add cheese curds, which are delicious, bite-sized pieces of curdled milk. Finally, you add a layer of gravy to top things off.
Many chain restaurants carry the traditional version of poutine. You can also find unique variations in spots across the country, like at the Whistle Stop Cafe in Ontario. This popular cafe carries over 100 unique styles of poutine, so you're sure to find your perfect combination.
2. Butter Tarts
Next up are butter tarts, a famous Canadian dessert. This sweet treat is made up of a small pastry tart filled with gooey syrup. Many feature dried nuts or fruit in the filling, such as pecans or raisins. You can add anything from nuts to chocolate chips to make a taste combination that suits you. The flaky, buttery crust and the sweet, syrupy filling create an unforgettable taste.
Butter tarts are available across Canada, so you should have many opportunities to try this dish. The dessert is so popular that Ontario holds an annual Butter Tart Festival. At this event, bakers from all over enter their butter tarts in an annual competition. With so many butter tart recipes available, you can enjoy this dessert after your trip ends from the comfort of your home.

3. Maple Syrup
Maple syrup is arguably Canada's most famous food product. Canada produces 85% of the world's maple syrup, making it a key piece of their culture. Each year, abundant forests of red, black and sugar maples produce the sap needed to make the delicious topping. After you boil the sap, it becomes a 100% natural sweetener, maple syrup.
In addition to traditional maple syrup, Canada also produces:
Maple sugar
Maple butter
Maple candy
Trying maple syrup from where it originates is an unforgettable experience. Luckily, there are different ways to try the delicious treat no matter where your Canadian vacation takes you.
You could attend a maple syrup festival like the Sugaring Off Festival or the Elmira Maple Syrup Festival in Ontario. Alternatively, some maple syrup farms let you try samples or purchase bottles to take home. For instance, the Cabane à sucre Leclerc offers horse-drawn carriage rides and log sawing activities in addition to syrup tasting.
4. Montreal-Style Bagels
Another popular Canadian food to eat is a Montreal-style bagel. Unlike a boiled New York bagel, a Montreal-style bagel is sweet, thin and baked in a wood-fired oven. Before placing it in the oven, bakers soak the bagel in honey-sweetened water, creating an unforgettable taste when it emerges.
This style of bagel was brought to North America by Jewish immigrants from Poland. They quickly boomed in popularity, and many restaurants and bakeries quickly added them to their menus.
Today, numerous shops and bakeries across the country carry the famous bagels. Some of the most well-known places are Fairmount Bagel, a family-owned business that has specialized in Montreal-style bagels since 1919, and Hinnawi Bros Bagel & Café in Montreal.
The best way to eat a Montreal-style bagel is when it's fresh out of the oven, so don't miss your opportunity to eat this bagel in its intended form.
5. Bannock
Bannock is another staple Canadian dish. This food is a form of bread in a round, flat shape like a pancake. It's typically made with:
Unleavened flour
Lard
Salt
Water
Baking powder
After adding milk, sugar and salt, you mix the ingredients into a large biscuit. Then, you bake it in a pan or an oven, depending on your taste preferences.
Bannock's origins can be traced to the Indigenous people of early Canada. They cooked early versions of bannock on rocks over a fire or in clay ovens. You can try bannock in various restaurants across Canada or try a homemade recipe once you arrive home.

6. Montreal Smoked Meat
One of Canada's specialties is Montreal smoked meat. This meat product is made with a traditional beef brisket. After salting and curing the beef with spices, it sits for a week or more to fully absorb the flavor. Then, cooks hot smoke and steam the meat until it's ready to eat. The cooking method creates a unique, nuanced flavor that differentiates the dish from other meats. Some versions of poutine feature Montreal-style smoked meat.
You can find Montreal-style smoked meat in many diners, fast food chains and restaurants in Canada. The meat style originated in Montreal, but the style is present all around the country. Some of the most popular Montreal-based restaurants that feature this meat style are Smoke Meat Pete and Snowdon Deli.
7. Donairs
If your Canadian travel plans include Halifax and the East Coast, be sure to try a donair. Donairs are a Canadian dish similar to gyros. Originally from Halifax, this is a popular and delicious Canadian comfort food. Its ingredients include:
Spiced ground beef
Tomatoes
Onions
Sweet garlic donair sauce
Pita bread
The donair sauce is a signature addition with garlic flavoring and a sweet taste. The tasty food is similar to Greek gyros but uses ground beef instead of lamb meat. Because they originated in Halifax, donairs are very common on the East Coast of Canada. You can easily find them in restaurants near New Brunswick and Prince Edward Island.
8. Nanaimo Bars
Nanaimo bars are another famous Canadian dessert, named after the city of Nanaimo. After World War II ended and bakers had access to butter and sugar again, new dessert recipes boomed in popularity. Nanaimo bars emerged as quick and tasty options. These no-bake, chocolatey treats consist of three layers:
A coconut crumb and chocolate base
A creamy custard filling
A chocolate coating
While each layer is different, they create a tasty combination. Many compare their taste to chocolate fudge or an Almond Joy.
Nanaimo bars are found all across Canada in bakeries and grocery stores, but the most famous version of the bar is in the city of Nanaimo, the namesake of the dessert. The city even has a Nanaimo Bar Trail, where you can take a self-guided adventure and try out all the versions of the tasteful treat. In addition to the classic version, the trail features variations like:
Ice cream Nanaimo bars
Nanaimo bar cheesecakes
Nanaimo bar fudge
Nanaimo bar waffles
9. Canadian Bacon
Canadian bacon is a Canadian food offering that's popular worldwide. Known as peameal bacon by Canadians, this bacon comes from a lean pork loin instead of a typical pork belly. Then, it's pickled and rolled in ground cornmeal to help with preservation. The meat style originated in the early 1900s when Canadians would export their bacon to England. The layer of cornmeal preserved the meat as it traveled to the new destination.
Because the meat is so popular, peameal bacon is available all over Canada. You can find it in local markets, fast food spots like Tim Hortons and restaurants all across the country. Many Canadians enjoy peameal bacon sandwiches. St. Lawrence Market's Carousel Bakery in Toronto is famous for its peameal bacon sandwich, so you might add that to your destination list.
10. Ketchup Chips
If you're in the mood for a snack, consider trying Canada's famous ketchup chips. These potato chips are unique to Canada, so your vacation in Canada is the perfect opportunity to try some. To create ketchup chips, crunchy potato chips are dusted with tomato powder, garlic, onion and other spices. The result is a combination of smoky, salty and sweet as you crunch into the chip.
The invention of ketchup chips is attributed to Hostess Potato Chips in the early 1970s. While Canadians quickly learned to love the chips, their popularity didn't spread to the United States or other countries. Today, ketchup chips are a staple of Canadian supermarkets.
If you're interested in trying ketchup chips, you can buy them from most shops and grocery stores in Canada.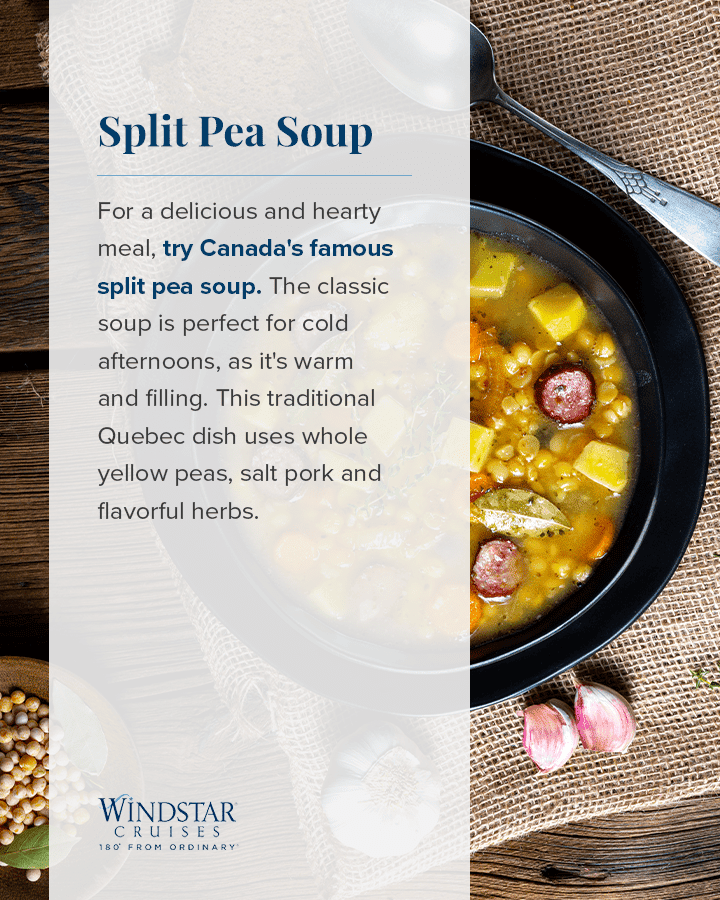 11. Split Pea Soup
For a delicious and hearty meal, try Canada's famous split pea soup. The classic soup is perfect for cold afternoons, as it's warm and filling. This traditional Quebec dish uses whole yellow peas, salt pork and flavorful herbs. After cooking, you can either remove the pork and serve it separately, or include it as part of the soup.
Split pea soup has been part of Quebec cuisine since the arrival of its early settlers. The ingredients were easy to acquire, and the meal was perfect for the long winters. In some areas like Newfoundland or Labrador, it's a tradition to serve pea soup after the Easter holidays.
The soup is a staple of many Canadian restaurants, especially in the winter. If your Canadian travel plans happen during the cold months, enjoying a hearty bowl of split pea soup could be the perfect way to end a long day of exploring.
12. Lobster Rolls
Canada is famous for its seafood, especially on the East Coast. Early settlers fished for lobsters in the Gulf of St. Lawrence, and they've been a delicious part of Canadian cuisine ever since. Lobster meals were simple to cook and inexpensive, making them a popular option for many early residents of Canada.
A lobster roll consists of lobster meat in a grilled, hot-dog style bun. The filling commonly features butter, lemon juice and salt for extra flavor. Canada's East Coast offers many opportunities to enjoy this delicious meal, from street vendors to sit-down restaurants. If your travel plans include this area of Canada, such as Halifax or St. John's, you'll get to taste a lobster roll soon.

Contact Windstar Cruises to Plan Your Trip to Canada
If you're planning to visit Canada soon, make sure to take full advantage of the country's scrumptious array of food. From tasty treats like Nanaimo bars to filling meals of poutine, you're sure to find a dish that suits your tastebuds. No matter what transportation you choose to get to and from Canada, your travel will create lasting memories.
One of the best ways to travel to Canada is by cruise. Setting sail in an extravagant ship puts adventure at the forefront of your trip. At Windstar Cruises, we pride ourselves on offering small and luxurious cruise trips. Our size limitations set our trips apart from competitors. All of our ships carry less than 350 passengers, allowing for an intimate and comfortable experience. You can connect with fellow passengers and enjoy personalized experiences during your journey to Canada.
To get started with Windstar Cruises, contact us today. We can help you plan an unforgettable trip to Canada.