Do you dream of touring the world? Sampling delicious food on the beach? Immersing yourself in diverse cultures? A world cruise is one of the best ways to experience the adventure of exploring on a global scale.
Our comprehensive world cruise guide contains everything you need to know about booking your next voyage.
In This Article
Benefits of a World Cruise
A world cruise offers the experience of a lifetime. Here are some of the top benefits passengers experience when they take a world cruise.
Opportunities to Explore
An extended cruise offers more opportunities to sightsee and explore. More locations will be on the itinerary, so you have an array of options for adventure and relaxation.

You'll also be able to disembark for longer, more in-depth shore excursions. Because you're already spending so many days at sea, there's no real rush to move on to the next port. You'll be able to take your time and truly enjoy your vacation.
An Intimate Experience
Most people on world cruises are in it for the long haul, so you'll likely be seeing them every day. These extended journeys provide opportunities to really get to know your fellow passengers. It's common for world cruise enthusiasts to meet lifelong friends at sea.
You'll also be spending more time at sea, so the crew will be able to learn your preferences. In fact, that's one of the main benefits of taking smaller cruises. When the same crew members can interact with you each day, they can provide highly personalized service.
Unforgettable Memories
Any cruise offers the chance to create lasting memories with a loved one and friends — both old and new. Exploring the world on a cruise expands the experience into something truly unforgettable. Whether you've been around the world before or you're taking your first excursion, a world cruise trip takes you to breathtaking sights, iconic locations and destinations you might've only dreamed of before. While you won't want your trip to end, you'll look forward to sharing your travel stories with loved ones when you return.

A Worldly Experience
Engage with other cultures, try food you've never heard of and meet people you never could've at home. A world trip via a cruise lets you taste and see the world in ways you couldn't through other travel methods.
When you expand your horizons, you do so literally and figuratively. Gain a new sense of the world around you and become more open-minded as you expand your circle and maybe even learn new languages.
How Do I Know if a World Cruise Is Right for Me?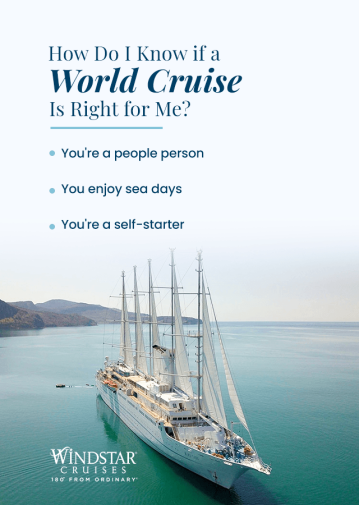 Although a world cruise is a bucket list event for many people, some travelers enjoy it more than others. A world cruise might be right for you if:
You're a people person: If you choose to make the full circumnavigation, you'll be spending a lot of time with the same people. Being an optimistic and friendly person can help make it easier to get along with everyone on board.
You enjoy sea days: It takes time to get from one port to the next. You'll be spending stretches of many consecutive days at sea before being able to return to the land, so a love of sailing is always advantageous.
You're a self-starter: While relaxation and adventure are key features of a world cruise, you'll also be in charge of your own schedule most days. If you're good at keeping yourself busy — or you just love to lay back and relax — you'll enjoy the laid-back nature of a world cruise.
If any of the above sound like you, you might want to start looking into your world cruise options.
How Do I Pick the Right World Cruise?
Booking the right cruise is key to planning a great trip. Here are some considerations to make when deciding on a cruise.
1. Destination
Where do you want to travel? Some cruises remain within one hemisphere, but others travel across the world or between continents. The more stops the ship makes, the longer your cruise will be.
To make the most of your voyage, you should make sure the cruise you're interested in stops in places you'd like to visit. But don't be afraid to venture out of your comfort zone to experience somewhere new.

2. Duration
How long will your world cruise last? It's important to consider how much time you have available when you're deciding on a ship to book. Keep in mind that you'll have to add time if you plan to fly to a port.
If you're new to long cruises or you're pressed for time, you might want to book a segment of a world cruise. This option allows you to get a taste of the world cruising experience for only a part of the voyage. Once you've returned home, you can decide whether you'd like to take the full trip next time.
3. Ship Size
The ship size you choose impacts the whole cruise experience. Sailing on a large ship with thousands of passengers provides a completely different feeling from sailing on a small ship with a select few.
Look for a cruise line that offers the type of ship you want to ride. Many of the differences between cruises come down to the type of ship you choose:
Small: Small, boutique cruise ships carry only a few hundred passengers, creating a more intimate and relaxing experience. Their small size allows them to pull in close to port cities, so you'll have more time to explore the shore. Because there are fewer people on board, you'll build a deep sense of camaraderie with your fellow passengers as well as the crew, gaining more personalized service.
Midsize: Midsize ships provide a similar elegant experience to small cruises. These ships present a middle ground between small ships and large ocean liners.
Large: Large cruises can hold hundreds or thousands of passengers. Although they provide many diverse amenities, they're too large to dock near port cities. If you take a large ship, independent sightseeing can get difficult — and costly.
Mega: As the largest cruise ship, a mega liner can accommodate several thousand passengers per voyage. These massive ships offer more amenities, such as on-ship casinos and fitness centers. But, due to their size, mega cruises can feel overwhelming for those looking for a relaxing getaway.

What Should I Pack for a World Cruise?
Packing for a world cruise is much more involved than packing for a two-week getaway. You'll want to begin planning far in advance so you have plenty of time to pick up any items you may not already have.
If you need to fly to get to your starting port, you'll also want to bring a light carry on containing your essentials and an outfit or two. In general, packing on the lighter side is better if you plan to fly — that way, you'll have enough space for all the souvenirs you want to bring back!
This brief overview of what to pack for a world cruise gives you a place to start from.

Necessities
There are some things you'll need to pack for any trip. Some essential items you'll need to bring with you on a world cruise include:
Documentation: Because you're traveling around the world, you should bring your passport on your global cruise. Remember any other documentation, like plane tickets, itineraries or reservation confirmations.
Toiletries: Personal grooming supplies such as toothpaste, deodorant, shaving supplies, skincare products, shampoo and conditioner are all essential items to pack. In case you forget something, though, you may be able to buy one on board. Some cruises also offer high-quality bath products.
Cosmetics: If you wear makeup or you have a specific lotion you love, you'll want to pack those. It can also help to bring sunscreen and aloe, just in case.
Medicines: Fulfilling a prescription at sea can get complicated, so if you're on any medications, be sure to ask your provider for several months' worth. Bring copies of your prescriptions just in case, as well. Vitamins and pain relievers are also good to pack, as you never know when you'll need to relieve a headache.
Electronics: Bring any personal or work devices you'll need, such as your phone, laptop or tablet. You'll also want to pack any accessories, including chargers, headphones or storage drives. Although Wi-Fi is available on many cruises for a nominal fee, it's still a good idea to check before you book. And, of course, it's always nice to have a camera for capturing memories.
Currency: You'll want to pack cash for your cruise. To get the best rates on currency, exchange with your bank before your trip. But if you'll be visiting various countries with different currencies on your cruise, it may be best to use ATMs at these locations. Remember to pack your bank cards and credit cards.
Clothing
You'll want to consider your destination when packing your outfits. For example, if you're planning on visiting any cultural or religious sites, you'll want to bring modest clothing that covers your shoulders and knees.
Here's a quick rundown of the different types of clothing you'll want to bring with you on your trip:
Casual: You'll be spending a lot of time relaxing on the ship, so bring plenty of comfortable, casual clothes with you. Jeans, sweats, shorts and T-shirts are all fine options.
Formal and semiformal: Your cruise line will tell you about formal or themed nights in advance, so you can plan your outfits for those right away. Cocktail dresses, gowns and suits are all appropriate.
Swim clothes: If you're traveling to a tropical location or you plan to spend any time by the pool on your ship, you'll want to pack a swimsuit or two, plus a cover-up.
Pajamas: You'll need something to sleep in, of course! Choose pajamas that fit the climate of the location you'll be traveling to.
Shoes: Sturdy walking boots or athletic shoes are a must on any cruise. You'll be walking a lot on and off the ship, so staying comfortable is key. Sandals or water shoes will be a smart item to bring if you plan to spend time on the beach or at the onboard pool. You'll also want to bring one or two pairs of formal shoes for special nights.
Accessories: When you're on a world cruise, you end up recycling outfits often. Accessories like hats, belts and jewelry can make any old outfit look new again. Keep in mind that you can also pick up new items while onshore to keep your wardrobe fresh.
Layers: Consider the time of year you're traveling as well as the weather in your destinations. If you'll be going between the Northern and Southern hemispheres, the seasons will swap, so you may only need a light jacket in one location and something warmer in another. Layers like sweatshirts, cardigans and jackets let you create different outfit combinations and stay comfortable.
Most cruises offer laundry services for a nominal charge, so rest assured — you'll always have clean clothes on hand.
Top 5 World Cruise Tips and Tricks
If you're new to long cruises, you might be unsure about how to get the best deal. But we're here to assure you it's much less complicated than it may seem.
These five world cruise tips can make finding and scheduling your world travels simple.
1. Book as Early as Possible
World cruises fill up quickly. If you're interested in a specific cabin, book early to guarantee your spot. Although scheduling a last-minute cruise can get you a good deal, you're probably going to have to settle for a room — which you'll have to spend months in.

Booking early is also the best way to make sure you get the best price. As ships fill up, prices tend to rise. This is especially true if you're interested in taking a world cruise during the holidays, when people are most likely to travel.
You'll also be more likely to get your money back if you need to cancel an early booking. Although you'll likely have to pay a cancellation fee, you may be able to get a full refund if you cancel far enough in advance. Check your cruise line's travel assurance policy for more information.
2. Pick the Best Cabin for You
If you're taking a world cruise, you could be at sea for months. Naturally, choosing a living space you'll want to return to night after night is key to ensuring a good time.
Most cruise ships offer these cabin types:
Interior: Interior cabins are usually the most cost-effective option. While these rooms are often smaller, an interior cabin usually comes with similar amenities as higher-tier rooms.
Ocean view: Ocean view cabins come with windows, providing a little extra sunlight and a beautiful view of the open ocean. They're similar in size to interior cabins, but the window adds a little extra comfort.
Balcony: If time alone is important for you, a balcony cabin with a clear view will be the best option. Although a balcony cabin is usually pricier than an interior or ocean view room, it provides you with a private space to get away from the action for a while.
Suite: Suite-style cabins provide the most space, so they're best for those traveling with a partner. A suite layout typically includes separate living and sleeping areas. Sometimes, it will come with a large balcony. You may also get access to extra amenities and perks included with the price of your suite.
Cabin location is another important consideration, especially if you're prone to seasickness. Most of the time, lower rooms near the center of the ship are the most stable during rough weather. You can choose a room that's higher up if you're uncomfortable being closer to the water line.
Many cruise lines charge high single supplements for solo travelers staying in larger cabins. Be on the lookout for companies offering reduced or waived single supplements if you're traveling alone and you'd prefer the elegance and privacy of a suite.
3. Keep an Eye out for Perks
A lot of what you'll spend on a world cruise goes to the great perks you'll get on and off the ship, such as:
Luggage shipping: Some cruise lines offer luggage shipping services where they deal with baggage claims and customs for you. If you find a cruise line that offers this perk, it's worth it. A luggage shipping service provider will pick up your bag from your home and deliver it to the ship.
Internet: Depending on your cruise, Wi-Fi may be included in your ticket, or you may need to pay a nominal fee for access. If staying connected is important to you, be sure to opt-in to internet access when you book.
Specialty dining services: Each world cruise ship features diverse world-class restaurants and, often, complimentary room service. Some offer culinary immersion experiences onshore for those curious about local cuisines.
Exclusive experiences: Look for ships offering exclusive events onshore, such as private tours with knowledgeable guides, access to specific cultural and historical sites and mouthwatering culinary excursions. You'll be able to choose activities based on the most suitable level for you.
Enrichment lectures: World cruises offer great opportunities for learning. Many cruise lines hire guest speakers to provide lectures on interesting topics about local culture, nature and travel stories. Check your ship's itinerary to find out more about what kinds of speakers you can expect.
Perks vary depending on cruise line, ship and cabin, so it's important to shop around to find a trip that includes everything you want.
4. Look Over the Itinerary
Before you click the "book" button, take a look at the itinerary to make sure you'll be able to enjoy the trip the way you see fit. Here are some of the key itinerary considerations to make when evaluating a cruise:
Check for sea days: While sea days provide plenty of time to read some novels, attend guest lectures or lounge by the pool, long stretches at sea may not be for you. Make sure you know in advance how long you'll be traveling between ports. You should be able to find this information on the cruise's web page.
Look at ports: Check where the ship will be docking throughout the journey to make sure you'll get to see every destination you're interested in. You should also check the dates between ports — long stretches between stops indicate many consecutive sea days.
Check duration of port stays: How long will you stay in each port city? You'll gain an idea of how long you have in each destination to prioritize what you want to shop for, see or do.
Look at excursions: Get an idea of what excursions you can sign up for early so you can ensure your spot. Some common excursions may include cultural experiences, culinary tours and nature hikes.
Knowing the itinerary in advance can also make it easier to determine what you need to pack.

5. Choose the Right Type of Cruise
There are multiple types of cruises you might encounter while looking for voyages:
Segment: You can still get a world cruise experience even if your current situation means you can't be at sea for months on end. A segment typically lasts anywhere from two weeks to a few months and is a great way to try cruising before committing to a full ride.
Grand voyage: A grand voyage is a long trip lasting 70 days or more. Although some cruise lines market grand voyages as world cruises, they may lack some of the perks and travel opportunities of a full world cruise.
World cruise: A full world cruise typically lasts around 120 to 180 days, but some can last even longer. These voyages can be intercontinental and often offer more perks, amenities and excursion opportunities than grand voyages.
Boomerang: On a boomerang journey, you sail on one ship for half the journey and another ship for the other half. This kind of journey keeps things fresh by providing a change of scenery, which can be beneficial for restless travelers.
Off-season: World cruises traditionally embark in January, but many people are unable to travel at that time of year. To reach these individuals, many cruise lines have begun offering later cruise dates. You're also more likely to get a good deal if you book during the off-season.
Tour the World With Windstar Cruises
You're sure to have a good time on your world cruise when you sail with us at Windstar Cruises. Our small yachts are home to boutique amenities, delicious gourmet restaurants and great perks. Immerse yourself in local cultures with unique onshore tours and activities, and enjoy personalized service from our ever-attentive crew.
Request a brochure or give us a call to learn more about our world cruise options. We can't wait to welcome you on board!