If you're a reader, you likely plan every vacation to include some downtime to relax and open a new book. But what are the best travel books to bring with you? The world's libraries offer captivating reads, and before you make your selections, you may want to consider your favorite format and which stories sound the most intriguing to you.
Our list of best books for traveling includes fiction and nonfiction in various genres, such as mysteries, literary fiction, science fiction, romance and how-to guides. We'll also provide tips on whether to bring your books in physical, e-book or audiobook format.
In This Article
Best Types of Books for Traveling
Books are excellent ways to learn a wide range of topics like health, history, cooking and travel, but they can also be a delightful source of entertainment, offering mysterious, romantic or fantastical stories. Whether you're looking to learn more about the world around you or escape into an entirely new world, there are plenty of books to bring with you on your travels.
Fiction
Reading fiction can offer entertainment, but it can also benefit a child's development and can improve any reader's empathy. Following a character's story can put you in someone else's shoes and help you understand other people's intentions and feelings. Fiction books can fall into many genres.
Romance: Romance books are one of the most popular fiction genres. You can find romance almost anywhere — at the grocery store, the library and your favorite online booksellers. Romance is an umbrella category with many subgenres, including contemporary romance, romantic suspense, historical romance and romantic comedy.
Horror: If you like to be scared, look no further than the horror genre. Horror writers aim to shock, scare and even repulse readers. Atmosphere, mood and characters are especially relevant in this genre.
Mystery: Another beloved fiction genre is mystery. Typically, mystery novels center on a crime, such as a disappearance or murder, with a protagonist who sets out to figure out what happened and who did it. True crime fans who are new to reading may want to start with a few mystery novels.
Thriller: Similar to mystery, the thriller genre often centers on crime. However, thrillers tend to be darker and more suspenseful. Where mysteries focus on solving a crime, thrillers may focus more on preventing a future crime and avoiding danger. You can find several subgenres under the thriller umbrella, including psychological, crime, political and legal thrillers.
Historical fiction: If you want to read a real-world story that takes place in the past, the historical fiction genre is the right choice for you. These stories may revolve around a specific event, such as a war, or a particular era, such as a cowboy western.
Fantasy: Fantasy is a popular genre for readers who want to escape to another world or wish our reality included a bit more magic. In these stories, you can find magical creatures, new worlds and imaginary races. If you're a fan of fantasy TV shows or movies such as Lord of the Rings or Game of Thrones, the fantasy genre is the one for you.
Science fiction: Often lumped in with fantasy, science fiction tends to be a more fantastical genre but with a focus on science. If you're interested in stories about space, aliens, time travel or parallel universes, pick up a science fiction story. Science fiction stories tend to take place in the future and explore the consequences of scientific and technological advancements, such as the dystopian subgenre.

Nonfiction
If you're looking to learn more facts about the world around you while on your trip, you may want to pack some nonfiction titles. While some of these interesting reads tell a story, such as memoirs or biographies, nonfiction literature tends to focus more on relaying facts and educating readers on real-life events. As with fiction, there are various genres in nonfiction:
Travel
Art
History
Music
Cooking
Science
Biography
Memoir
Health and Fitness
Inspiration and Religion

Best Book Formats for Travel
Whether you're reading fiction, nonfiction or both on your travels, you have a few formats to choose from, including physical books, e-books and audiobooks.
Hard Copies
Though publishers feared the death of the physical book with the advent of e-readers, hard copies continue to be sought-after among readers.
Hardcovers: A hardcover is a hardbound book with a sewn spine. Many come with a removable protective dust jacket. Often, publishers initially release a hardcover and make a paperback version available later. Hardcovers tend to be the most durable, sturdy physical format.
Trade paperbacks: Trade paperbacks are more affordable than hardcovers. They are lighter, and therefore more portable.
Mass-market paperbacks: Mass-market paperbacks are compact with tighter typeset and are some of the most affordable physical books. You'll most likely find mass-market paperbacks in the romance, mystery, fantasy and science fiction genres. These books are easy to pack and hold.
Many readers love the feel and smell of a physical book. Unlike technological formats, you don't need to worry about charging a printed book or relying on an internet connection. Since you don't need an electronic device to read books in this format, you can take them anywhere and enjoy fewer distractions.

Physical books pose a disadvantage when traveling because they can take up a lot of space and increase the weight in your suitcase. As a result, you will only want to bring a small number of hard-copy books.
E-Books
An e-book is a digital version you can read on your tablet or phone via an app such as Kindle, Nook or Kobo. Some readers consider e-books to be their favorite format.

If you enjoy reading long books, e-books may be ideal for you, as they are easier to carry and hold than hardcovers. If you tend to get frustrated with the small type or tight line spacing of physical books, you can adjust your e-book format to your preferences, enlarging the text or changing the font.
The primary advantage of traveling with this format is the ability to bring hundreds or even thousands of books with you on your trip without weighing down your luggage. E-books can also be more affordable, so you can load up your e-reader with all your anticipated reads before your travels.
Audiobooks
An audiobook is a book you can listen to. Voice actors can bring your favorite characters and stories to life, and you can multitask while you listen to your latest anticipated release. You can listen to an audiobook anywhere you can bring your electronic device. Whether you're in an airplane or on a cruise ship, you can consume a new, exciting story. Audiobooks continue to increase in popularity.

With audiobooks, you can read with your eyes closed. Relax by the pool or drive to your destination while listening to your next favorite book. For traveling, audiobooks are convenient to bring with you. However, they can take up a lot of space on your phone or another device, and if your battery dies, you'll be without your audiobooks until you can charge your device again. Audiobooks also tend to be the most expensive format to accommodate the costs of distribution, storage and hiring voice actors.
13 Best Books to Read While Traveling
Whether you're planning a summer trip or escaping a snowy winter for a warm beach, we've got a list of the best books to read on your travels.
Best Summer Vacation Books
Summer is one of the best times of the year to travel. The kids are out of school, the weather is warm and the days are long. With Windstar, you can travel in early summer across the North Sea from Ireland to Iceland. During this 26-day cruise, you'll also see more of Norway and the U.K., exploring Scottish castles and sampling goat cheeses.

Of course, you'll also have plenty of time to relax and read on our cruise ship. Below are some of the best books to bring with you if you are traveling this summer.
1. Malibu Rising by Taylor Jenkins Reid
To find summer in a book, look no further than Taylor Jenkins Reid's Malibu Rising. In 1983, the four famous Riva siblings throw a party to celebrate summer's end. As the children of famous singer Mick Riva, the siblings include a supermodel, a championship surfer, a renowned photographer and an adored little sister. But each sibling is keeping secrets, and by the end of the party, everything is out of control and their mansion goes up in flames.
2. People We Meet on Vacation by Emily Henry
In this friends-to-lovers romance, Poppy and Alex have taken an annual vacation together for years. Unfortunately, they've barely spoken since a rift grew between them. Now, Poppy decides to reach out to Alex for another vacation to mend the friendship that has always been so meaningful.
These two are opposites — Poppy is spontaneous and adventurous, while Alex is more predictable and wants to settle down. For a story with romance, humor and characters you'll fall in love with, be sure to pack People We Meet on Vacation.
3. Mexican Gothic by Silvia Moreno-Garcia
This captivating, atmospheric story will transport you to the Mexican countryside on your travels. Noemí Taboada is a glamorous and confident heroine who travels to High Place to visit her cousin. However, when she arrives, she is distressed to find her cousin shaken and terrified of a mysterious doom. She's also skeptical of her cousin's menacing husband and her ancient father-in-law. Worse, the house itself is invading Noemí's dreams with blood and fear.
Noemí must uncover the secrets of High Place and her cousin's new family — before escaping this mysterious house becomes impossible. If you enjoy reading atmospheric horror novels, bring Mexican Gothic with you on your travels.
4. We Were Never Here by Andrea Bartz
In this thriller, Emily takes a trip with her best friend, Kristen, every year. Unfortunately, their vacation ends in blood for the second time after Kristen tells Emily of a hook-up gone wrong. When Emily begins noticing the disturbing similarities between the two trips, she starts to suspect her best friend may be hiding something.
5. The Last Thing He Told Me by Laura Dave
When Hannah's husband Owen disappears, he leaves her with a note and his teenage daughter, Bailey. The letter asks Hannah to protect Bailey, but the girl wants nothing to do with Hannah. The FBI soon arrests Owen's boss and shows up at her Sausalito home, and Hannah realizes Owen is not at all who she thought he was. But Bailey may be the key to figuring out Owen's identity and why he disappeared. Together, stepmother and stepdaughter journey to uncover the truth.
Best Beach Reads
Regardless of the time of year, a visit to the beach is one of the best travel destinations. Sunbathe, cool off in the water and read with your feet in the sand. Below are some of the best books you can read on the beach. Enjoy a remote Caribbean getaway with Windstar's seven-day cruise. Relax on remote beaches away from crowds, and when you're on the ship, read on the spacious pool deck.

6. Beach Read by Emily Henry
We couldn't start this list of beach reads with any other book. Beach Read by Emily Henry is a charming romance between two authors. January is a romance writer struggling to write about love after uncovering a family secret. When she runs into her old college rival, famed literary author Augustus Everett, they challenge each other to swap genres. January will attempt to write the next great American novel, and Augustus will try his hand at penning a happy story.
For three summer months, these authors will live in neighboring lakefront homes and take field trips to inspire each other's fiction. The goal is to finish a book — certainly not to fall in love.
7. The Inheritance Games by Jennifer Lynn Barnes
A fast-paced mystery is the perfect beach read, and you'll find that with The Inheritance Games by Jennifer Lynn Barnes. Avery finds her life suddenly upturned when she learns she is to inherit the fortune of recently deceased billionaire Tobias Hawthorne — a man she doesn't know. But before receiving her inheritance, Avery must solve the riddles, codes and puzzles Tobias has left in Hawthorne House.
Avery must also navigate residing with Tobias' family, including his four intriguing, mysterious grandsons. Each grandson assumed they would receive an inheritance from their grandfather, and the entire family is shocked that a woman they don't know could inherit nearly everything. Avery must navigate this new world of privilege and the resentment of the Hawthorne family as she learns to play the game.
8. Where the Crawdads Sing by Delia Owens
If you haven't yet read this dual-timeline bestseller — now a major motion picture — vacation is the time to pick it up. This historical literary novel tells the story of Kya Clark, the "Marsh Girl," who spends much of her time alone in the marsh after her family leaves her quiet fishing village one by one. When Chase Andrews, a popular local, disappears in 1969, all eyes turn to Kya.
Kya grows into a young woman who yearns for love. She finds herself drawn to two men, both intrigued by her enigmatic beauty. Where the Crawdads Sing has earned critical acclaim for its descriptions of the natural world and its ability to transport readers to its historical Southern setting.
Best Vacation Books of All Time
Whether you want to take a cruise from Venice to Rome, admiring the beauty of the Dalmatian Coast, or you want to explore the wildlife and wines of New Zealand, Windstar can offer the best vacation for you and your loved one. For any vacation, we've got a list of the best vacation books of all time. No matter where your travels take you, you'll want to bring some of these books along for the journey.
9. World Travel: An Irreverent Guide by Anthony Bourdain
The author of this travel collection spent time in some of the world's most fascinating places, from New York to Tanzania and plenty of stops in between. Bring this book with you to read about his experiences around the world, including essays written by his family and friends that add additional layers to his stories.
10. The Great Alone by Kristin Hannah
Kristin Hannah has a reputation for her beautiful descriptions that immerse you in the story's setting. This historical fiction novel will transport you to Alaska in 1974, following the story of a family struggling to survive this untamed, unforgiving land. In this wild, remote corner of the world, the family of three joins a community of resilient men and women who know how to thrive during the long, sunlit summer days and survive the brief winter days and frigid nights.
11. Eat, Pray, Love by Elizabeth Gilbert
We couldn't complete this list without including this memoir from Elizabeth Gilbert as she spends a year traveling the world to find worldly pleasure, explore spiritual devotion and identify what she wants from life. Her travels take her to Italy, India and Bali, so if you want to explore these locations yourself or through another person's eyes, be sure to pick up this memoir.
12. Where'd You Go, Bernadette by Maria Semple
This national bestseller — named one of the best books of the year — follows the journey of love between a mother and her daughter. When Bee picks a reward for earning grades, she decides on a family vacation to Antarctica. Her mother Bernadette is typically reclusive, but she dedicates herself to planning the trip until a disaster at a school fundraiser drives the burnt-out mother to disappear. Bee decides to follow Bernadette's trail, and on her journey, uncovers her mother's life of secrets. Read this book before you watch the movie adaptation.
13. I Might Regret This: Essays, Drawings, Vulnerabilities and Other Stuff by Abbi Jacobson
If you want to read a book about vacation while you're traveling, pick up this essay collection from actress Abbi Jacobsen, co-star and co-creator of Broad City. Her family, friends and the author herself were all confused when Jacobsen decided to take a solo cross-country road trip, but her essays prove how cleansing solitude can be. Newly single, Jacobsen used her road trip to Los Angeles to mull over life's biggest questions in a sharp, funny voice that will keep you turning the pages.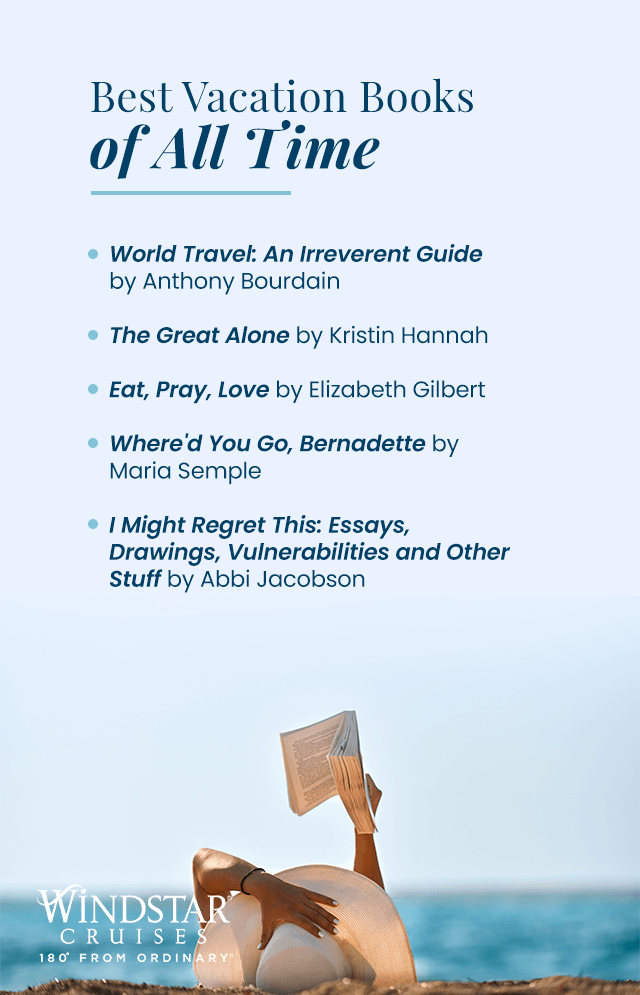 Browse Windstar's Cruises for an Unforgettable Trip
At Windstar, our personalized approach and small cruise ships carry you to your favorite destinations and ports. See and experience the world from a new perspective. While away from crowds, you can immerse yourself in local cultures, all from a relaxed cruise ship. Each cruise ship can accommodate between 148 and 342 guests, and since our yachts are intimate and private, we have access to docks larger boats can't reach. Some of our destinations include:
Italy
Tahiti
Arabia
Alaska
Greece
Mexico
Caribbean
Canada and New England
Australia and New Zealand
Costa Rica and the Panama Canal
Sail with any of our small cruise ships, including Wind Surf, Wind Star, Wind Spirit, Star Pride, Star Breeze and Star Legend. Browse our cruises at Windstar for vacation inspiration.