If you're a food fanatic, chances are you'll want to know the best international food destinations. You may be looking for an opportunity to travel while experiencing new dishes and cultures. Traveling the world is a chance to eat traditional foods, explore local markets, buy local produce and goods and eat at famous restaurants. From the renowned pizza in Italy to traditional sushi dishes in Japan, food fans will want to know where they can find great meals and attractions.
In This Article
The World's Top Spots for Food Lovers
There are so many international food destinations to explore, whether you're looking for traditional Indian cuisine or a modern twist on Mexican flavors. You may enjoy tasting the wine in Spain or traveling to the various pizza places in Italy. Whatever your taste, some of the best international food cities provide a wide array of meals that may fit your palate. Here are 20 of the world's best foodie destinations.
1. Italy
Italy is home to various pasta and pizzas, famous cheeses and dishes like Parmesan, pesto and prosecco. With a reputation for gourmet dishes, every region in Italy specializes in different foods, and some areas offer cooking schools and wine tastings. For example, Sicily is famous for arancini, deep-fried balls of creamy risotto.
Florence, Italy, is home to the original garlic bread, fettunta and ravioli nudi. Of course, every trip to Italy should include a tour of Naples. Naples has some of the best pizza in the world, with other dishes like rum-soaked sponge cakes, cuoppo and pizza fritta.
Bologna is one of the best food cities in Italy. Besides the delicious tortellini, there are various areas to tour, visit and sample food. Try a parma ham at the Parmigiano-Reggiano factory or visit the source of balsamic vinegar. There is also an extensive wine center in the Emilia-Romagna area, offering sparkling Lambrusco and red Sangiovese wines.
2. Argentina
The city of Mendoza in Argentina is a paradise for wine lovers. You'll find first-class grapes, meat and wine while you enjoy breathtaking views in the Andes and diverse regions with impressive courses. Take a wine tour and taste the malbecs or sample a wine lunch. Mendoza is one of the most popular places for food lovers who want to try some classic drinks that people enjoy worldwide.
3. France
Some of the best international food destinations in France include Paris and Lyon. In the capital city of Paris, you can see the Eiffel Tower and visit the local street food markets and crepe stands. Take a food tour and taste dishes like escargot, frog legs and croissants.
For a diverse itinerary, take a trip to the city of Lyon and try some gourmet food. Michelin chef Michel Roux Jr. also enjoys Lyon for its unique cuisine.
4. Spain
A trip to Spain wouldn't be the same without stopping by the city of San Sebastian, a seaside town known for its pintxos meals. Pintxos are a kind of tapas that often come served on a baguette and include various additions like omelets, ham, risotto squares and scampi.
In San Sebastian, visitors often visit a few bars and pair their pintxos with different drinks. Locals enjoy txacolí, a sparkling wine traditionally found in the Basque country. With some of the most delicious seafood in Europe, incredible views of La Concha Beach and various three-star restaurants, San Sebastian serves gourmet food that continues to follow the town's traditions.
While visiting Spain, take a trip to La Rioja to try wine tasting. One of the country's most famous wine regions, La Rioja contains more than 500 wineries, a Michelin-starred restaurant and provides delicious produce throughout the year.

5. India
For fans of flavorful meals, India contains several regions specializing in specific dishes, styles and spices. Whether you're looking for a plate of curry, rice and flatbread, chutney or poppadoms, India offers a wide range of traditional meals to explore.
Visit the region of Jaipur, an area that still uses the cooking methods and dishes of the Rajput princes of Rajasthan. Traditional Jaipur dishes include chargrilled and barbecued meats and flavors.
6. Thailand
Thailand allows tourists to experience sweet, spicy, salty and sour flavors throughout the country. With spices like garlic, chilies, coriander and lime juice, Thai dishes are full of powerful scents and tangy flavors.
Visit Bangkok for delicious street food, traditional pad Thai or green curry and the experience of floating markets. Bangkok has various foodie destinations, including food tours, Michelin-starred restaurants, food stalls and cooking classes. Try out the mangosteens and visit the Chinatown Market or the Wang Lang Market.
7. Japan
Japan is one of the best food destinations in the world. From sushi and sake to unagi and ramen, Japan is full of classic flavors, traditional dishes and unique tourist attractions. Visit Tokyo's izakayas and markets to find some tasty drinks or local produce and goods. Tokyo has various Michelin-starred restaurants and markets that offer gyoza, udon or okonomiyaki, or you can try to learn the exacting etiquette of a traditional Japanese tea ceremony.
8. Mexico
Mexico is one of the best places to try flavorful dishes that are famous worldwide. Known for corn and bean dishes, tacos, quesadillas and enchiladas, Mexico is also the birthplace of chocolate and home to some of the most delicate traditional dishes.
One of the first stops in Mexico should be the city of Oaxaca, which houses some of the country's best restaurants and contains various markets and street stands with delicious foods. Mezcal, the alcoholic beverage made from agave, originated in Oaxaca. Walk the streets and try the fresh dishes made with unique flavors and a mix of traditional and modern Mexican cooking styles.
Food lovers who want to continue their journey through Mexico must stop by Mexico City to visit the restaurants. Taste the local huarache, or go to Pujol or Maximo Bistrot for dinner. Try some mezcal or tequila while there and discover a unique blend of global and local flavors combined with authentic Mexican food. If you're looking for a fun night out, take a quick trip to Guadalajara to taste their world-famous tequila.
9. Australia
Melbourne, Australia, has many diverse restaurant and deli options, including Italian, Greek, Vietnamese and Chinese. In particular, Melbourne has a reputation for its coffee shops, with plenty of hipster cafes to explore. If coffee is not your style, try out the underground cheese room or visit the wine region of Yarra Valley and taste some chardonnay and pinot noir.
Melbourne also hosts the Food and Wine Festival, an event featuring dishes from culinary stars and crowds of over 250,000 people annually.
10. Malaysia
With Chinese, Indian and Portuguese influences, Malaysian dishes combine multicultural traditions. Many meals feature rice, heavy spices and chili, such as the national dish, Nasi Lemak. While visiting, try to take a trip to Penang and taste the street food while you're there.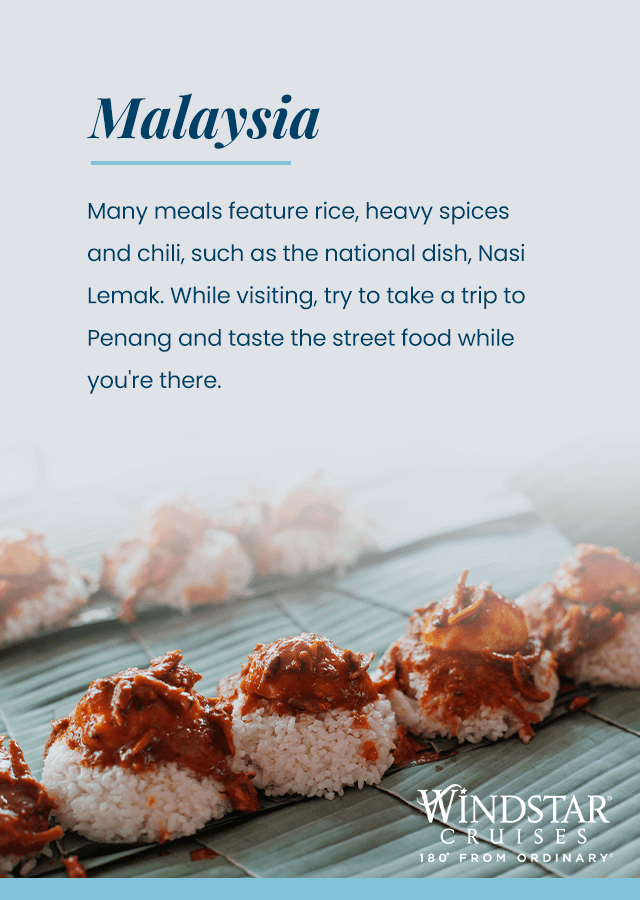 11. New Zealand
Due to New Zealand's rich soil and excellent climate, the country is home to abundant vineyards and artisan foods. Visit the wineries of Hawke's Bay and taste the famous wines while trying out some innovative food produced in the area.
12. England
A trip to London, England, should always include a meal of fish and chips. However, more adventurous foodies will find many options for British cuisine. Try out some new city pop-ups or hipster coffee shops around town. Visit the Borough Market or try out the food or cocktail bars at some of the top restaurants in London. And, of course, any trip to England should include afternoon tea. Stop by Soho to visit the thriving community full of restaurants, pubs, waffle bars and wineries before you leave the country.
13. China
Hong Kong, China, has a reputation for its dim sum. However, you'll also find the city's food has drawn influences from several cultures worldwide, resulting in a unique blend of modern and traditional meals. In addition to sampling some dim sum restaurants like Tim Ho Wan or One Dim Sum, every foodie needs to try the iconic roast goose. The tender meat has a crunchy outer skin and contains rich flavors sure to leave a lasting impression.
14. Turkey
If you're looking for food rich in flavor and cultural influence, take a trip to Instanbul to experience Turkey's various foods and dishes. Aside from the delicious meals, Turkey also has a wide range of tourist destinations, from seaside resorts to museums and historic sites. If you ever get the chance to visit Instanbul or Capadoccia, make sure you try the doner kebab, pide, baklava or meze dishes.

15. South Africa
Cape Town in South Africa has some of the world's best soil for growing wine grapes, from merlots to cabernet sauvignons. Cape Town also has markets that offer coffee and soul food. Make sure you also take a trip to Mount Nelson and try some afternoon tea before you leave the country.
16. Greece
Whether you visit Crete or Naxos, Greece offers some unique dishes using local products. In Crete, some delicious meals include goat stew, pilaf, dakos, kochlioi and kaltsounia. Remember that many meals in Crete include raki, an alcoholic beverage made from twice-distilled grapes. Local recipes in Naxos include eggplant stew, pork fricassee and spinach pie. Try out graviera cheese or kitro liqueur, a drink made with citron leaves.
17. Israel
Don't forget to add Israel to your list of food destinations. Cities like Tel Aviv and Nazareth blend Arabic and Jewish cooking and offer traditional meals for a low price.
In Tel Aviv, many markets feature aromatic spices, fish, delicious cheeses and local fruits and vegetables. You'll also find some delightful kubbeh or restaurants that serve Yemenite food. Some famous dishes in Tel Aviv that every foodie should try at least once include kugel, cholent and gefilte fish.
Nazareth has some excellent Arabic restaurants that offer home-cooked meals with a modern twist. Don't forget to stop by local shops to pick up some Arabic pastries like mamtakei hayedidut, also known as friendship sweets or el mukhtar.
18. Canada
Some of the best cities to explore in Canada are Vancouver and Toronto. Both regions offer wineries, specialized dishes and artisan chefs.
Visit Vancouver to experience food festivals, microbreweries, eateries and wineries. Sample the Japadog — a hot dog with teriyaki sauce, mayonnaise and seaweed — or salmon candy with maple syrup, if that attracts your interest. One of the best places to visit in Vancouver is the Granville Island Public Market, which sells local products from farms, butchers, fishermen and cheesemakers.
A trip to Toronto will satisfy any foodie's cravings for experimental menus and comfort food. Restaurants in the area offer vegan options, wood-fired grilled meats and farm-to-table meals. Try the peameal bacon sandwich, chicken shwarma or the veal sandwich. And don't forget to stop by one of the markets to pick up some bison, wild boar, elk or venison sausage.
19. Morocco
One of the world's favorite foodie cities is Marrakech, Morocco. That's because it combines the influences of Arabic, European, Andalusian and Mediterranean cuisine with local foods and produce. Moroccan cooking includes flavorful spices like saffron and ras el hanout, a mixture made from 27 herbs. Perhaps the best-known dish every foodie should try is tagine, a meal made from meat, vegetables and seasoning slow-cooked over time.
Whether you're looking for marketplaces or souks, Morocco has various breads, liver, aubergines and sweet teas to charm your taste buds and enhance the Marrakech experience.
20. Peru
Peruvian foods often feature high-quality products and ingredients such as quinoa, maca, amaranth and lucuma. The seafood dish ceviche is one of the most popular foods in the country, and the cities of Lima and Cusco are relatively unexplored foodie destinations.
Lima, Peru, is one of South America's top food destinations, famous for a thriving food scene with regional dishes and a unique blend of Spanish, Chinese and Japanese cultures. Some signature dishes include ceviche and chicharrones, with restaurants like Astrid and Gaston providing delicious cuisine to travelers worldwide.
Stop by Cusco's market and experience the gourmet scene or sit at restaurants like Limo to explore the sophisticated meals and dishes.
Explore Famous Food Destinations with Windstar Cruises
At Windstar Cruises, we provide our guests with the luxury and freedom to immerse themselves in the journey and destination through authentic tours and trips. Our ships are private, serving between 150 and 350 guests per cruise, making for a spacious and relaxing vacation. We offer journeys to Europe, Asia, Canada and New England, Mexico, Central America and the Caribbean, among other special cruises. Contact us today to speak to a representative and reserve your space.