What could be more relaxing than sinking into a cozy deck chair with a frosty, fruity cocktail in hand? A lot of travelers would agree — one of the best parts of taking a cruise is being able to fully relax while an attentive wait staff serves you extraordinary drinks and dishes. At Windstar Cruises, it's our pleasure to help our guests unwind with attentive service and drinks that hit the spot. Get ready to sip your way to paradise — here's a list of the best drinks you can get on a Windstar Cruise, plus other options that'll make you say, "Ahh."
Best Drinks to Order on a Windstar Cruise
There are many reasons to enjoy a well-made cocktail, especially when you're on a cruise. First, cocktails are usually mini works of art. Think of the last time you enjoyed a colorful cocktail topped with delicate garnishes. The presentation alone may have been enough to put you in a cheerful mood.
Also, cocktails often feature a variety of fresh ingredients, including herbs, fruit and sometimes vegetables. If you have an adventurous palate, you'll be pleased with our extensive drink menu.
Lastly, it's hard not to feel glamorous with a cocktail in hand, which is another part of the fun. At Windstar Cruises, our talented bartenders take joy in creating concoctions sure to tickle your taste buds and mellow your mood. Here are some of Windstar's new and delicious drinks you need to try.
Strawberry-and-Basil Smash
Our take on the classic fruit smash blends sweet strawberries with fresh basil, lemon juice, simple syrup and Hendrick's cucumber-and-rose-infused gin. Topped with prosecco and a strawberry-and-basil garnish, this refreshing, ruby-red cocktail evokes a sunny stroll in a garden.
Strawberry & Basil Smash Cocktail Recipe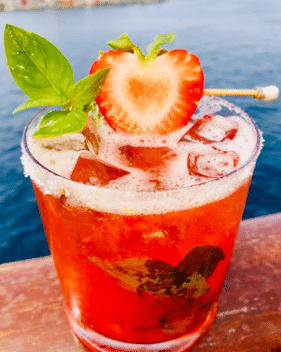 1.5 oz Hendricks Gin
2 Strawberries
4 Basil Leaves
½ oz Fresh Lemon Juice
½ oz Simple Syrup
Top up with Prosecco
Muddle Strawberries, Basil & Simple Syrup. Add ice, Lemon Juice, Citron Vodka & Shake into a Sugar Rimmed Rock Glass. Top up with Prosecco. Garnish with a Strawberry & 2 Basil Leaves.
Strawberry Pimm's
You may have heard of a Pimm's cup, a popular British summer cocktail that's been around since the mid-19th century. Originally, this cocktail featured gin, quinine and a range of herbs to help digestion. Our version is all about the flavors, but it's still reminiscent of warm summer months.
Our Strawberry Pimm's combines cooling mint and cucumber flavors with citrusy lemon and lime, sweet strawberries, spicy ginger beer and fruity Pimm's liqueur. The result is essentially summer in a glass and flavors that will make you feel filled with sunshine. This cocktail is a lovely dinner companion, and pairs deliciously with seafood, grilled meats or fruity pastries — if you're in the mood for something sweet.
Strawberry Pimm's Cocktail Recipe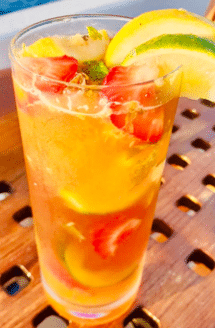 4 Mint Leaves
4 Cucumber Slices
4 Strawberries, Sliced
2 Lemon Slices
2 Lime Slices
4 oz Pimm's No. 1
4 oz Ginger Beer
Muddle the ingredients in a shaker, add ice & Pimm's, shake & pour into a High Ball Glass. Top up with Ginger Beer, garnish with a Lemon & Lime Wedge.
Twisted Mule
If you're sailing to the Caribbean, you can embrace the tropical spirit with a cocktail like the Twisted Mule. This sweet and spicy concoction fuses fresh pineapple chunks with Ketel One vodka, bubbly ginger beer and refreshing mint and lime. It's the ideal beverage to jumpstart your taste buds and prepare them for a decadent plate of fresh seafood. If you want to watch the stars and savor a balmy breeze, a Twisted Mule won't disappoint.
Twisted Mule Cocktail Recipe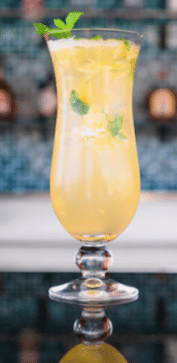 1.5 oz Ketel One Vodka
6 Chunks of Fresh Pineapple
4 Slices of Ginger
4 Mint Leaves
1 oz Lime Juice
Topped up with Ginger Beer. Muddle Ginger, Pineapple and Mint. Add Ice, Vodka, Lime Juice & Shake. Pour into a Hurricane Glass and top up with Ginger Beer. Garnish with a Mint Sprig.
Señorita Cutini
A journey to Mexico's breathtaking coastline calls for complete relaxation and a unique, tequila-based cocktail. Our Señorita Cutini mixes honey, cucumber, fresh lime juice and tequila with the floral flavors of Martini Bianco dry vermouth. Served in a martini glass with a cucumber ribbon garnish, this elegant cocktail will stimulate your appetite. Be sure to enjoy this beverage with local-inspired fare such as fresh ceviche or tacos al pastor.
Señorita Cutini Cocktail Recipe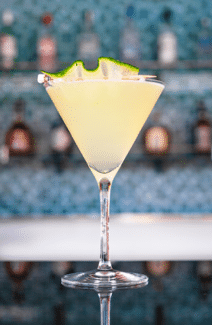 4 Slices of Cucumber
2 oz Tequila
¾ Martini Bianco
½ Honey
¾ Fresh Lime Juice
Muddle the Cucumber & Honey, add all Ingredients & Shake. Strain into a Martini Glass, Garnish with a Cucumber Ribbon.
The Tilted Kilt
Does the scent of barbecued meats wafting through the air instantly transport you to a summertime picnic? The Tilted Kilt is a cocktail made to accompany mouthwatering grilled meats and an afternoon enjoying life's pleasures. This cocktail blends the smoky, salty, caramel flavors of Laphroaig single-malt Scotch whiskey with rosemary, lime and simple syrup. The Tilted Kilt features bold, lingering flavors perfect for pairing with barbecue.
The Tilted Kilt Cocktail Recipe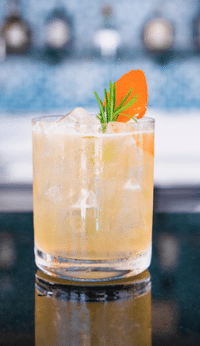 1 oz Laphroaig
Rosemary Sprig
1 oz Fresh Lime Juice
1 oz Sugar Syrup
In a shaker add all the ingredients, then add ice. Shake and strain over a Rock Glass with Fresh Ice. Garnish with Rosemary and a think Orange Peel.
Stranger Things
Whether or not you're a fan of the Netflix series "Stranger Things," this Windstar Cruise cocktail is sure to entrance you. This drink combines sweet and floral elderflower liqueur with dry, citrusy Tanqueray gin. Add in strawberries, cucumber and crisp Stella Artois, and you have a refreshing, bubbly beverage to cool down with by the pool.
Stranger Things Cocktail Recipe
Tanquerey  1 oz
Stella Artois beer  6 oz
Elderflower Liq ½ oz
2 cucumbers and 2 strawberries
Muddle Cucumber and Strawberries, add Gin and Elderflower. Shake and pour over ice into a Wine Glass Add Stella and Garnish with a Strawberry and Cucumber.
Cocktail of the Day
One of the best ways to experience a new culture is through taste. Our bartenders and chefs delight in serving guests locally inspired cocktails to enhance their seafaring adventures. Be sure to ask the bartender for the cocktail of the day to sample regional flavors and immerse yourself in your itinerary.
Other Windstar Cruise Drinks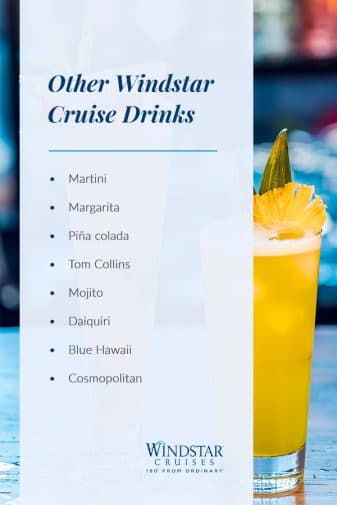 Did you know many of today's most beloved cocktails have their origins between 1860 and the Prohibition? If you're a fan of traditional cocktails, you'll love your Windstar experience. Tell the bartender what you want, and they'll be happy to shake, strain and pour your favorite spirituous blend. Here are some of the best cruise drinks you can enjoy.
Martini: Is there any other cocktail that exudes sophistication like a martini? The martini has mysterious roots, and no one knows for sure where it all began. Some say the martini originates with a miner who struck gold and asked a bartender to create a special drink to celebrate his fortune. Others claim it's the invention of Jerry Thomas, the father of bartending. Regardless, this simple cocktail consisting of gin, dry vermouth and a dash of orange bitters will make anyone feel like an incognito celebrity.
Margarita: A margarita is a classic cocktail for a fiesta. This refreshing beverage typically includes tequila, lime juice and triple sec and features a sweet and sour flavor. Margaritas usually come in a salt-rimmed glass for a briny touch. Legend has it a bartender trying to please a picky patron invented the drink near Tijuana during the 1930s — but that's just one of the possibilities.
Piña colada: When you think of tropical islands, do you imagine piña coladas? If so, that's quite understandable. After all, who wouldn't want a sweet, creamy, icy beverage to sip all afternoon while on the beach? A piña colada, which translates to "strained pineapple," consists of rum, coconut cream, heavy cream and pineapple juice. The origins of this dreamy, smoothie-like beverage trace back to 1954 in San Juan. Created by a bartender for hotel guests, piña coladas will likely always be a favorite.
Tom Collins: A Tom Collins is one of the oldest cocktails still around and still well-loved. You might think of this beverage as a crisp, sparkling lemonade with a gin punch. The Tom Collins cocktail goes back to 1874 and takes its name from a silly hoax. If you want to taste the past and relax with an icy drink at the same time, tell the bartender you're looking for Tom Collins.
Mojito: Do you have a thirst for history and well-balanced cocktails? If so, you'll probably enjoy a mojito. Mojitos existed more than 500 years ago and are one of the oldest cocktails still enjoyed today. One story says 16th-century pirates first used mojitos to treat vitamin C deficiencies. Consisting of white rum, lime juice, simple syrup, mint leaves and soda water, this classic cocktail goes swimmingly with seafood or fish tacos.
Daiquiri: Legend has it that an engineer who was working in Cuba during the 1890s was looking for the perfect boozy formula — and daiquiris were the happy result. Although there are many different daiquiri recipes, the classic cocktail is pretty straightforward and consists of rum, lime juice and simple syrup. Like other tropical-inspired, rum-based beverages, daiquiris are delicious with fish and seafood.
Blue Hawaii: If you're heading to Curaçao, you might ask the bartender for a Blue Hawaii, invented in 1957 by a hotel bartender in Hawaii. This electric-blue cocktail captures the color of tropical seas in a glass and offers sweet and sour island flavors with ingredients such as pineapple juice, white rum and blue Curaçao. It's hard not to feel like you're relaxing in paradise with this beverage in hand.
Cosmopolitan: A cosmopolitan is another popular cocktail choice, whether you're on a cruise ship or in a bar in Manhattan. A Miami bartender invented this chic pink drink in the 1980s, and it typically includes vodka, lime juice, cranberry juice, triple sec and an orange twist garnish. With its perfect combination of sweetness and tartness, a cosmo is the way to go if you want a drink that's sophisticated, balanced and pretty in pink.
If you're curious about other Windstar classic cocktails, ask one of our bartenders about the following tasty drinks.
How Much Do Cocktails Cost on a Cruise?
Cocktail prices vary depending on the ingredients used, but in general, you can expect to pay between $8 and $11 per drink. If you purchase one of our beverage packages, you can enjoy an unlimited number of select cocktails for a set price.
About Windstar's Drink Packages
If you plan to enjoy a variety of alcoholic beverages on your cruise, you'll get the best value if you choose a beverage package. Windstar's drink packages allow you to pay for unlimited drinks in advance. They allow you to enjoy a vast assortment of beverages for one price, completely stress-free. Windstar is proud to set itself apart from other cruise lines, offering guests a selection of 33 different wines in addition to premium brands such as Johnnie Walker, Grey Goose and Patrón — all included in the package. Here are the options.
Topmast Discoveries Beer and Wine Package: With this package, you'll enjoy a diverse selection of carefully chosen wines and imported and domestic beers for $49 per guest per day. This deal might be the ideal choice for wine or beer lovers. 
Captain's Exclusive Beverage Package: If you love to try new flavors and are excited to sample Windstar's cocktails, consider the Captain's Exclusive Beverage Package. For $59 per day, you can enjoy all the wines and beers included in the Topmast Discoveries Beer and Wine Package, plus cocktails, aperitifs, cordials and items from the minibar. 
All-In Package: If you want to treat yourself to every onboard amenity available with Windstar, consider our All-In Package. This package includes the Captain's Exclusive Beverage Package, plus unlimited Wi-Fi, and gratuities, all for $89 per person per day. 
How Do I Know Which Option Is Best for Me?
If you're looking for exceptional value, you can't go wrong with the All-In Package. Most of our guests prefer this package because it offers convenience and helps them save money on drinks and other amenities. With this package, you can save around $30 a day enjoying unlimited cocktails, having limitless access to Wi-Fi and not having to think twice about gratuities. With the All-In Package, you can enjoy a truly laid-back journey.
If you have more questions about any of our beverage packages, please reach out to one of our Vacation Planners. We'll be happy to answer your questions and help you choose a beverage package that'll suit your needs.
Contact Windstar to Learn More
Perhaps the best accompaniment to a colorful cocktail is the warm and fuzzy feeling you get when traveling. If it excites you to explore new places, cultures and flavors, we encourage you to reach out to us at Windstar Cruises. We're proud to leave the crowds behind and take out guests to must-see destinations around the world, docking at ports both large and small. To join us on one of our comfortable, elegant ships, contact us today — we'll be delighted to help you book your next adventure.