Introduction: Why Cruising the World Should Be On Your Bucket List

Have you always dreamed of traveling the world? Do you long to witness the crystallized beauty of Alaska up-close, roam ancient temples or watch the sunset over the Mediterranean Sea? Does your heart flutter with excitement and do you become dizzy with wonder at the mere thought of traveling to exotic places? If so, you might want to add a world cruise to your travel bucket list.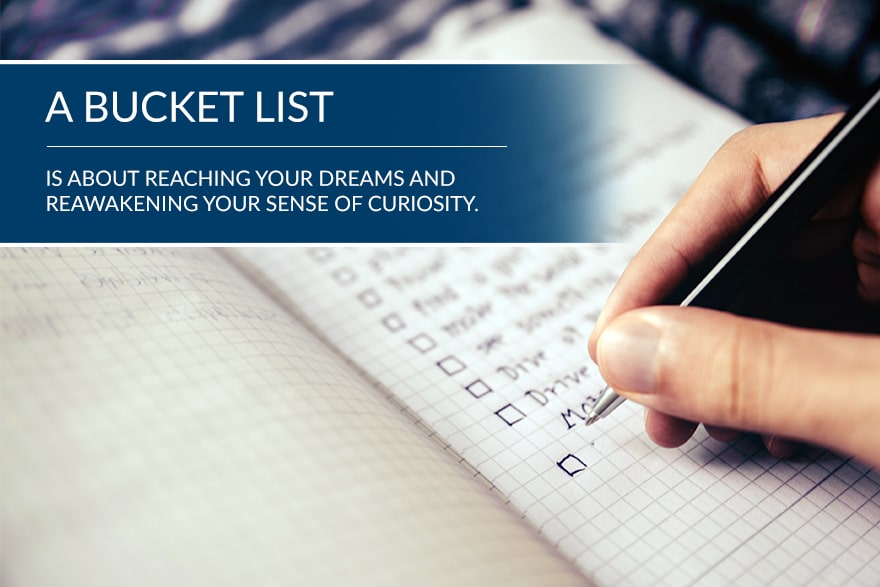 A bucket list is about reaching your dreams and reawakening your sense of curiosity. A bucket list recognizes that life is short, but your sense of adventure is everlasting. Your bucket list reminds you that you are fully awake and life is there, waiting to be embraced, cherished and remembered.
There are so many things you could add to your bucket list. You might wish to dine with a loved one in Paris, watch the aurora borealis illuminate the sky or swim with dolphins in tranquil waters. A cruise allows you to check off several items on your bucket list in one continuous life-altering journey. When you return from your travels, life will feel richer and more complete.
World travel is something many people hope to accomplish. Unfortunately, a lot of people live their lives thinking travel is unrealistic. The truth is that you can make your traveling dreams a reality and it is not that difficult. Windstar Cruises makes the entire cruise-planning process simple.
In this guide, we will explore the best cruises for the bucket-lister, including top destinations such as:
Alaska: Get lost in ice-enchantment that appears so surreal you'll think you're dreaming.
Mediterranean countries: Coastal villages bathed in sunlight, a slower pace of life and hearty, healthy meals — what is there not to love?
Europe: Breathtaking architecture, romantic cafes and world-class museums draw travelers from around the globe.
Caribbean: Colorful cocktails, soul-soothing music and tropical landscapes make this part of the planet a top destination.
Costa Rica and Panama: Expect diverse wildlife, pristine beaches and colorful culture.
Transatlantic cruise: A journey across the Atlantic is an unforgettable experience that allows you to lose your sense of time, completely de-stress and enjoy the depth and mystery of the ocean.
Everyone's bucket list is unique, so you might desire one experience more than the other. We'll help you decide which destinations are most bucket-list-worthy for you by reviewing:
Cruise prices: You'll learn about general cruise costs and why cruises are worth every penny.
Bucket list ideas: We'll inspire your world-trip with bucket list ideas to make sure you get the most out of your experience and that it's truly life-changing.
Before you book your next bucket list trip, consider why a cruise is worth it. We will give you an overview of what to expect on your cruise and how to make your trip a bucket-lister's dream come true.
Join us for an unforgettable voyage to the most awe-inspiring locations on the planet — abundant in flavor, natural wonder and cultural delights. We'll travel to places both big and small for a complete bucket-list cruise.
Chapter 1: The Best Cruise Destinations in the World
Wouldn't it be amazing to close your eyes and teleport to Naples to enjoy a slice of Margherita pizza, hot and fresh out of a wood-burning oven whenever you please? And when you feel content with Italian cuisine, you could then teleport to a powdery-white beach in Aruba to nap away your sinfully delicious feast and awake to the option of swimming in calming blue water.
Since most of us do not have the power to arrive anywhere on the planet instantly, we need to be a little choosier with where we go. Although it would be a dream come true to explore a new country, city or town every day, life is short. Make sure to pick destinations that excite you the most.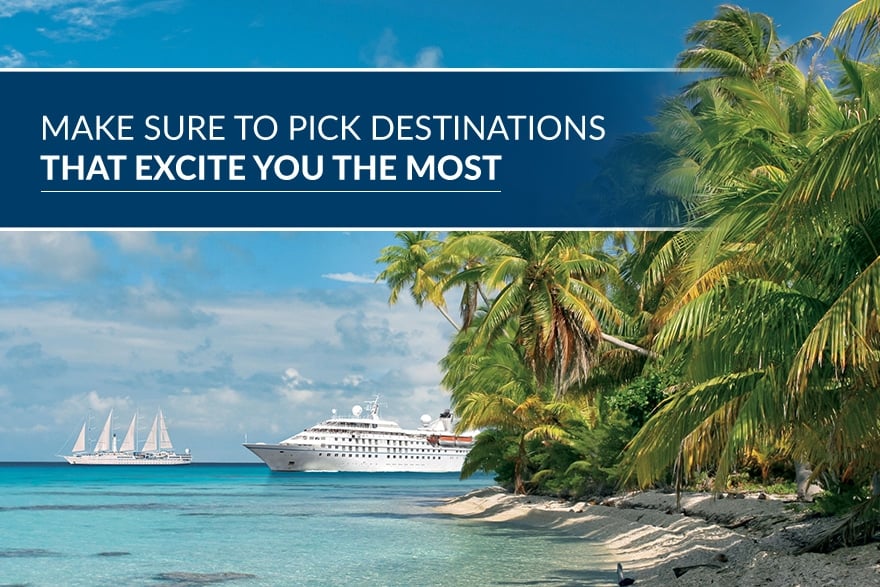 Choosing your favorite destinations can be difficult too. For example, how do you pick between spending a day lounging on a tropical beach or tasting world-class wines in a medieval city? Before we jump into the details of the best cruises out there, we'll help you narrow down your top bucket list destinations.
To choose the best cruise for you and what you'll enjoy most, follow these steps:
Determine length: One of the first steps to creating your travel plans is to figure out how long you wish to travel. What length of time will satisfy your wanderlust without causing you to worry about obligations at home? Find a balance that works for you. This will also help you figure out where to travel.
Know your budget: Your budget will dictate your travel plans more than anything else. Once you know your budget, you'll be able to figure out which destinations suit your dreams. For example, would you rather travel farther and longer to more affordable destinations, or for a shorter period with luxurious accommodations?
Know your preferences: What type of activities and environments do you prefer? Knowing what you love to see and do will help you narrow down your options. For example, do you prefer rural or urban environments? Warm tropical weather or cold, snowy places where you can curl up with a loved one next to a blazing fire?
Know what you want to gain from your experience: Do you love experiencing new foreign cultures? Choose a place you've never been to before. Or do you prefer environments that are more familiar and comfortable? Maybe travel somewhere that offers plenty of sightseeing and adventure without culture shock.
Choose top bucket-list experiences you need to have: Decide the top experiences you want to add to your bucket list with each destination. For example, if you're a nature-lover, consider adding a trip to a national park to your bucket list. If you live for culinary delights, make it a priority to experience new places through your sense of taste.
There are thousands of worthwhile destinations to choose from on this planet. Unfortunately, there are only so many places one can visit in a lifetime. We'll help you pick the places you can't afford to miss.
The Best Cruise Destinations
Cruising is unlike any other way of travel. While aboard a cruise ship or yacht, you get to enjoy the trip in luxury. Time slips away, and you are encompassed by sky, sea and dreams that may have lain dormant for too long.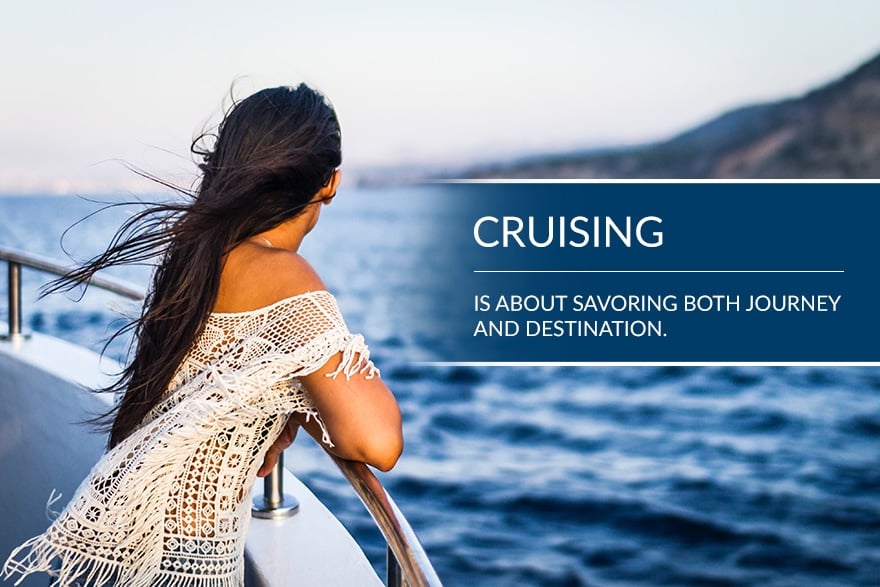 A plane ride might get you somewhere fast, but you'll miss the journey along the way. Cruising is about savoring both journey and destination. Some places make ideal cruise destinations.
In this section, we provide a list of the best cruise destinations in the world. We'll highlight the features that make these locations especially bucket-list-worthy and desirable.
1. Alaska
Many people dream of taking in Alaska's pure, unmatched beauty and observing the bountiful wildlife. With glaciers the size of Hong Kong, the chance to observe animals from caribou to grizzly bears and waters beckoning onlookers to whale-watch, Alaska is a wilderness-lover's dream come true.
When it's time to recharge after a day of outdoor exploration, Alaska offers an array of charming seaside eateries to choose from. Visitors have opportunities to warm up and chat with locals about Alaska's fascinating history and rugged lifestyle.
A cruise allows you to traverse Alaskan waters and witness its wild beauty safely aboard a cruise ship, so that you can enjoy the excursion comfortably. With so many waterways to explore and glaciers to get close to, Alaska is best seen by boat.
2. Asia
In Asia, travelers can expect to find ancient history combined with a contemporary culture unlike anywhere else in the world. An Asian cruise provides inspiring options to choose from including a variety of modern cities, enchanting temples, intimate islands and small villages.
With a fascinating history and culture, you're sure to experience a life-changing journey aboard a cruise to the world's most diverse continent.
Are you dreaming of idyllic coastal scenery? Do you wish to spend mornings whale-watching and afternoons strolling quaint historic towns? Can you imagine anything better than a meal built around some of the freshest lobster in the world?
If you'd love to get lost in a seaside reverie or spend evenings dining and conversing with friendly, hardy people, a Canada and New England cruise might be right for you.
4. Caribbean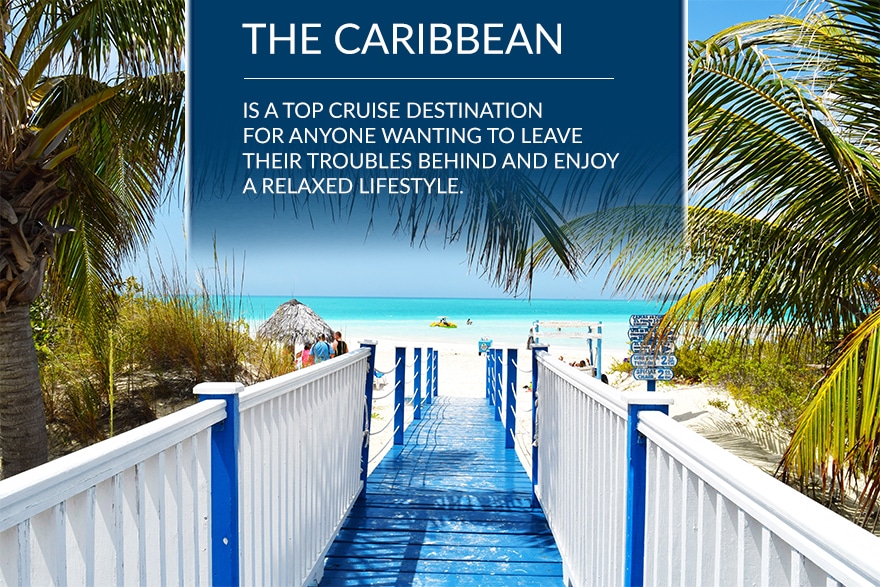 When a lot of people think of a cruise, they think of the Caribbean. The Caribbean is a top cruise destination for anyone wanting to leave their troubles behind, enjoy a relaxed lifestyle and be surrounded by aquamarine waters or the peachy hues of conch shells.
If the words "lush tropical paradise" make your heart sing and if you long for life to slow down to the rhythm of the ocean's waves, it's time to consider a Caribbean cruise.
For nature-lovers who also want a warm climate and exotic flair, consider Costa Rica and Panama.
Both destinations offer great biodiversity from rainforests to lakes and an abundance of wildlife — perfect for individuals wanting an intimate view of birds and who need a tropical escape. A cruise allows the chance to explore different ports, beaches and the Panama Canal. Life-changing adventures are only short distances from the shore.
6. Greece
Greece is a highly desirable destination. Every year, millions travel to this Mediterranean gem to explore ancient architecture and relax with views of white-washed homes stacked atop seaside cliffs with deep blue waters below.
Whether you want unforgettable dining experiences at romantic restaurants or to catch a contagious lifestyle, a cruise to Greece might be the perfect option for you.
7. Italy
Italy instantly evokes images of summery strolls arm-in-arm with a loved one along cobblestone streets for a good reason — it's one of the most romantic places on earth.
From charming towns to nourishing meals, Italy is the dream destination of many. Not only does Italy offer scenic beauty from ancient ruins to seaside towns bathed in Mediterranean sunlight, but it also offers a vast array of cultural amenities to learn the history, art and people of this captivating country.
Spain and Portugal provide a unique experience for those who want it all.
Breathtaking landscapes, pleasant weather, flamenco music, mouth-watering tapas, vibrant cities and visually striking architecture makes Spain and Portugal destinations everyone should visit at least once in their lives.
Also, Spanish is one of the easiest languages to learn. You might freshen up Spanish-speaking skills pre-trip and enjoy communicating with locals on a more intimate level.
To many, Northern Europe inspires images of storybook forests and picturesque towns. There is no denying that Northern European countries offer unique character all their own.
Northern Europe is utterly enchanting. With natural beauty and stunning landscapes, you'll instantly feel more relaxed the moment you arrive. Also, there's so much to see and explore, from quaint seaside villages to medieval castles. A cruise allows you to experience the diverse, spellbinding beauty of Northern Europe in a relatively short amount of time.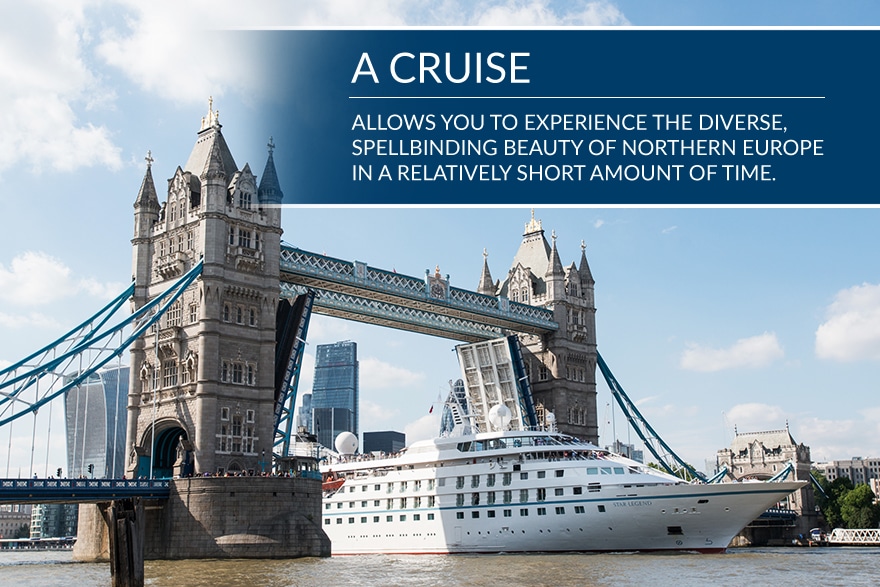 10. Tahiti
Tahiti is a pleasant word to say and even more pleasant to experience. Do you wish to snorkel with sea creatures or investigate the shadowy corridors of sunken ships? Perhaps you want to shop for pearls or spend a day bathed in luxury at a Polynesian spa?
Tahiti is a bucket-list favorite among honeymooners and older couples alike. For crystal-clear lagoons, lush rainforests and Polynesian culture get blissful and relaxed with a Tahiti cruise.
11. Ocean Crossing
Are you tired of the everyday grind? Do you fantasize about tossing a crowded calendar out the car window and never looking back? Here's a secret — you can transcend time and leave it all behind without a care in the world. It's called an ocean-crossing cruise.
Crossing the Atlantic aboard a cruise ship is the ultimate way to de-stress. With no pressure to do, think or be, you can fully lose yourself in the experience of life at sea.
With every day you'll enjoy unforgettable sunsets, experience endless peace and have plenty of free time to let go and be pampered. When you get in the mood for social excitement, there's never a shortage of activities to engage in onboard. However, it's perfectly fine to do absolutely nothing. The beautiful thing is — the choice is yours.
Bucket List Ideas
By this point, you probably have an idea of the places that excite you most or the destinations that would make life feel incomplete without visiting. Once you know where you want to go, it'll be time to figure out what you plan to do there.
We all have items on our bucket list. Some of us hunger for the next adrenaline rush, while others thrive on learning new things about people and places. What brings you joy? Figure out what you love most in this world and find ways to incorporate it into your bucket list.
A cruise to your top destinations can help you check off your top bucket list items. If you aren't sure what to add to your bucket list or need to create one, let us help you get started.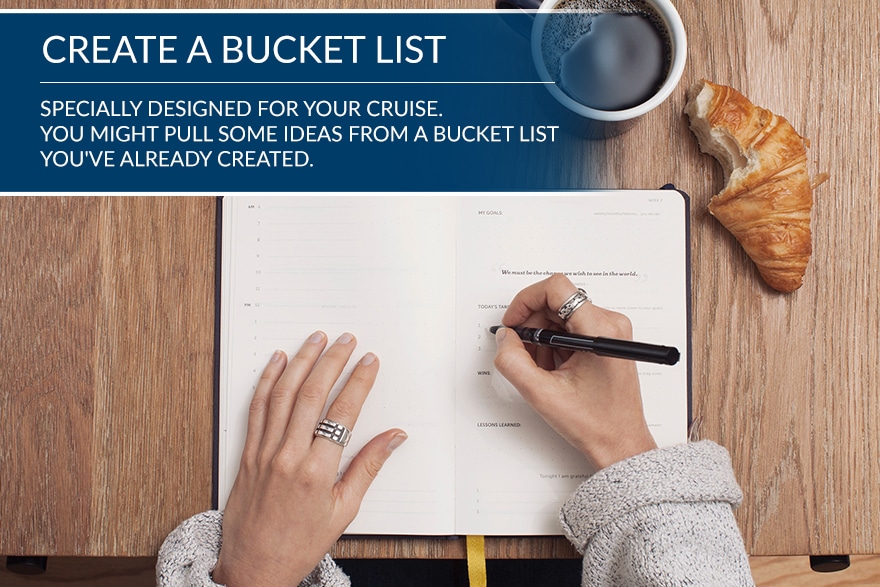 You'll want to create a bucket list specially designed for your cruise. You might pull some ideas from a bucket list you've already created or start one anew just for your trip. Here's how to make your travel bucket list and live your life to the fullest:
Brainstorm ideas — let your imagination roam.
Figure out the length of time for your travel bucket list.
Compare your bucket list with your travel partner.
Choose the items that excite you most.
Start planning by asking yourself who, where, when, how and what you need to make it happen.
Don't be afraid to keep adding to your bucket list and enjoy crossing off items.
Feeling a little stuck? Here are a few bucket list ideas for inspiration:
Travel to every continent
Swim with dolphins
Camp on a tropical beach
Visit a volcano
Dine on the Amalfi Coast
Take whatever time you need to make the list of your dreams. It's your bucket list and your life — make it count and make it fun.
Chapter 2: Why Cruises Are Worth the Price
Download PDF