Whether you consider yourself to be a foodie or you simply enjoy expanding your pallet with new dishes while on vacation, there are many exotic food options you must try on the island of Tahiti. There are so many unique dishes you simply cannot find anywhere else.
From raw fish to juicy, colorful fruits, Tahitian cuisine is very unique and highly inspired by the island's tropical climate and miles of breathtaking shorelines.
Learn more about popular Tahitian foods and drinks you must try on your next travel adventure.
In This Article
What Is Tahiti Food Like?
Tahitian cuisine involves a unique blend of Polynesian, French and Chinese influences. Many dishes revolve around the following staple ingredients:
Seafood and shellfish
Coconut and coconut milk
Banana leaves
Lime
Rice
Native fruits
Travelers will notice the prevalence of fresh coconut and raw fish in many of the local dishes. With its balance of tropical and sweet flavors, Tahitian foods are very unique compared to other regions throughout the world.
Tahiti is famous for its expansive selection of food trucks and stands. A scrumptious meal is always just around the corner, whether you are looking for warm breakfast pastries or a savory seafood kabob.
Styles of Tahitian Cooking
When discussing Tahitian cuisine, there are a few styles of cooking that are very popular in the region. Two significant features of Tahitian cooking include hima'a and tama'ara'a.
Hima'a refers to the in-ground ovens used for preparing large meals for festivals and banquets. Those preparing the food use banana leaves to cradle meats and vegetables as they cook over the oven's flames. These in-ground ovens are very popular in Tahiti because they are perfect for preparing various foods, ranging from crayfish to coconuts. They use hot volcanic rocks and fire to cook each meal.
Tama'ara'a is a type of Tahitian-style feast for special occasions such as holidays or festival celebrations. These are expansive meals with a variety of meats and vegetables that are often prepared using a hima'a. This style of cooking is important to Tahitian culture because they value human connection to nature and community. Outdoor cooking is a staple of Tahitian cuisine and many of the dishes on our list cook over these in-ground ovens.
11 Foods to Try in Tahiti
Tahitian cuisine has a unique blend of flavors and ingredients. Travelers exploring these islands should check out the following dishes for the full Tahitian experience:
1. Poisson Cru
Poisson cru, also called is ota or e'ia ota, is a colorful dish consisting of the following ingredients:
Coconut milk
Raw fish (usually tuna)
Lime juice
Vegetables
To prepare this dish, a chef typically marinates the raw fish in fresh lime or lemon juice. The acid from the citrus changes the fish's proteins and creates a similar effect to cooking the fish. To top this dish off, they add a variety of crunchy, raw vegetables, such as:
To bring down the acidity of the citrus juice, the chef adds a splash of coconut milk. This is a must-try for travelers because it is Tahiti's unofficial national dish.
2. Chevrettes à la Vanille et Coco
Chevrettes à la vanille et coco is a tasty Tahitian dish with freshly cooked shrimp served with a creamy vanilla-coconut milk sauce. This appetizer celebrates and showcases Tahiti's impressive locally sourced vanilla beans.
The sweet vanilla flavor of this dish pairs best with a side of rice or spinach.
3. Pahua Taioro
Any foodie on a trip to Tahiti must try Pahua taioro. It is an exquisite and unique dish made of a mixture of snails and clams. Preparation includes soaking these in fresh water for a couple of hours. A chef crafts a sauce for the mixture typically made of the following ingredients:
Grated coconut
Shrimp
Seawater
To top it off with a small crunch, they add a sprinkle of onions and garlic cloves, followed by salt and pepper.
4. Poulet Fafa
Poulet fafa is one of Tahiti's most popular local dishes made in an in-ground oven. To prepare this dish, a chef fries cut pieces of chicken in oil until they begin to brown. After removing the chicken, the chef sautees ginger with onion and garlic in the remaining oil. The chicken is then added back and cooked in the ahima'a until it is tender.
Meanwhile, let a heavy helping of chopped taro leaves cooked in salt water or spinach simmer until it is time to stir in coconut cream and cornstarch. After combining everything, this vibrant green dish looks as good as it tastes.
5. Ahima'a
Ahima'a, not to be confused with the type of oven, is a national dish that has a unique preparation process. To make this dish, you place volcanic stones at the bottom of the pit, followed by wood and coconut husks.
After the wood burns, you cover the cooking area with banana leaves where the pork and chicken get cooked. Seeing the preparation of this dish is an experience in itself for travelers.
6. Fafaru
Fafaru is a highly unusual traditional Polynesian dish that is known for smelling strong and pungent. Despite its strange aroma, this fafaru is a sweet dish served with fermented coconut milk.
When preparing this dish, a chef marinates crushed shrimps in seawater for two to three days, leaving it out in the sunlight. After filtering the mixture, the remaining liquid ferments slices of tuna for anywhere from three to eight hours.
Most travelers skip over this famous dish, but a true foodie will love giving it a try during their travels to Tahiti.

7. Sashimi
Sashimi is a famous Japanese dish that is very a popular menu item in Tahiti. This dish consists of thinly sliced pieces of raw fish or meat and typically pairs well with soy sauce.
However, the Tahitian twist on this Asian dish is its special sauce. Tahitian-style sashimi sauce consists of the following ingredients:
Soy sauce
Hoisin sauce
Oyster sauce
French mustard
Canola oil
Onions
Garlic
Ginger
This dish has a salty, memorable taste many travelers love.
8. Breadfruit or Uru
Trying out uru, also called ulu, is a must for any traveler visiting Tahiti. Uru is the fruit of a breadfruit tree and a staple of Tahitian cuisine and has cultural roots thanks to local legend.
There are hundreds of varieties of breadfruit and locals enjoy them both raw and cooked in an open flame, in-ground oven or fried in oil. With its starchy, bread-like taste, this fruit is delicious when dipped in sweet coconut milk. You can also make a yummy breadfruit butter out of the fruit to pair with bread.
9. Fresh Fruits
In addition to breadfruits, Tahiti is famous for its abundance of beautiful tropical fruits.
You can stop at nearly any local roadside vendor and find a plethora of exotic, colorful fruits, often including:
Pineapples
Sweet coconuts
Papayas
Avocados
Bananas
Grapefruits
Mangos
Watermelons
These fresh fruits often offer a different tasting experience than what you might pick up at your local grocery store. For example, the mangos are crunchier and the grapefruits are sweeter, making it feel like you're trying these foods for the first time ever. Foodies will love comparing the flavors of fresh Tahitian-grown fruits with what they are used to.
10. Casse-Croûte
In French, casse-croûte means "breakfast." In Tahiti, however, this term refers to a crunchy, delicious sandwich unlike any other. These sandwiches are made with crusty baguettes and filled with different meats, usually coconut milk marinated chicken, topped with the following ingredients:
Some Tahitian hotspots serve casse-croûte with raw fish instead of meat. And most notably, this unique sandwich includes a helping of spaghetti or Chinese chow mein noodles.
No matter what's inside this sandwich, casse-croûte is a lunchtime staple that anyone traveling to Tahiti must give a try.
11. Pizza
While considering what food to try in Tahiti, pizza probably doesn't come to mind. However, pizzerias are very popular throughout French Polynesia. Travelers may be surprised to learn about the abundance of pizza throughout the islands.
You can find many different options throughout Tahiti. The most popular topping choices include Tahitian pineapple and cooked ham, similar to a Hawaiian-style pizza.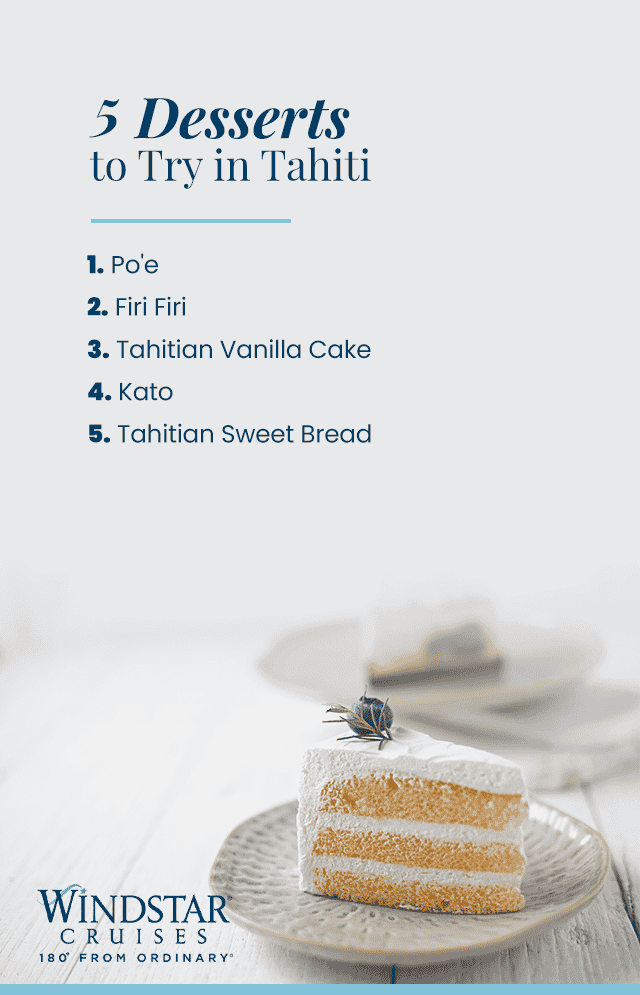 5 Desserts to Try in Tahiti
In addition to yummy foods, there are also some Tahitian dessert dishes that travelers must try while on vacation:
1. Po'e
Po'e, called poke in places other than Tahiti, is a delicious pudding dessert with its origins in Polynesia. This dish is strikingly tropical. Cooked bananas are mashed and combined with arrowroot flour, a starchy gluten- and grain-free flour.
The mixture is then wrapped in banana leaves then placed on an in-ground oven where it cooks until it bubbles and begins taking on the consistency of pudding.
Some serve po'e cut into cubes and covered it in coconut cream. While banana po'e is most common, it can also be made with:
This dessert is sure to be a crowd-pleaser among travelers.
2. Firi Firi
When taking a trip to Tahiti, be sure to order firi firi for breakfast at least once! These delicious donuts marinate in sweet coconut milk and are fried in oil. The deep-fried dough folds into a figure-eight. Once these donuts are brown and crispy, they are dusted in sugar and served with the following:
Coffee
Hot chocolate
Fruit jam
Travelers will see the locals dipping their firi firi into their morning coffee. These pastries have a mild coconut taste and crunchy, scrumptious texture. You can find them made fresh at many street food stands and shacks throughout Tahiti.
3. Tahitian Vanilla Cake
Tahitian vanilla is a special variety of vanilla that grows solely in the Tahitian Islands and is famous throughout the world for its unique, sweet taste. It is one of the most lucrative crops throughout all of French Polynesia and a staple ingredient in many desserts and dishes.
Because Tahitian vanilla is so popular, travelers can enjoy a plethora of sweet treats featuring this striking ingredient. Cakes made with Tahitian vanilla are known for having a delicate and almost fruity flavor, while traditional vanillas have a slightly spiced taste.
4. Kato
Kato refers to a French croissant-inspired breakfast biscuit that is very popular in Tahiti. They are made with coconut milk and usually served alongside a fresh cup of coffee.
These biscuits can be sweet like a cookie or on the savory side and are a staple breakfast item found at bakeries and roadside food stands.
5. Tahitian Sweet Bread
While vacationing in Tahiti, it is essential to give Tahitian sweet bread a try. What makes this bread so unique is its sweet dough made with yogurt and the juice from an orange.
Pieces of dried mango and pineapple go into the dough along with whipped egg whites. This sweet, chewy bread can be a delicious treat any time of the day.
4 Drinks to Try in Tahiti
While trying out new dishes on your travels to Tahiti, don't forget to try out some delectable drinks. There are a few staple drinks every visitor should give a go, including the following:
1. Hinano Lager
Hinano is Tahiti's national beer and its been a popular beverage of choice for locals for more than 60 years. Its name is inspired by white flowers that are indigenous to the South Pacific islands. This deluxe lager has a bright golden color and a notably bitter yet refreshing taste that is unlike other beers.
A trip to Tahiti is not complete without giving this lager a try. It is a beloved beverage that locals enjoy during festivals, including the Heiva i Tahiti and Tiurai.
2. Tahiti Drink
Tahiti Drink is a unique blend of delicious fresh juices and flavors that encompass the tropical essence of the island. It is a mixed drink commonly made up of the following ingredients:
Pineapple juice
Passionfruit juice
Orange zest
Vanilla
Fruit liquors or cane spirits
Tahiti Drink is a sweet and refreshing cocktail that's been a hit with locals since the 1980s. Many compare Tahiti Drink to a Mai Tai cocktail, but unlike most alcoholic beverages, you buy this drink in a carton.

3. Coffee
Travelers visiting Tahiti must be sure to enjoy at least one cup of Tahitian coffee. Thanks to the variety of coffee growers throughout French Polynesia, there are a few common options to choose from, including:
Rurutu
Manureva
Noanoa Grand Cru
Paradise Island
Traditionally, coffee is served with a few drops of Tahitian vanilla or mixed with sugar and sweet coconut cream for a dreamy cup of java on vacation. Some travelers have said that there is no better coffee on earth than in French Polynesia.
4. Wine
While the South Pacific may not be one of the most popular wine regions in the world, Tahiti and the accompanying islands do have vineyards that produce rare, delicious wines.
The most popular grape varieties in Tahiti include Muscat and Carignan. Muscat grapes are typically made into a light, refreshing rosé, while Carignan grapes produce a dark, deep red wine. Carignan is a local favorite because of its robust and bold flavors.
Start Planning Your Vacation to Tahiti Today
Whether you're a foodie or are looking to explore new places, a trip to Tahiti is sure to impress any traveler. And one of the best parts of vacation is trying new, exotic dishes from the local communities.
If you're looking to explore all that Tahiti has to offer, consider taking a trip! With Windstar Cruises, you can enjoy yacht-style cruising in a relaxed and friendly environment. Our crew is passionate about ensuring our passengers feel welcomed and excited to be on board.
Are you interested in getting more information about a life-changing trip to Tahiti? Contact a Windstar Vacation Planner to learn more today!