Located in British Columbia, Vancouver is rich with green forests and diverse city culture. From the trendy shops of the West End and the historical presence of Gastown to the vibrant nightlife in Davie Village, Vancouver offers a wide variety of foods, sites and experiences for local residents and travelers.
Whether you want to visit Stanley Park and look at the gray squirrels, see the wind turbine on Grouse Mountain or hear the Nine O'Clock Gun at Coal Harbour, Vancouver has many traveling opportunities that are unique to the area and are unlike other city experiences. Here are 27 interesting facts about Vancouver to get you excited about your next trip to Canada.
In This Article
1. Vancouver Is Called the "Hollywood of the North"
The film productions made in Vancouver are mostly American shows and movies. Vancouver is among the five most popular feature film spots behind cities like Los Angeles and New York. Many movie stars like to visit the city or call it home, and film studios like Paramount and Bridge have companies there. Some popular movies like "Deadpool" and "Godzilla (2014)" and the series "Bates Motel" were also filmed in Vancouver.
2. Vancouver Became a City in 1886
The largest city in British Columbia, Vancouver was originally a tiny saw-milling settlement called Granville before it was incorporated as Vancouver in April 1886. The city's port mainly exports grain and lumber from Vancouver to the U.S. or Europe.
The Greater Vancouver Fire broke out just two months after the city was incorporated and burned the town to the ground in a few hours. However, Vancouver quickly recovered and became a prosperous port.
3. The West End Is a Popular Hotspot
The West End is a popular area in Vancouver that is highly sought out. The neighborhood has many unique restaurants, bars and cafés to eat at, vintage bookstores and wine markets to explore. Visit the English Bay and go paddle boarding or see the famous inukshuk statue that became the logo for the 2010 Olympics.
4. Stanley Park Measures Bigger Than New York's Central Park
Approximately 10% bigger than New York's Central Park, Stanley Park contains an almost 22-kilometer seawall that locals and tourists enjoy walking or biking along. In 1909, New York City gifted eight pairs of gray squirrels to Stanley Park. One of the fun Vancouver facts is that every gray squirrel seen in the park today is a descendent of those pairs.
If you want to explore more parks located in Vancouver, visit Queen Elizabeth Park or Trout Lake Park to go hiking or walk along the trails.

5. Vancouver Is Great for Single People
Vancouver is considered excellent for single people since many unattached people live there. It was also ranked number 29 in the best cities for romance. If you aren't trying to find love yet, feel free to visit the bars and shops or explore the various neighborhoods and sites as a single person.
6. Vancouver Is Named After a Captain
Vancouver was previously named Gastown, Granville and Burrard Inlet. It was later renamed to honor Captain George Vancouver, a British expeditor and navigator from the Royal Navy who explored the coast in the 1790s.
7. Vancouver Is an Environmentally Conscious City
The Greenpeace activist group was created in Vancouver and founded in 1971. Green towns and spaces are what Vancouver is known for, making it one of the cleanest cities in Canada. Today, Greenpeace activists and supporters advocate for the ban of commercial whaling, fight to stop nuclear testing and promote the protection of Antarctica, among other goals.
8. Grouse Mountain Has a Wind Turbine
Vancouver's Grouse Mountain has an operational wind turbine called "The Eye of the Wind" with a platform for viewing the working blades up close. Mountains Mt. Seymour and Cypress Mountain also offer expansive views, along with various activities like skiing and snowshoeing in the winter or mountain biking and hiking during the summer.
9. The California Roll Was Invented in Vancouver
Despite the name sushi roll's name, Chef Hidekazu Tojo claims to have invented the California Roll in Vancouver. His restaurant is located in Vancouver's Fairview neighborhood, or you can find the sushi roll in other popular restaurants in the area.
10. Kits Pool is Canada's Longest Pool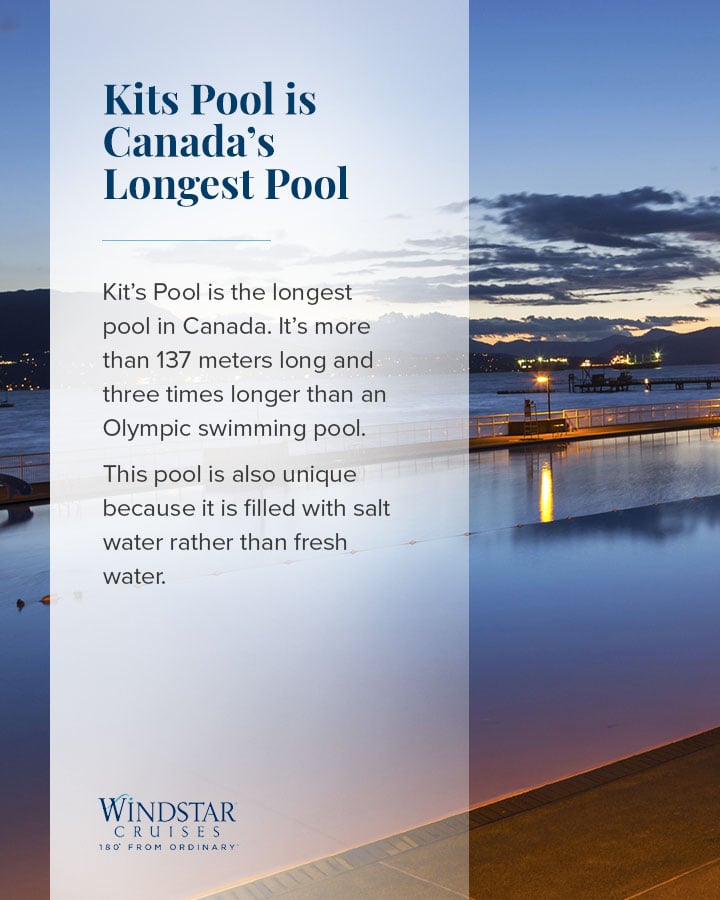 Kit's Pool is the longest pool in Canada. It's located in the Kitsilano neighborhood and is more than 137 meters long and three times longer than an Olympic swimming pool. This pool is also unique because it is filled with salt water rather than fresh water.
11. Vancouver Has the World's Largest Tin Soldier
New Westminster in the Metropolitan area of Vancouver holds the world's largest tin soldier. It's a surprising 9.75 meters tall and weighs over 4,500 kilograms. The statue is based on a replica of a Sergeant Major of the Royal Engineers and was designed by Danny Jay, the Austin Metal Fabricators and the Sheet Metal Workers Union. It even has a time capsule hidden inside that will be opened in 2025.
12. Vancouver Is Home to Many Immigrants
Vancouver has seen many immigrants come from around the world to call the city home. European immigrants from Great Britain, France and Ireland have re-located to Vancouver, and the city has seen a large influx of Asian immigrants, especially Chinese individuals, in recent years. Vancouver even celebrates the Chinese New Year as a result.
African and Caribbean immigrants have brought their food, languages and holidays to the city, and individuals from all over the world have made Vancouver a diverse place full of different cultures.
13. The Vancouver Aquarium Is a Fun Getaway
The Vancouver Aquarium is among the best aquariums in the world, with over 65,000 animals and 30 unique exhibits to explore. The animals include dolphins, sea lions, otters, beluga whales, sea lions and more.
14. The Museum of Anthropology Has Contemporary Native Art
The Vancouver Museum of Anthropology (MOA) is a center for historic and contemporary Native American art and is a great place to learn about Vancouver facts and history. MOA's goal is to bring Indigenous art to the forefront of modern culture by collecting various artists' works and respecting the cultures from which they came.
The MOA is located on the unceded territory of the Musqueam people and houses over 50,000 works from all over the world. It's also one of Canada's largest museums, teaching courses in museum studies and education and conserving Indigenous art.
15. Vancouver Is the Fifth Most Livable City in the World
According to a 2022 report from the Economist Intelligence Unit (EIU), Vancouver is the fifth most livable city in the world. This statistic is measured by education, health care, stability, infrastructure, culture and environment. The EIU gave Vancouver a perfect score in education, culture and health care, while the city's infrastructure and housing received a mark of 92.9.
16. Playland Amusement Park Has Exciting Rides
The Playland Amusement Park is located near downtown Vancouver in Hastings Park. It has over 30 rides and games and offers a wide range of entertaining activities like mini-golf and a haunted house. The park also has a climbing wall for those who are a little more adventurous.
17. Vancouver Has Canada's Largest Port
The port on Burrard Inlet is Canada's largest and has extensive docks and grain facilities. The port has freighters, fishing fleets and ferries, while the main cargo includes grain, coal, sulfur, forest products and steel. It's also a significant area for cruise ships, with Alaska as a common destination.
18. There Is a Significant Asian Population in Vancouver
Ethnic Chinese individuals make up half the population of Richmond, and significant numbers of Vietnamese, Japanese, Korean, Indian, Iranian and Filipino residents reside in the Metropolitan area and the suburb of Surrey.
19. Guinness Built Lions Gate Bridge
Lions Gate Bridge connects the central city to North and West Vancouver. Originally completed in 1938 by the Guinness brewing family, the bridge sought to join the downtown area with constructions on the north shore. Workers later made a third lane to increase the traffic volume, and the city took away the toll bridge in 1963. Lions Gate Bridge was then refurbished in the 1990s, heralding the city's move into the technological age.
20. Granville Island Is a Popular Shopping Spot
Located near False Creek, Granville Island is a human-made peninsula constructed in 1916. In the 1970s, the government purchased the island and invited several restaurant owners, artists, galleries and theater companies to lease buildings on the property. The Public Market opened in the '70s and saw millions of visitors a year. The famous market offers varieties of meats, fruits and veggies, crafts and entrees and is still a major shopping center to this day.
21. Gastown Remains a Historical Center
John "Gassy Jack" Deighton founded Gastown in 1867. Since then, it has retained its historic charm and beautiful Victorian architecture. Gastown contains a variety of shops, boutiques, galleries and food options. Fun to explore on foot, this area is located north of downtown Vancouver.

22. There Is a Large Theater and Music Presence in Vancouver
The Vancouver Symphony Orchestra performs throughout the metropolitan area, though their permanent home is located in the Orpheum theatre. The orchestra also plays music by local composers, such as Jean Coulthard, Michael Conway Baker and Paul Dolden.
Vancouver's opera and ballet companies are found at the Queen Elizabeth Theatre, which opened in 1959. Other theaters and groups like the Arts Club Theatre Company, Vancouver East Cultural Centre, the Vancouver Playhouse and Richmond's Gateway Theatre all offer various forms of culture and entertainment.
23. Vancouver Is Home to Many Famous Artists and Actors
Many artists and actors have called Vancouver their home over the years. From painters like Emily Carr, Gordon Smith and Takao Tanabe to photographer Jeff Wall or ceramicist Gathie Falk, Vancouver has seen a wide variety of creative individuals. Musicians like Bryan Adams and Michael Bublé have lived in Vancouver, as have actors Raymond Burr, Michael J. Fox and Ryan Reynolds.
24. Vancouver's Chinatown Has Delicious Dim Sum Restaurants
One of Canada's largest Chinatowns, the Vancouver Chinatown is home to some delicious dim sum restaurants and cocktail bars. You can also find grocery stores selling seafood, unique fruits and veggies. This area also hosts a Vancouver Chinatown Festival every summer.
25. The West End Has a Thriving Gay Community
The neighborhood of West End has one of the largest gay communities in Vancouver. There is a Gay Pride Parade every August, with the city's first Pride Festival occurring in 1978. Davie Village is home to the famous Rainbow Crosswalk and a large lesbian population.
When visiting the West End, there are many events to attend, such as the drag Coronation Ball in March, the STRUT walk-a-thon for Foundation of Hope in June, and the Vancouver Queer Film Festival in August, the largest queer arts event in Western Canada.
26. The 9 O'Clock Gun Fires Every Night
An old tradition, Vancouver fires an old cannon every night at 9 p.m. Located in Coal Harbour, the 9 O'Clock Gun has been firing nightly for over a century. The canon was originally installed at Brockton Point in 1894, used as a navigation aid for ships in the harbor, and re-located to Stanley Park along the seawall.
27. There Are Five Public Universities in Vancouver
Vancouver's five public universities boast unique undergraduate and graduate degrees and various student employment opportunities:
Book Your Next Trip to Vancouver With Windstar Cruises

Traveling to Vancouver can be a thrilling experience filled with fun activities, diverse peoples and historical sites. At Windstar Cruises, our private yacht-style ships are intimate and welcoming. We are dedicated to offering you the space and freedom to leave the crowds behind and integrate yourself into your next journey. Enjoy the destination through unique activities and food experiences. Contact a Windstar Planner to find out more information or schedule your cruise today.