Italy is a beautiful country with extensive history, beautiful scenery and excellent food. With many unique regional dishes, Italian menus boast meals you can't get anywhere else. Keep reading to discover 15 Italian foods you must try when visiting this Mediterranean country.
In This Article
How to Read Italian Menus
Italians eat meals differently than Americans might be used to — restaurants offer several courses with much smaller servings. You can choose something from each course or select what looks best to you. Regardless of your method, an Italian menu will likely look like this:
Antipasto: Antipasto or antipasti are the appetizers. Here you'll find salads, cheese plates and many local appetizers.
Primo: This menu section houses the pasta dishes or first courses. If you are going to Italy for pasta, remember this word, as Italian restaurants organize their dishes by course over category.
Secondo: The second-course section contains meats and seafood. These selections will include all types of meat, including regional dishes you can only find there.
Contorni: If you want a side, look to this section. You'll find offerings similar to those in the antipasto section, like cheese platters, salads and more.
Dolci: After dinner, your waiter might give you an additional, smaller menu with a list of desserts. Enjoy options like cannoli, gelato and tiramisu.
Digestivo: Your dessert menu might also have a digestivo section with drinks that Italians use to help them digest. Here you'll find espresso and liquors, including limoncello, grappa, amaro, cynar, amaretto and sambuca. They'll often come in a shot glass, and the preferred drink will vary depending on the region.
Vino: Tuscany is full of outstanding regional wine and many restaurants across the country will partner with local vineyards to bring you excellent house selections. Waiters will be happy to tell you about the different wines on the menu, from where they came from to what will pair well with what you've ordered.
Knowing what to expect when receiving an Italian menu can help you find what you want to order. When traveling with friends, you can impress them with your knowledge when visiting a restaurant together.
15 Foods to Try in Italy
With Italy's rich food culture, Italians eat everything from pasta to seafood to rich meat dishes. Each region has unique dishes for you to try, ensuring you always have something tasty to eat. The country has many famous foods, from prosciutto di parma and olive oil to lasagna and gelato. However, knowing what to look for on the menu can help you find the best Italian cuisine, especially if you are unfamiliar with the language.
1. Homemade Regional Pasta
A trip to Italy wouldn't be complete without trying some fresh, homemade pasta. Many restaurants make their pasta in-house and offer famous regional dishes that you simply have to try there. Trying regional pasta is a great way to connect with that area's culture while having the best food there is to offer. Some regional pasta includes:
Tagliatelle: These long, thick pasta strips originated in the Emilia-Romagna region, host to the city of Bologna. You can find them with truffle or bolognese sauce. This dish is a must if you see it on a western Italian menu.
Tortellini: Also hailing from Bologna and Emilia-Romagna, tortellini is another classic you must try. You can find them stuffed with cheese or meat and in various dishes, from bolognese sauces to soups.
Orecchiette: Translating to "little ears," this round pasta hails from the Puglia region in southern Italy. Puglia restaurants typically serve it with broccoli, so look for this on the menu for an authentic pasta dish.
Gnocchi: While you can find gnocchi all over Italy, it's a must if you're visiting Rome. The Romans make these heavenly soft potato dumplings fresh on Thursdays and serve them in various ways to fit your tastes.
Pici: A staple of the Tuscany region and Florence, pici is similar to spaghetti but thicker. You can find it served with meat sauces and dishes, where it can soak up and complement the dish's rich flavors.
2. Authentic Gelato
Gelato, a denser, thicker type of ice cream, is a sweet treat all over Italy. However, it's crucial to locate the authentic places that make it themselves. Some signs of a homemade gelateria include:
Colors: Authentic gelato places will have natural flavor colors over bright, colorful batches. Pay attention to flavors like mint and pistachio, which are often dyed to appear more appetizing.
Containers: Gelaterias that ship gelato in or store it will use big open containers. The gelato will often sit up high for travelers to see through the glass. A homemade batch will sit in a closed metal container to keep it fresh and protected.
Finding a local gelateria can help you find some of Italy's best food. If you want to eat like the Italians, try hazelnut or pistachio. Stracciatella is another classic Italian flavor with a vanilla base and small chocolate chips spread throughout.

3. Cappuccinos and Espressos
While many cultures celebrate their premium coffee, nothing beats Italian cappuccinos and espressos. You'll seem more like a local in Italy by knowing when to order which.
Cappuccino is a morning drink similar to Americans' morning coffee. Italians brew them at the perfect temperature so that you can drink them immediately. On the other hand, espressos are a digestive drink that Italians have after dinner or in the evening. You'll find them on many menus alongside desserts or other digestive drinks.
4. Margherita Pizza
If you find yourself in Naples, you must try traditional Margherita pizza. This Campagnia city considers itself the birthplace of the classic dish that became popular when Queen Margherita visited in 1889. This pizza has a simple tomato sauce topped with fresh mozzarella and basil leaves. Now Naples is famous for its various pizzas, including the Margherita.
When ordering pizza in Italy, be sure to translate any Italian ingredients beforehand. Pepperoni translates to peppers in Italian — expect to receive a pizza topped with green or red vegetables when ordering a pepperoni pizza.
5. Florentine Steak
Florence is the home of many rich dishes and drinks, and Tuscany is a popular destination for visiting vineyards and tasting traditional dishes. Florentine steak is a thick t-bone cut fresh from cows raised in Tuscany. The Florentines favor a high cut with lots of muscle, giving the steak an excellent flavor. Pair it with a house red wine for an authentic Tuscan meal.
When ordering this steak, know that it's only available very rare. Many restaurants prepare it by cooking it for a few minutes so the outside sears, leaving a soft, rare middle that melts in the mouth. While restaurants also often charge by the steak's weight, its thickness makes it perfect for two people to share.
6. Ossobuco
For another meat option, consider ossobuco. This dish comes from Milan and the Lombardy region in the north of Italy. Ossobuco is a bone-in veal shank slow-cooked in a meat broth with vegetables and white wine, resulting in a rich, tender, juicy meal. Many restaurants serve it with polenta or risotto.
Because of how long it takes to cook ossobuco, you might only rarely find it on menus. Be sure to treat yourself to the experience if you come across it, especially in Lombardy.
7. Carbonara
When in Rome, eat as the Romans do. The capital city is home to many famous Italian dishes, including carbonara. Typically served with spaghetti, carbonara is a sauce made from eggs, pecorino cheese, cured ham and black pepper. Many Roman restaurants serve it with fresh pasta as their house special.
If you want to find the best carbonara in Rome, ask the locals or go off the beaten path. Trastevere is a neighborhood in Rome famous for its restaurants and Italian cuisine, making it a great place to start if looking for a good carbonara. The brightly colored buildings and draping vines add ambiance to your meal when eating outside.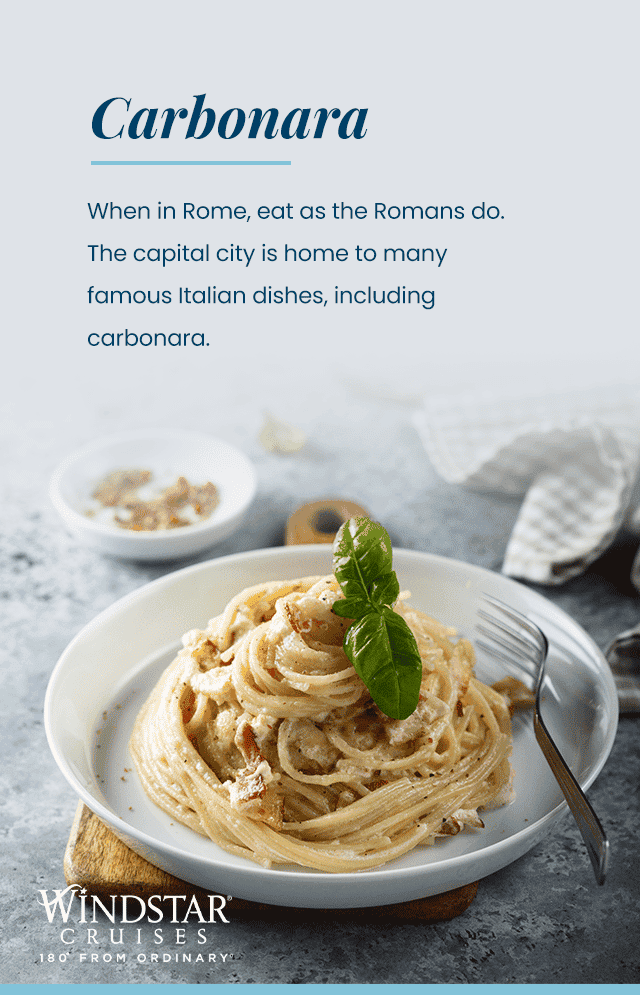 8. Lasagna
Many Americans love lasagna and its roots are in Emilia-Romagna and Bologna. If you are hunting for the best Italian foods in the region, look for this on the menus. While very similar to the American version, traditional Italian lasagna uses a lighter bolognese sauce and pecorino or mozzarella cheese. Its defining feature is its unique wide, flat noodles between layers of sauce and cheese, which many places still make fresh.
9. Ragù di Cinghiale
If you like meat sauces and lasagna but want to try something new, ragù di cinghiale is the way to go. This traditional Tuscan dish is easy to find in Florence and features a wild boar sauce. The animal is common in the region, ensuring a rich, fresh meal you can't find anywhere else in Italy.
Because of its thickness, many restaurants in Florence pair the cinghiale sauce with pici or thicker flat pasta like pappardelle. The pasta and sauce can be heavenly when you find a place that offers house-made pasta. Order a house red wine to complete the experience.
10. Ribollita
While many travelers go to Italy for pasta, the country has a wide variety of foods for you to enjoy while visiting. Ribollita is a Tuscan vegetable soup. It was historically a peasant meal, rich in local, in-season vegetables that the lower class could easily access. Today you can still find it full of recent harvests, making it common in the fall when Italian farmers are picking their crops.
Instead of meat, ribollita uses bread to thicken and flavor the soup. It's savory and hearty, and many Italians choose it on chillier days to help them warm up.
When traveling in Tuscany and Florence, it's common for restaurants to list ribollita as a first-course dish along with pasta courses.
11. Polenta
Polenta is another historical peasant dish many restaurants continue to serve in Italy. While you can find it all over the country, it originated in northern parts of the country, including Milan, Turin and Venice. Polenta is a starch dish commonly made from finely ground corn that takes many forms, from mush to fried slices.
This Italian food is exclusively a side dish. You'll commonly see it paired with rich meats with plenty of sauces. You'll often find it during the colder months because of its popularity alongside warmer comfort food.
12. Bottarga
Bottarga is a traditional Sicilian dish made from the roe of gray mullets, which Sicilians will salt, press and air dry for months to create a savory, smokey flavor.
Restaurants buy and serve their fish fresh for the best tastes you can find. You will often see bottarga shredded or sliced over pasta. Restaurants will often pair it with lemon juice or olive oil because of how the flavors mix.

13. Truffles
Truffles, a type of mushroom that grows in Tuscany, Umbria and Piedmont, are some of the best foods to eat in Italy. These regions often train dogs and pigs to sniff out truffles to use in traditional dishes.
Truffles have a unique smell that gives dishes a distinctive taste and draws avid food-lovers to them. You will often find them over pasta or in sauces, especially in the fall, when they are more common.
14. Arancini and Supplì
While the thought of Italian food might conjure images of sipping wine at elegant outdoor restaurants each night, street food is popular and tasty in Italy. Arancini and supplì are two types of fried rice balls from different Italian regions. You can find these great to-go appetizers at market stalls, restaurants and bars.
Sicilian arancini have a distinct triangular shape, making them easy to hold and carry around. Most places will fill them with ragù sauce and cheese, though you might have the option to add vegetables like peas, mushrooms or eggplant.
Supplì are from Rome. They have an oblong pill shape and contain tomato sauce and mozzarella instead of ragù. The cheese usually melts, pulling apart when you split the supplì in the middle. Supplì are standard antipasto options in Roman pizzerias.
15. Fried Artichokes
Fried artichokes are another Roman dish. While they originated in the old Jewish Ghetto near Trastevere, today you can find them all over the city. These deep-fried artichoke hearts are crispy and savory treats. You can have them as an appetizer or side to your meal, or get them to go while exploring the Roman ruins.
Explore Italy With Windstar Cruises
If you are looking to explore somewhere new with fantastic food, Italy is a great choice. Food is the heart of Italian culture, but there is much more to see, from the ancient ruins in Rome to the Venetian canals and the crystal blue waters of the Amalfi coast.
Windstar Cruises can help make your Italian dream a reality. We can take you right to some of Italy's most beautiful attractions, making it easy for you to explore the places on your travel list. As a smaller cruise service, we offer travelers a more intimate experience abroad. Our caring crew and small excursions will help you further explore your destination.
Explore our cruise offers in Italy today and discover the best way to get Italian food. For more information, request a call with one of our representatives.