Windstar's Dreams of Tahiti cruise gives guests access to small ports across the Tahitian islands, with stops in Moorea, Raiatea, Taha'a, Bora Bora and Huahine. From wildlife watching to sampling fresh locally grown Queen Tahiti pineapples, the shore excursions offer exciting opportunities for nature lovers to foodies — and even guests looking to explore the islands at a leisurely pace. If you're seeking a more adventurous trip, there are plenty of tours that will get you into the wilderness, from snorkeling in remote lagoons to kayaking along the only navigable river in French Polynesia. 
 These are some of our favorite shore excursions, which offer a mix of scenery, culture and simply relaxing in paradise.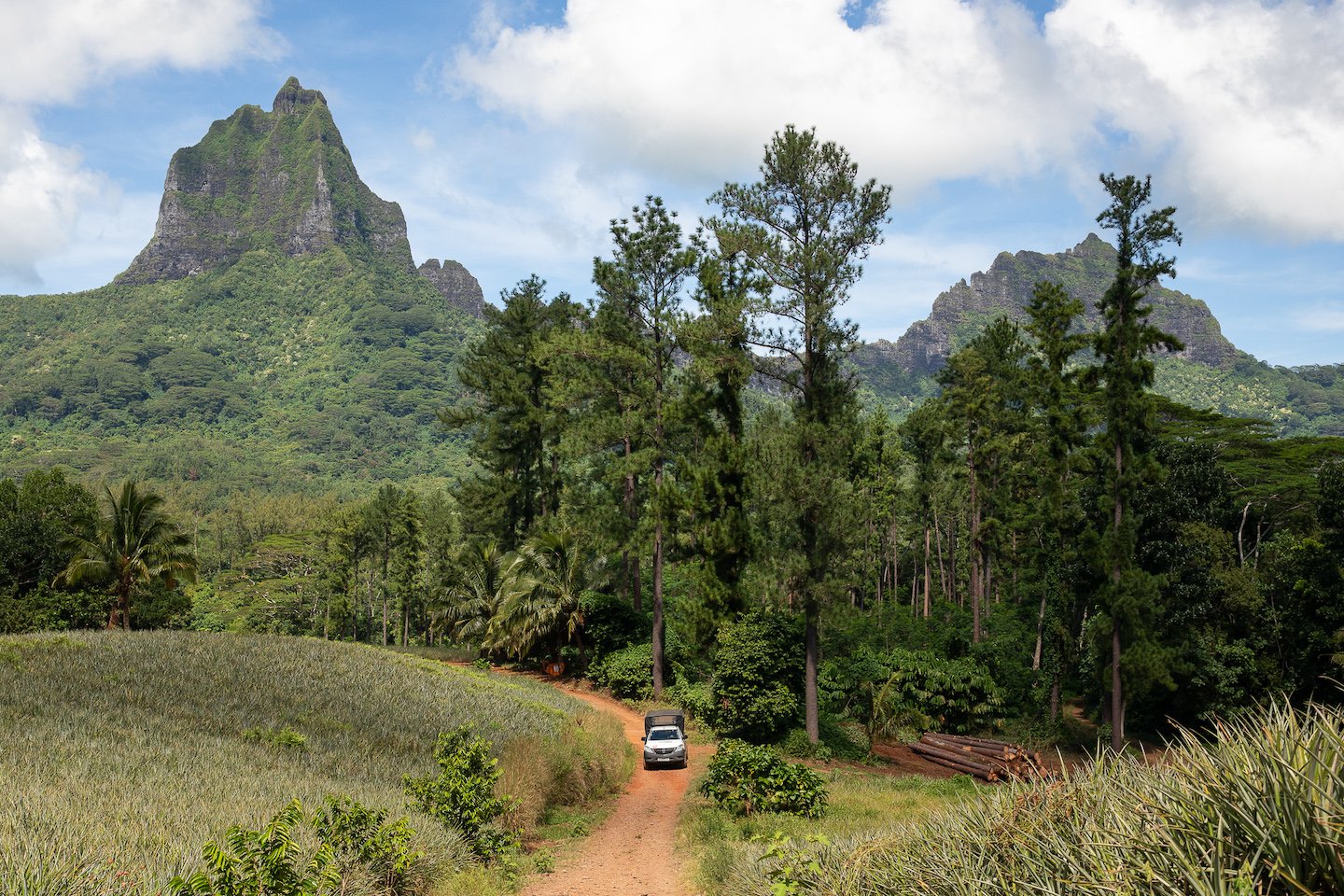 The verdant mountains and valleys of Moorea are breathtaking, and a 4×4 safari truck is one of the best ways to navigate this wild landscape. Your 4×4 Adventure Tour begins in the Paopao Valley, where you'll visit a small pineapple plantation. Moorea produces the majority of the world's Queen Tahiti pineapples, but the island's main export is pineapple juice, which you'll get a chance to sample later at a juice factory. The three-and-a-half hour 4×4 tour also includes a stop at the Belvedere Lookout, which offers a panoramic view of Rotui Hill, Cook's Bay and Opunohu Bay — an incredible photo op that is not to be missed. Near the lookout are the remains of several ancient marae, or sacred sites, including Titiroa and Ahu-o-Mahine. A short, mostly flat hiking trail leads to the tohua, or council platform, plus two smaller marae and an altar consisting of several steps layered with stones. Finally, you'll stop by a local farm stand for refreshments before heading back to your Windstar yacht. 
Kayak the Faaroa River (Raiatea)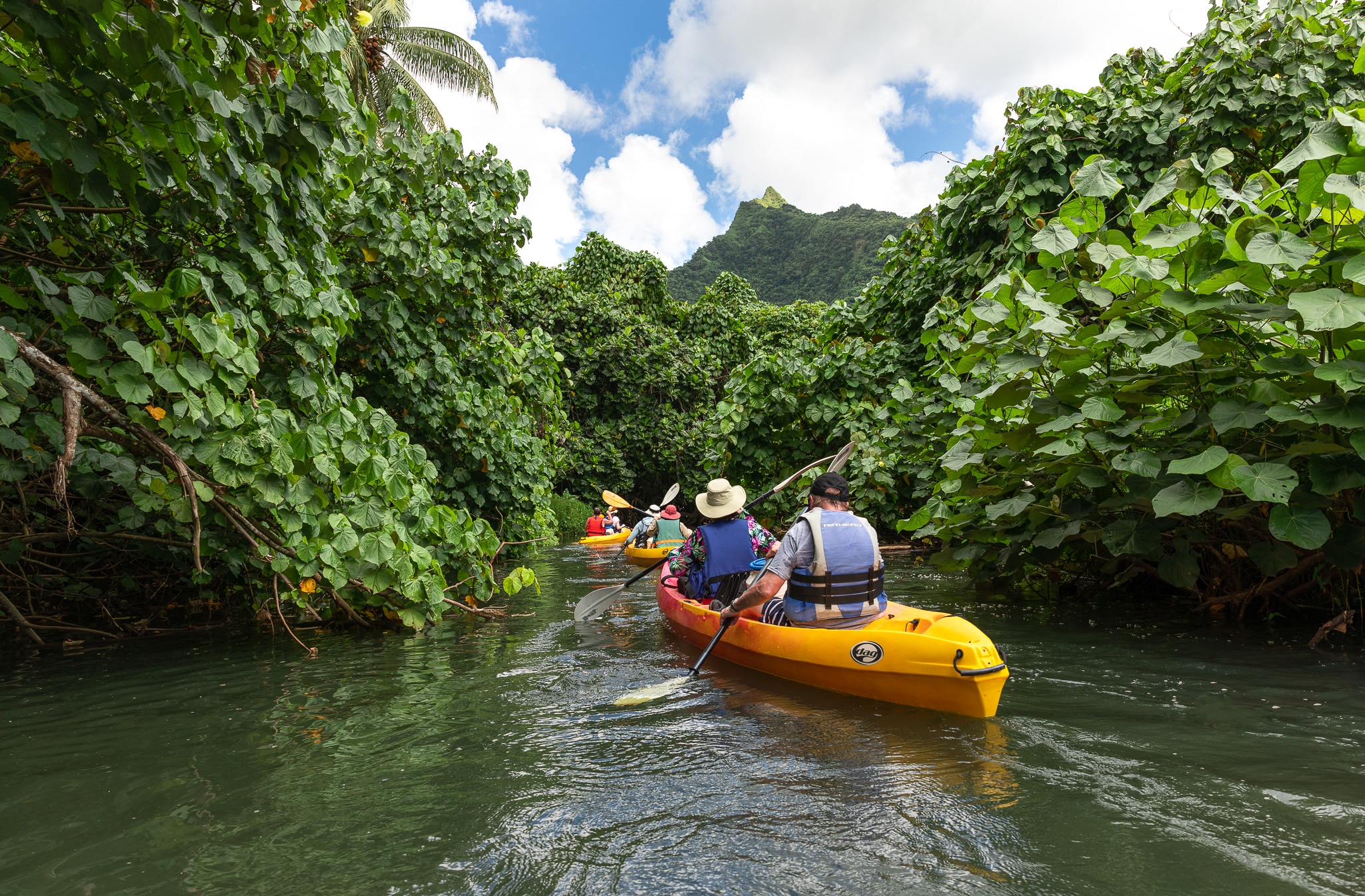 The Faaroa River Kayak Tour is an incredible way to experience the lush landscapes of Raiatea, and this two-hour paddle will take you from a calm bay to narrow mangrove channels in the jungle. The Faaroa is notable for being the only navigable river in French Polynesia, and this is the same route New Zealand's Maohi settlers traveled hundreds of years ago. From wild sea hibiscus to birds, you'll see a variety of flora and fauna on this excursion. The paddling is not technical, and it is suitable for novice kayakers, but you will have to navigate a few sections with dense vegetation, which may require you to duck. Kayaks are doubles and will be shared, and you will be provided with a waterproof container, but consider bringing a personal dry bag for smaller items like phones and cameras. The total tour time is about three-and-a-half hours, including transportation to the launch site, a safety briefing and time for ice-cold beverages after the tour. (As an alternative for those who do not wish to kayak, there is a slightly shorter motorized boat tour that explores some of the same stretches of the Faaroa River.) 
Vanilla Plantation and Snorkeling (Taha'a)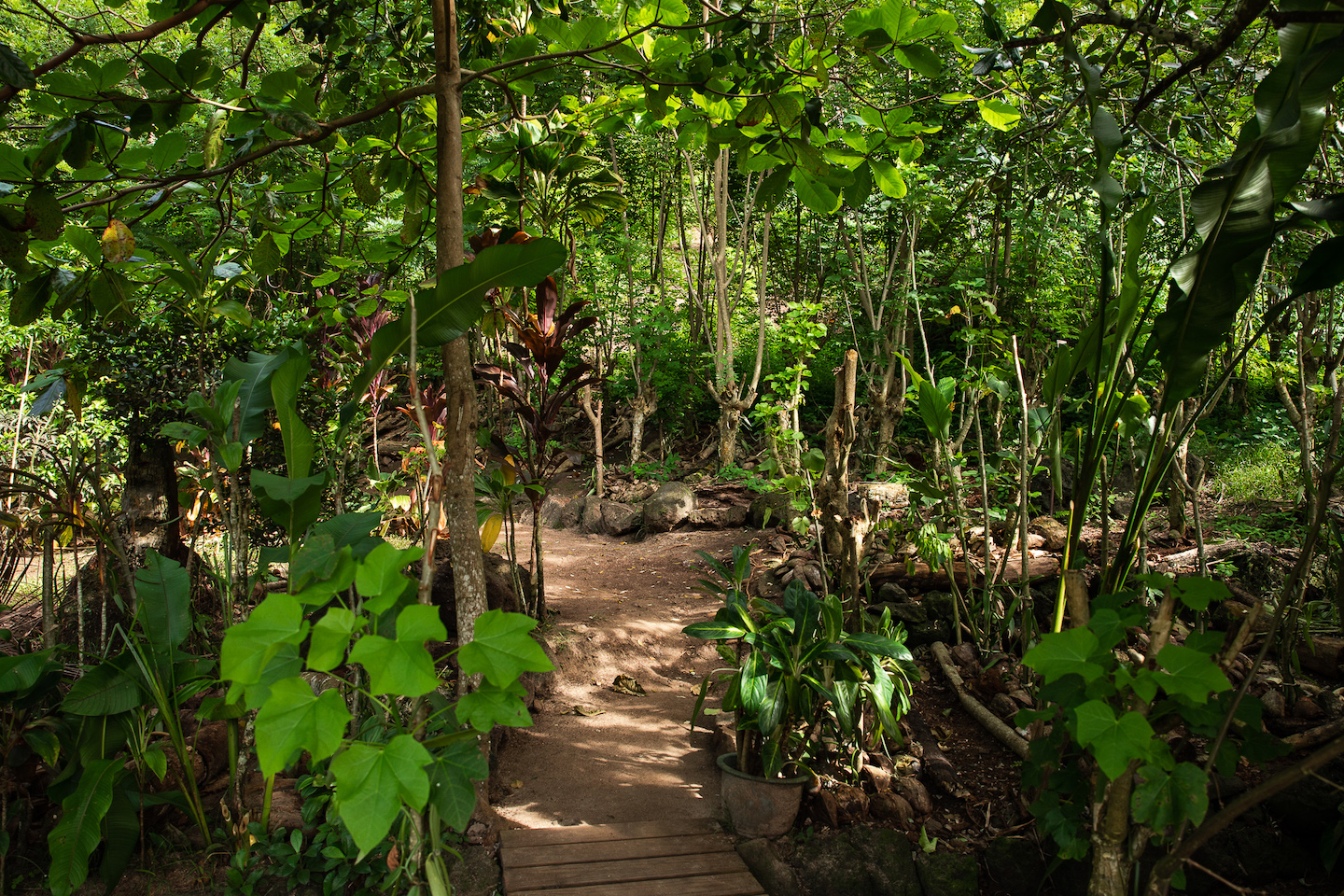 If you'd like an excursion that balances adventures on land and in the ocean, the three-hour Vanilla Plantation and Snorkeling tour checks every box. After a tender ride to shore and a short walk on a paved road, you'll spend about an hour at a small vanilla plantation. Known as the "vanilla island," Taha'a grows nearly 80 percent of all vanilla produced in French Polynesia, thanks to its mineral-rich volcanic soil and tropical climate. A local farmer will give a brief presentation on the cultivation process and how to cook with vanilla, and after touring the farm, you'll have the opportunity to purchase dried beans and other products at the farm stand.

You'll then hop back on the water and venture to a serene lagoon, where you'll have the chance to snorkel and swim for at least an hour. You may encounter black-tipped reef sharks, eagle rays and stingrays in the water, along with dozens of species of tropical fish. Fear not, the sharks and rays are very habituated to people, so you'll be completely safe snorkeling and swimming alongside the abundance of marine wildlife. Though this is technically an offshore snorkel, the water is approximately eight feet deep with no current, so it is suitable for beginners. Be sure to obtain your snorkel gear from Windstar before heading on this excursion, which you'll be able to hang on to for the duration of your cruise.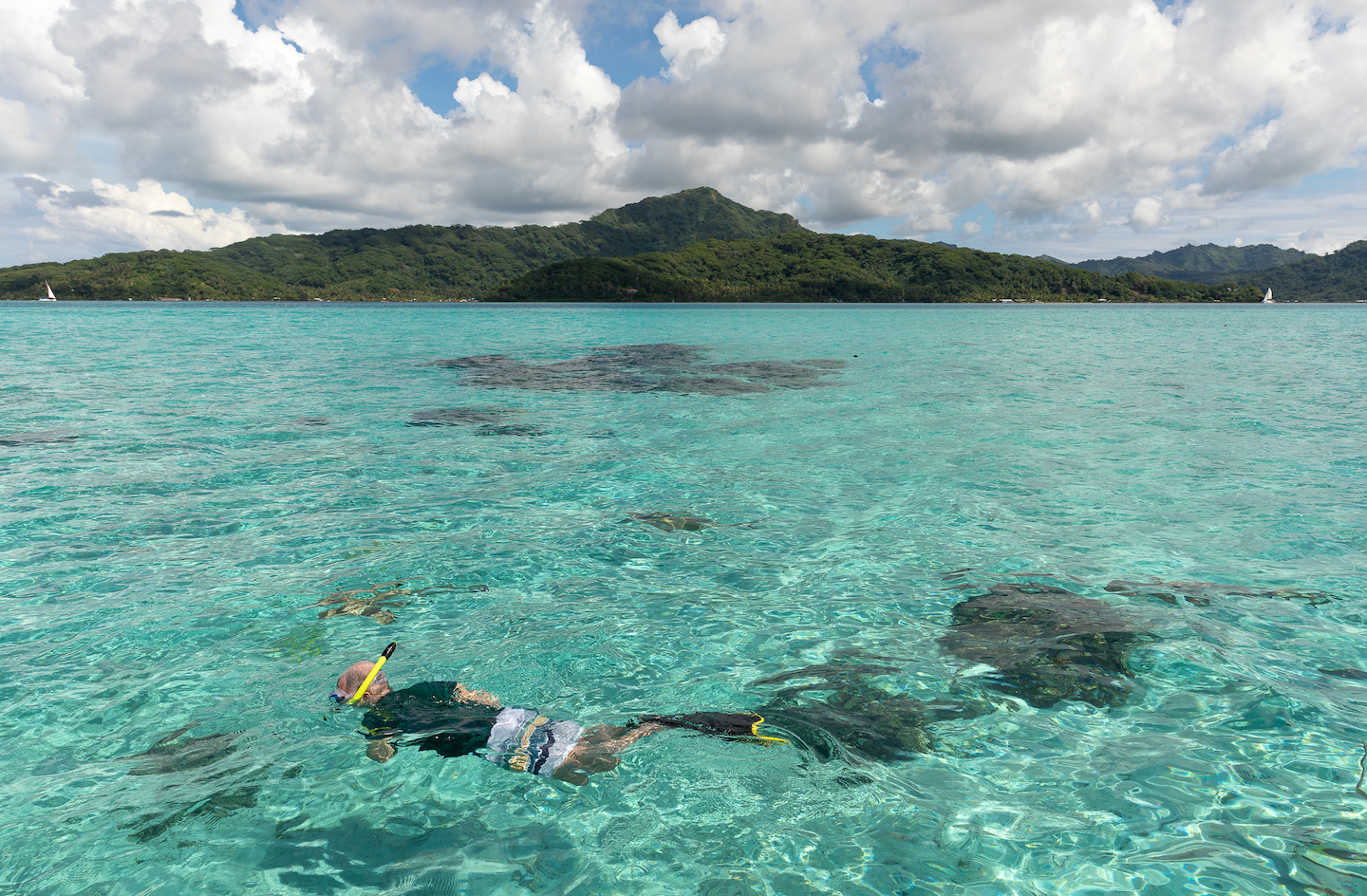 Deluxe Lagoon Tour (Bora Bora)

The two-hour Deluxe Lagoon Tour offers access to some of the best scenery in Bora Bora, and you'll also have plenty of time to swim, snorkel and relax in the water. After boarding a Bayliner deck boat with a small group of guests, you'll cruise around stunning lagoons on the west side of the island. You'll spot all kinds of marine wildlife in the crystal-clear water, and the views of Mount Otemanu are equally impressive. You'll have a chance to snorkel in a pristine coral reef teeming with all kinds of tropical fish, and afterward you will head to a shallow lagoon and enjoy refreshments right off the back of the boat. This excursion is perfect for guests who want to maximize their time in Tahiti's warm, inviting water while moving at a leisurely pace.
As an alternative, consider booking the Sunset Dream Tour, which is slightly shorter than the lagoon tour, but offers many of the same highlights. While there is no swimming or snorkeling, you will glide through shallow lagoons on a small motorboat with just half a dozen other guests. You'll see wildlife like rays and sharks, and once the sun starts to dip below the horizon, sip on champagne as you watch the sky turn gold and pink.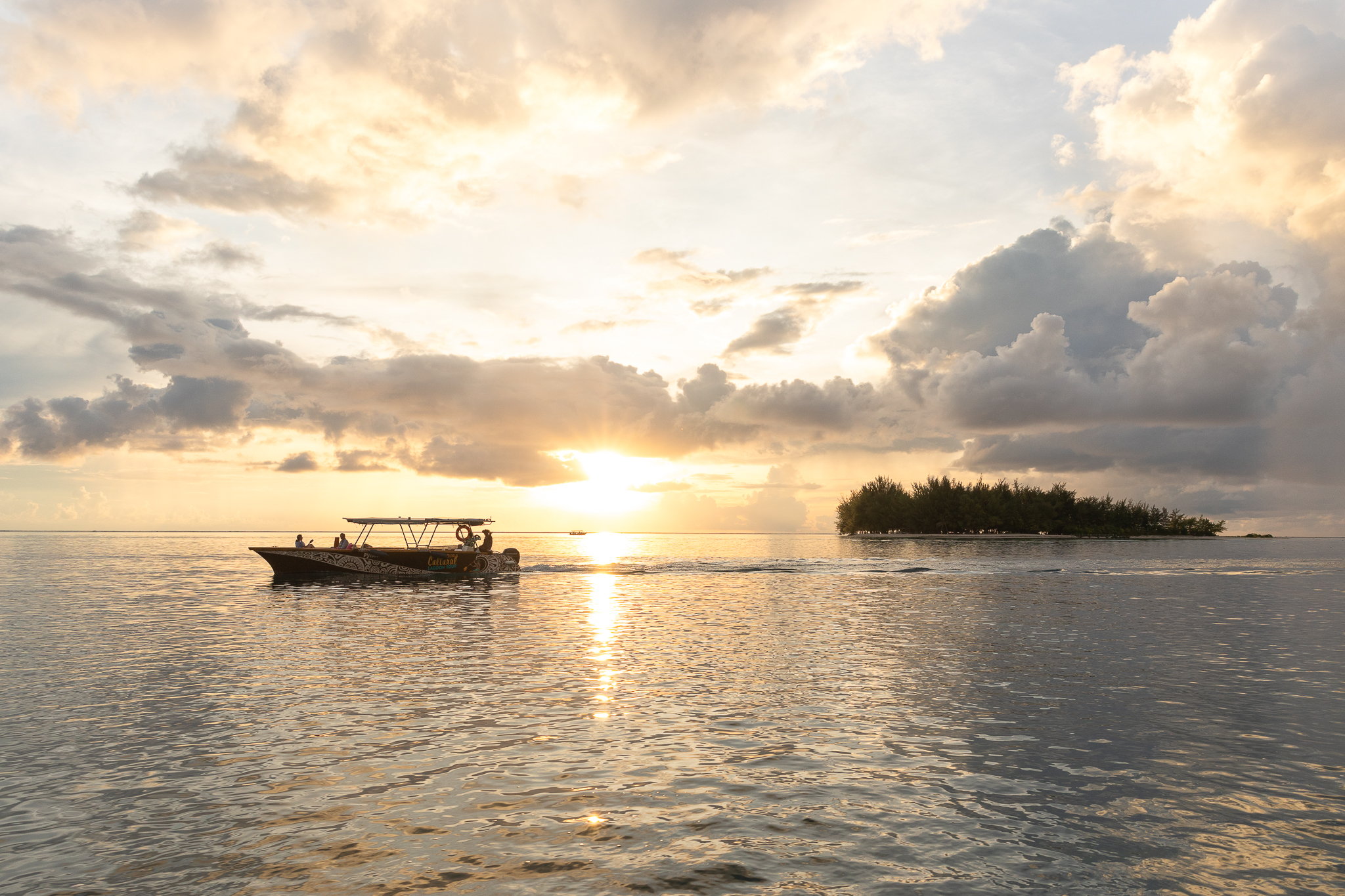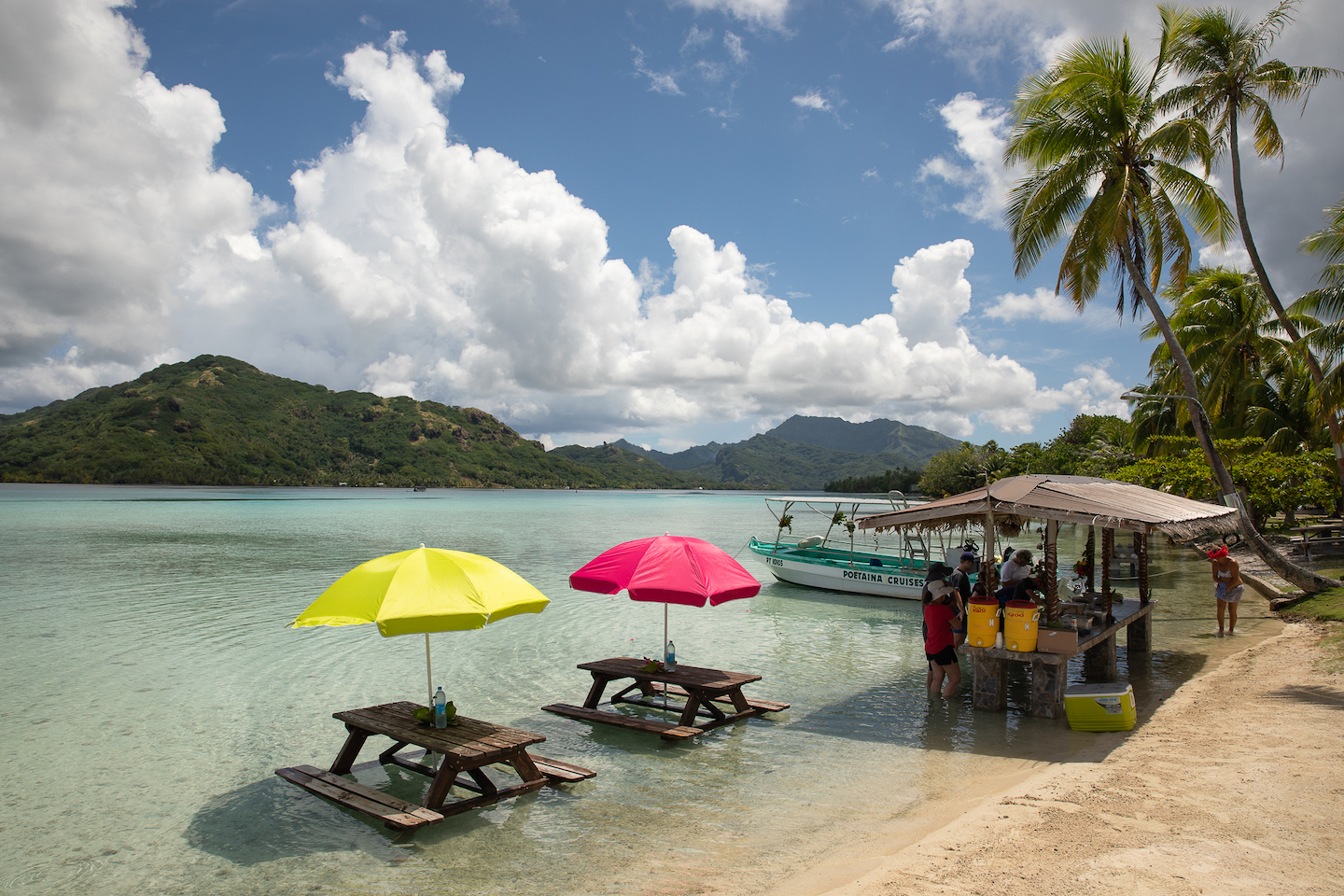 If you're seeking an adventure off the beaten path and looking for a little bit of everything, the Motu Picnic is the best way to explore the sleepy islands of Huahine. After a short boat ride to a private motu, or islet, your local guide will give you a brief lesson on how to make poisson cru. The seafood dish is made with freshly caught ahi tuna, lime juice, cucumbers, avocado and coconut milk, and you'll get to help with the preparation of this tasty Tahitian specialty. After enjoying your lunch under the shade of sun umbrellas on the edge of a lagoon, your guide will take you through a small coconut farm, where you'll learn about growing and harvesting. You'll then have the rest of the afternoon to lounge by the beach and snorkel in a protected cove. This tour is approximately five hours, and it moves at a very relaxed pace — after all, you're on island time!