Windstar Cruises' 35th Anniversary in Tahiti
From October 9th to October 16th, Windstar hosted the President's Cruise with Windstar's President Chris Prelog, and President Édouard Fritch of Tahiti. The weeklong event was a celebration of Windstar's 35th anniversary of sailing in Tahiti, and it was a great success.
To thank our partners (Air Tahiti Nui, Tahiti Tourism, Hilton Hotel Tahiti, and Conrad Bora Bora Nui), Windstar invited them to celebrate on board for the week. We also had media representatives from Travel Weekly, The Points Guy, Northstar Travel Media, Cruise Media LLC, and freelance writers on board with us. Lastly, we invited government officials: Hironui Johnston, Senior Government Advisor, Rene Temeharo, a cabinet minister, Lionel Lao, the Minister of Tourism, and Fredric Raffin, the Minister of Transportation, to join the festivities. We were honored to have the First Lady, Angeline Fritch, and President Édouard Fritch on board for the week as well. Windstar's corporate staff enjoyed sailing with them and strengthening our relationship further.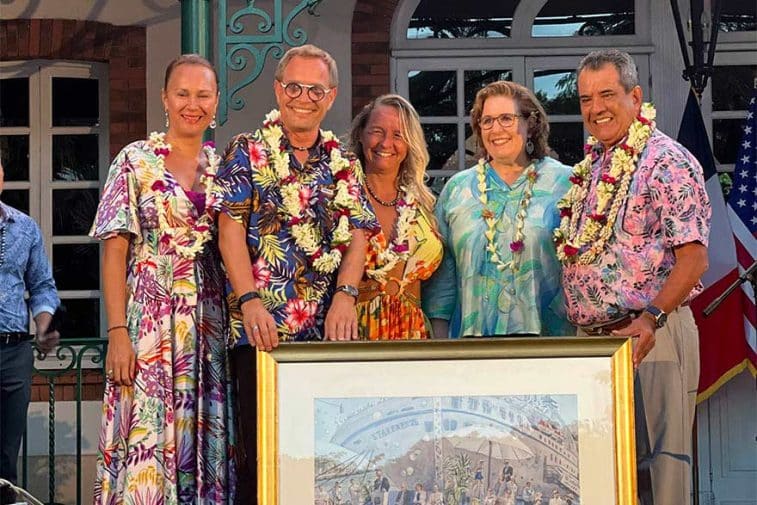 The event took place on Star Breeze where guests and corporate employees mingled and enjoyed live performances and talks from local partners such as the Mamas and the Papas and the Children of Raiatea, and other local musicians and dancers. Throughout the week, all passengers received authentic Tahitian gifts during turndown such as a pareao, Tahitian salt, soap, and more. Local partners were also invited on board for lunch to thank them for their partnership and commitment to Windstar's relationship with Tahiti.
Throughout the week, guests and crew on Wind Spirit and Star Breeze enjoyed multiple cultural activities and events onboard and onshore. One of these events was Windstar's signature Destination Discovery Event. On that night's menu was moon fish and other Tahitian dishes. After dinner guests and crew joined our local Tahitian partners in traditional Tahitian dances and watched in awe as the fire dancers lit up the sky with their skilled dancing and fire handling.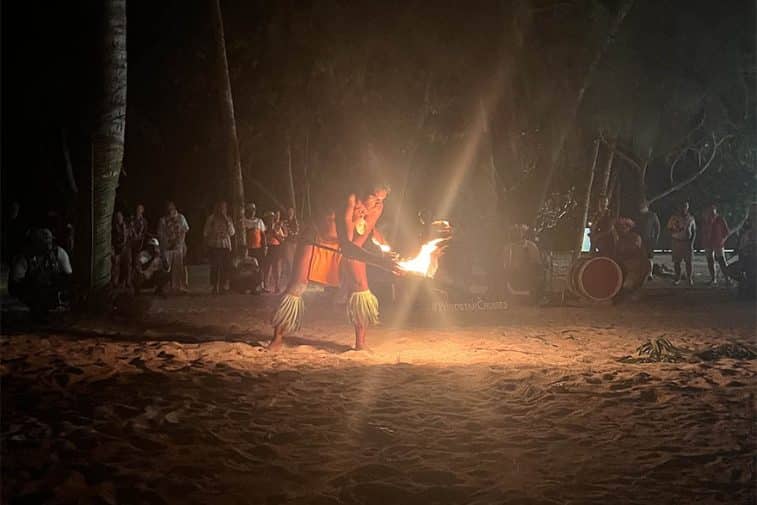 At our Signature Beach Barbecue event on a private Motu, guests took advantage of the complimentary water sports equipment brought from the ship and kayaked, snorkeled and paddle boarded. At lunch time, they listened to live tahitian music and enjoyed delicious barbecue favorites. After lunch, they joined the Mamas and the Papas to create handmade flower crowns, bracelets, baskets, leis, and learned how to tie the traditional Tahitian pareo, before dancing with our local partners on the powdery white sand of Motu Mohea.
During the Farewell Reception aboard, Chris Prelog, Windstar's President, announced Windstar's new partnership with Coral Gardeners. Coral Gardeners' goal is to save coral reefs through restoration by planting, growing, and monitoring thousands of heat-resilient corals. The company was started by high school students in Moorea in 2017 and has grown into an international group that is dedicated to revolutionizing ocean conservation.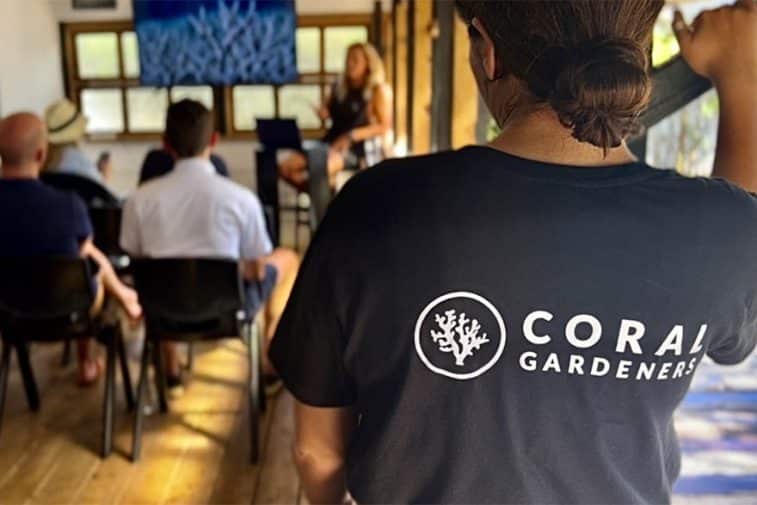 Windstar donated $35,000 to this worthy cause in our guests' name for the rest of 2022 and we are looking forward to contributing to this partnership. Starting in 2023, passengers sailing in French Polynesia will be encouraged to adopt a coral for a donation of $35 per person automatically added to their shipboard account. Guests may opt out, but the company anticipates the majority will donate to this important environmental endeavor in a place they are enjoying on vacation.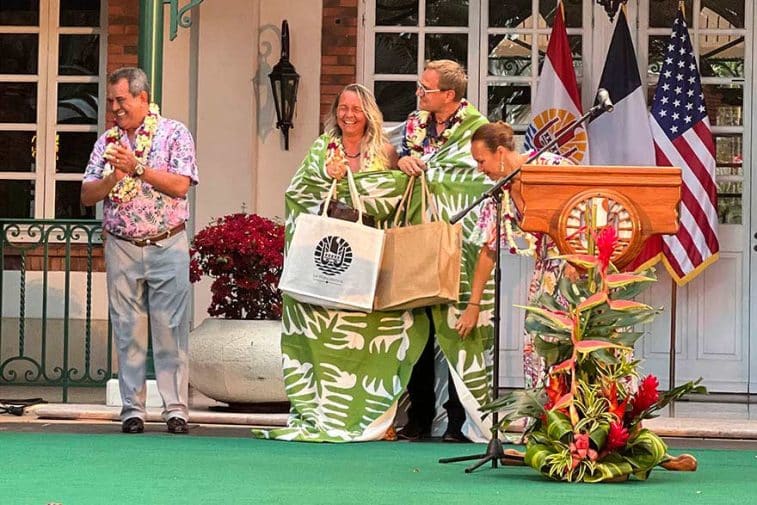 The President's Cruise concluded at the Presidential palace of Tahiti. President Fritch hosted a gracious reception and welcomed all Windstar guests aboard Star Breeze to attend. He surprised President Chris Prelog and wife; Silke; with a traditional Tahitian tifaifai, in recognition of their recent vow renewal on the motu. During a traditional Tahitian wedding, the tifaitai, a quilt, is wrapped around the couple to signify they are now husband and wife.
The guests were pleased with the live performances and the exotic buffet table that served authentic local dishes. As guests finished dinner, they were pleasantly surprised by a Tahitian Black Pearl fashion show and received a bracelet containing a single black pearl. The President's Cruise was beyond successful and represents Windstar's commitment and long-standing relationship with Tahiti. We look forward to building this relationship for many years to come.