Get lost in the beautiful city that is Dubai. Filled to the brim with cutting-edge architecture and awe-inspiring ancient cities, Dubai is one of the most popular cities for travelers worldwide to visit. Peek into the past while wandering through traditional souks and old fort towns to see what life was like in Dubai before its expansion into a cosmopolitan wonderland.
Take the time to experience some of the most impressive modern architecture, including the world's tallest building and the largest human-made marina, while indulging in world-class traditional Emirati food and international cuisine! Our Dubai travel guide details what you need to know before visiting Dubai, from attractions to the country's rules for tourists.
In this Article
A Little Bit About Dubai
The Emirate of Dubai is the second-largest of the seven emirates that comprise the United Arab Emirates and sits nestled along the eastern coast of the Arabian Peninsula. Its capital and largest city is Dubai. Abu Dhabi, Sharjah and the Sultanate of Oman border it. Dubai was once a small fishing village that has grown into a global financial, trading and tourism hub. The discovery of oil in Dubai in the 1960s accelerated its development into the cosmopolitan city it is today.
Dubai has a desert climate and extreme heat with little rainfall. In summer, temperatures can reach 108.2 degrees Fahrenheit, with up to 47% humidity. The mix of heat and scant rainfall means Dubai beaches experience sunny days nearly all year round, making it a popular destination for beach lovers.
In this Muslim country, you'll see the influence of Islam all around, from awe-inspiring architectural designs to breathtaking religious buildings such as the Grand Mosque. Dubai is also one of the world's most cosmopolitan cities, offering an unforgettable mix of traditional and modern experiences. The beautiful beaches, divine desert views and captivating cityscapes make it a bucket-list destination for millions worldwide.
Why Visit Dubai?
Dubai is a compelling mix of ultra-modern and historical experiences and sites that offers every visitor an extensive range of attractions. To get an adrenaline rush, you can zip line over the Dubai Marina or go skiing in the desert. For history buffs, there are many historical sites to visit, including Al Fahidi Fort and the beautiful souks.
Shopping until you drop takes on a whole new meaning in Dubai. The mega-malls feature stores from top designers and famous brands, with premium in-mall services to make it shopping even easier. There are also loads of family activities, like parks, arcades and movies. Treat yourself to a unique sensory experience by playing in the snow in a desert or go back in time on a desert safari.

Dubai is full of mind-blowing outdoor activities, a world-class foodie scene and stunning cultural and shopping experiences. The best time to visit Dubai is between November and April, when the temperatures are milder, but you can enjoy festivals and activities throughout the year.
Must-See Attractions
Dubai has many impressive and record-breaking attractions. From the tallest building and the largest flower garden in the world to massive shopping malls, there is something for everyone to enjoy. Here are the top five must-see attractions in Dubai
1. Burj Khalifa
The Burj Khalifa is an iconic, instantly recognizable building. At 828 meters or 2,716.5 feet tall, it is the world's tallest freestanding structure, with over 160 stories. It holds several additional world records, including the highest occupied floor and observation deck. You'll find it in downtown Dubai surrounded by Dubai Mall.
Various activities are available at the Burj Khalifa. There are two observation decks in the building. At The Top is the two-story observation deck on the 124th and 125th floors, while the At The Top Sky is on the 148th floor, more than 1,820 feet off the ground. Both offer unrivaled views of the city below. You can also take in the gorgeous views while dining at the At.Mosphere restaurant on the 122nd floor or enjoy a light meal and stunning views at The Lounge, spread across the 152nd, 153rd and 154th floors.
2. Dubai Mall
Dubai Mall surrounds the Burj Khalifa and is one of the world's most visited lifestyle and entertainment destinations. This massive mall has over 1,200 retail outlets and numerous unique entertainment opportunities. Enjoy augmented reality experiences at the VR park or ride the open-air track for an outside view of the Burj Khalifa and exciting fun for the whole family.
3. The Dubai Fountain and Fountain Show
The Dubai Fountain is over 900 feet long, bigger than two football fields, making it the largest performing fountain in the world. It is on the 30-acre Burj Lake near the Burj Khalifa and performs shows to different melodies, including contemporary and classical Arabic and world music. The fountain has five circles or different sizes and two arcs with powerful pumps that shoot water up to 460 feet into the air. The various lights and color projectors can create more than 1,000 water expressions in different colors.

The recent addition of a floating platform in the fountain lets you get close to the striking displays. You can also ride a traditional abra around the lake and get front-row seats to the fountain shows. There are daily shows every 30 minutes after 6 p.m.
4. Dubai Miracle Garden
The Dubai Miracle Garden is a breathtaking oasis in the desert. The 72,000-square-meter park is the world's biggest natural flower garden and includes several colorful flower exhibitions. More than 150 million flowering plants throughout the garden are ideal backdrops for beautiful vacation photos. Take time out of your holiday hustle to enjoy the gardens and visit well-known exhibits, including the centerpiece Airbus A380 covered in plants and flowers, the Smurfs Village or the Butterfly Garden, home to over 15,000 butterflies.

Cultural Experiences
Dubai has a rich and varied history steeped in traditions. There are several ways to learn about the country's fascinating history and participate in exciting cultural experiences.
1. Dubai Museum
The Dubai Museum is a must-see for anyone visiting Dubai. It is within the Al Fahidi Fort opposite the Grand Mosque. It has many captivating exhibits on the history of Dubai and the traditional life of the country's tribespeople before the oil boom in the 1960s. The museum is a fascinating contrast to the glittering, modern city Dubai has become.
2. Deira Spice Souk
Take in the mouthwatering scents of the Deira Spice Souk while testing your negotiating skills. The Spice Souk is a compelling experience filled with colorful and aromatic herbs and spices at every turn. Enjoy the taste of new spices, herbs, oils, teas and sweet treats from around the UAE and the world. The Spice Souk is in Deira, one of the oldest parts of Dubai.
3. Al Fahidi Historical Neighborhood
The Al Fahidi Historical Neighborhood is a cultural heritage site in Dubai. Much of its original infrastructure is intact and well-preserved, giving you a fascinating insight into mid-19th-century life in Dubai. Starting at the Sheikh Mohammed bin Rashid Al Maktoum Centre for Cultural Understanding, you can explore various museums, art galleries and cultural events, including demonstrations by local craftspeople.

4. The Dubai Aquarium and Underwater Zoo
Learn more about the aquatic and marine life of the UAE at the Dubai Aquarium and Underwater Zoo. The massive aquarium is home to over 140 marine species and has various aquatic displays, including touch ponds, rainforest displays and a 270-degree walkthrough tunnel. Learn more about the various conservation programs the aquarium team leads and how they take care of the marine life. For the adventurous, take a turn feeding the giant trevally fish or swimming with sharks!
Outdoor Activities
Don't let the heat stop you from appreciating Dubai's beautiful beaches and sand dunes. Here are a few ways to enjoy the outdoors in Dubai.
1. Ski Dubai
Defy the odds and enjoy real snow and winter conditions in a desert! Ski Dubai is at the top of the Mall of the Emirates and has various activities for the whole family. You can play with the penguins, explore the snow cavern, ride the ski lift to the top of the slope and ski back to the bottom. The Snow Park offers wall climbing, a tubing run and the unforgettable Mountain Thriller ride.
2. Desert Safaris
Bask in the wild beauty of the desert with a desert safari. Visit "Big Red," the tallest sand dune close to the city and named after its rich color. There are various activities for the adventurous, including sand skiing, quad biking, dune bashing and camel rides. Choose from a morning, evening or overnight safari.

3. Dubai Creek
Dubai Creek is a saltwater inlet that separates Deira and Bur Dubai. As the first major port in the UAE, it was a hub for trade, including gold and spices. Now, it is home to souks, museums, traditional markets and dining options for visitors to enjoy. Visit Dubai Creek Park for a fun-filled family outing or cross the creek on a traditional abra. Take on the challenge of 80 different mind-boggling illusions at the Museum of Illusions.
4. Dubai Marina
The Dubai Marina spreads across a two-mile stretch of the Persian Gulf coastline and covers nearly 50 million square feet, making it one of the world's largest manufactured marinas. There are almost five miles of public walkways to explore and various ways to enjoy this stunning marina. Go for camel rides at the marina beach, take a dip in the sea or fly over the marina at nearly 50 miles per hour on the world's longest urban zip line!
Food and Beverages
Dubai has a mix of traditional Arabic food and international cuisine from nearly every nation. The melting pot of citizens influences diverse cuisine, with almost 9 million expatriates in the country. Here are some of the exquisite foods you can experience in Dubai.
1. Traditional Emirati Cuisine
Eat like a local and indulge in mouthwatering traditional Emirati food, including baleelat, shakshuka, hareeth, lamb ouzi and aseeda. Look for these restaurants when visiting the malls and other tourist attractions to experience Emirati cuisine!

2. International Cuisine
The world of cuisine is your oyster in Dubai. You can enjoy culinary experiences from all over the world in one place. Try everything from Greek and Mediterranean to Asian and European with ease. Dubai Mall alone has over 200 international restaurants for you to choose from!
Dubai also has 11 Michelin-starred restaurants — two with two Michelin stars and nine with one. These 11 restaurants include a wide selection of cuisine, including Italian, Indian, Chinese, Japanese, French, Mediterranean and Portuguese. There are also 14 Bib Gourmand Restaurants with food inspired by France, Japan, North Africa and the Middle East.
3. Street Food
Dubai has a thriving street food scene with food for every palate. Taste authentic shawarma and falafel while trying new twists on old favorites by trying the samboosa, a Zanzibar-inspired twist on Indian samosas. You'll find street food around many popular destinations, including Meena Bazaar, Dubai Marina and the Deira Spice Souk.
4. Cafes and Bars
Coffee culture has grown significantly in Dubai, now considered one of the world's global coffee meccas with numerous coffee shops and cafes. Grab a quick pick-me-up or relax in one of the many coffee shops around the city.
Despite being a Muslim country, Dubai also has an active bar and club scene. There are many places where non-Muslim visitors can enjoy a drink, including bars in the Dubai Marina, Business Bay, Deira and Jumeirah Beach Residence. When drinking alcohol, remember local laws strictly forbid drinking in public places, drunk driving and acting disorderly.
Shopping
If you love shopping, Dubai has many ways to scratch that itch. From world-class malls to traditional souks that will make you feel like you've gone back in time, Dubai has nearly endless shopping opportunities!

1. Dubai Mall
With over 1,200 retail outlets, including luxury brands and top local and international designers, Dubai Mall spoils shoppers. You can indulge in a VIP shopping experience with an in-mall chauffeur and a free shop-and-drop service that includes concierge delivery.
2. Mall of the Emirates
The Mall of the Emirates is home to over 630 shops, including brands such as Chanel, Burberry, Missoni and Polo Ralph Lauren. Many unique pop-up concepts like fashion shows and interactive family entertainment add a tantalizing flair to your shopping experience. Enjoy style and comfort with premium services, including hands-free shopping, a digital concierge and one-on-one sessions with a personal stylist.
3. Souks
Revel in the sights and sounds of another time when you visit the enchanting souks in Dubai. The mesmerizing souks sell everything from gorgeous gold jewelry to vibrant handwoven fabrics and traditional perfumes. There are numerous souks to visit, including the Gold Souk, Spice Souk, Perfume Souk, Souk Madinat, Textile Souk and Souk Al Bahar. And remember, bargaining is part of the experience at souks, so enjoy testing your negotiating skills!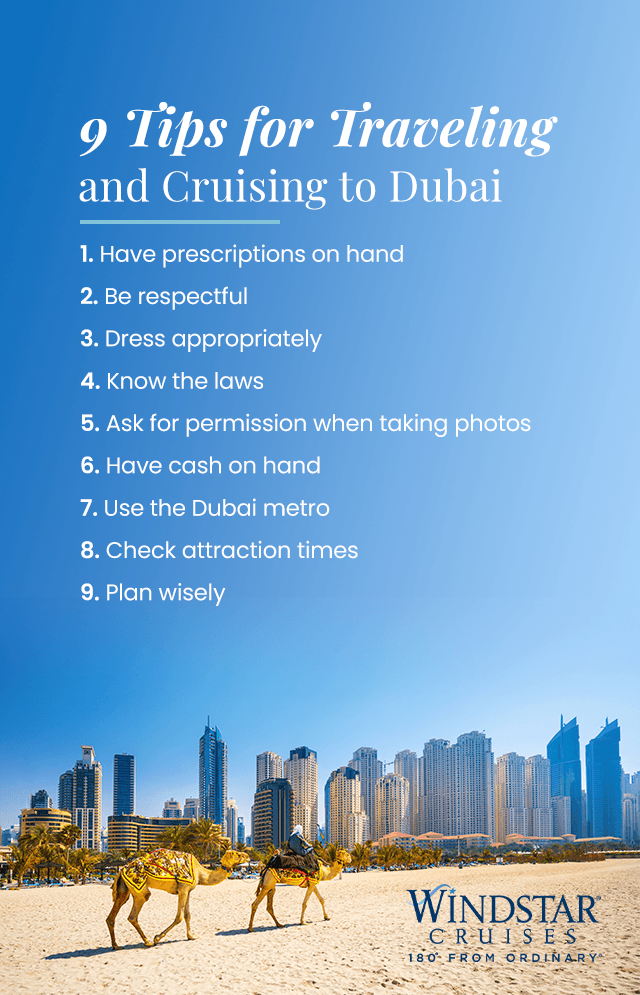 9 Tips for Traveling and Cruising to Dubai
There are a few rules for visiting Dubai. In this Muslim country, you must be aware of local laws and traditions, especially if it is your first time. Here are nine things you need to know before visiting Dubai.
Have prescriptions on hand: Dubai has a zero-tolerance policy regarding recreational drugs and strict guidelines on prescription medication, including codeine. If you need medication during your trip, bring your doctor's prescriptions with you. Double-check the customs list for the complete list of prohibited items to avoid trouble with the authorities.
Be respectful: Hospitality is integral to Islamic culture. Learning a few Arabic phrases can go a long way when visiting Dubai and interacting with locals. Avoid swearing in public, don't offer a handshake to a member of the opposite sex unless they offer first and never use your left hand for eating or handshakes. Try to avoid making potentially rude hand gestures. If you visit during religious holidays, research the appropriate behavior for the event.
Dress appropriately: In the extreme heat of Dubai, the fewer clothes, the better, except in public spaces. Men and women should dress modestly in public, especially when visiting religious monuments. You can wear what you want at private beaches and in resorts.
Know the laws: A few things are illegal in Dubai, including homosexuality, displays of affection between unmarried couples, blasphemy, cross-dressing, drinking in public, topless bathing and acting disorderly. Travelers breaking these laws can face heavy fines and even jail time.
Ask for permission when taking photos: Dubai has breathtaking views, stunning attractions and Instagram-worthy backdrops. However, it is offensive to take pictures of locals, especially women, without their permission. Also, avoid taking photos of specific buildings, including airports, military and police buildings, royal palaces and ports.
Have cash on hand: The currency in Dubai is dirhams. While most places accept credit and debit cards from leading companies such as Visa, American Express and MasterCard, carrying cash is good for transport or visiting smaller stores.
Use the Dubai metro: The metro is one of the most cost-effective and fastest ways to move around Dubai. It is cheaper than most cabs and avoids the traffic on busy roads. Kids under 5 or shorter than 3 feet tall can travel for free. Just remember to choose the right cabin. You can face fines for being in the wrong one.
Check attraction times: In Dubai, Fridays and Saturdays are the weekend, and most people return to work on Sunday. Verify attractions' opening and closing times to get the maximum benefit from your trip.
Plan wisely: Make the most of your time in Dubai by planning! There are so many amazing and unique sites and attractions it can be easy to feel overwhelmed. Research which attractions you will visit and when to check off everything on your list.
Experience the Middle East and Dubai With Windstar's Middle East Cruises
Enjoy everything Dubai and the Middle East offer on a Windstar cruise to the Middle East! Indulge in world-class food, experience record-breaking architecture and immerse yourself in the sights and sounds of another time. Travel in style on our boutique, elegant ships that allow you to avoid crowds while enjoying personalized service from our exceptional crew.
Start planning your Dubai cruise with a Windstar cruise today.