Written by Collette and Scott Stohler, Roamaroo
"Cruising is for old people," they said. "The food on cruise ships is terrible," they thought. "I don't want just a few hours in a port…I want to see it like a local," they remarked. Well ladies and gentlemen, step right up because there's a cruise company making waves in the way we now hit the high seas.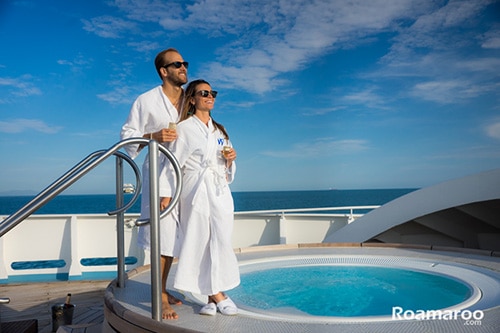 We're Collette and Scott and we are not your average 20 and 30-something couple. We've traveled to over 60 countries, taking trains, planes, and automobiles around the World to get to our destinations. While traveling in any capacity is exciting, it wasn't until we were able to travel by yacht that we found the true treasure of travel.
Sit back and Relax
Traveling through Europe can be a blessing on a curse. While the destinations are wondrous, the transportation to and from can leave a lot to be desired. Also, with so many great cities to visit, it's difficult choosing which ones to see and how to get there. The complicated train routes, rude hotel managers, and foreign street signs can quickly turn a dream vacation into a nightmare. The great thing about Windstar is not only did they take us to all of the best locations, we only had to unpack once! Once we boarded the Windstar Star Breeze yacht, we were treated like a VIP. Each morning was a new experience as we woke up to views of the Italian Riviera, French Riviera, and the Grand Prix of Monaco. Each morning we jumped out of bed like kids on Christmas morning to see the views from our room. No normal hotel can deliver ocean views like that. The entire experience was truly 180 degrees from ordinary.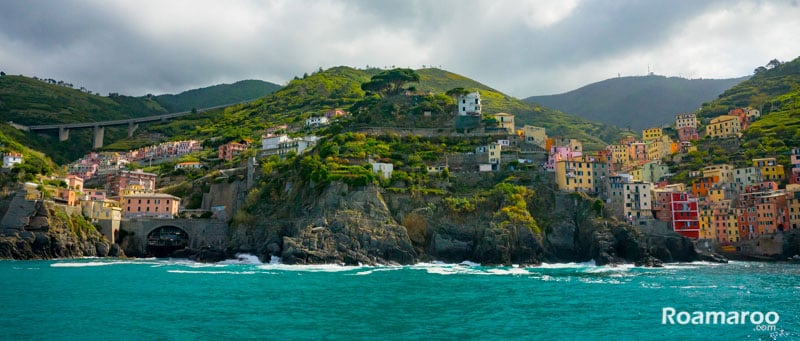 Treated like Royalty
While the destinations were unparalleled, it was the experiences aboard Star Breeze that made this cruise stand out from the rest. From the private cruising to colorful Cinque Terre towns to hobnobbing with the glitterati in St. Tropez to the ultimate VIP Mediterranean experience of attending the Grand Prix of Monaco, the experiences aboard the Windstar Star Breeze were unlike anything we've ever experienced.
The best experience was when we arrived to the Grand Prix of Monaco where Windstar made every passenger feel like royalty. As we disembarked the yacht onto the shores of Monaco, we were greeted with a regal red carpet to sashay down to our private coach. The paparazzi stared at us wondering who we were. It was a feeling we could get used to.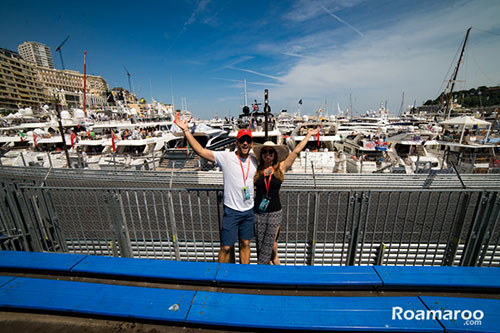 After our red carpet entrance, we were transferred to an intimate and elegant champagne dinner overlooking the famed Casino de Monte-Carlo. This is THE hottest spot in Monte Carlo during the Grand Prix weekend! Everyone heads to the casino the night before the race to see and be seen. We were treated to a gourmet dinner at one of the most exclusive restaurants and destinations in the entire world. This was not a generic cruise where we were herded like cattle. But then again, this was not most cruises. This was Windstar Cruises.
Here are five reasons why cruising on Windstar Cruises is cool for the young crowd:
1. You visit posh destinations by private yacht in a cost-effective way: Long gone are the days of overnight trains, sweaty buses, and summer traffic jams along the Italian coastline. With Windstar, you can access exclusive ports by private yacht.
2. Watersports: Windstar yachts feel like your own personal yacht. If you don't feel like going onto land, head down to the watersports deck for some fun in the sun. Choose from wakeboarding, waterskiing, swimming, trampolining, and stand up paddleboarding.
3. Overnights in ports to experience nightlife: When we travel, we like to experience destinations day and night. When you're on a normal cruise, you're only in a port for a few hours and then you're onto the next port. With Windstar, we were able to take advantage of the nightlife in St. Tropez and Monte Carlo, some of the most exotic nightlife destinations in the world.
4. Experiences: While we've traveled all over the world, we have never been privy to an experience like the Grand Prix of Monaco. Windstar gave us VIP tickets and VIP access to the most exclusive racing event in the entire world.
5. Feel like royalty: When visiting exclusive destinations, all too often, we're made to feel like we don't belong. Most cruise companies and tour companies herd their patrons like cattle into tourist traps. When we arrived to celebrity destinations like St. Tropez and Portofino, we disembarked by yacht, just like the glitterati. Windstar's private functions and high-end experiences made us feel like kings and queens.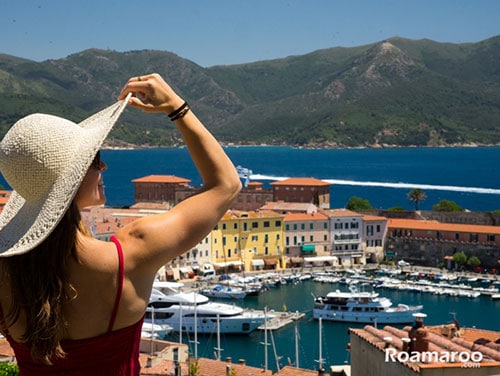 We had the most incredibly romantic and adventurous trip on the Windstar Star Breeze. We cannot wait to go back on another Windstar cruise. We're currently dreaming of a Baltic Delights cruise, an exotic cruise through Tahiti or a beautiful Caribbean cruise. What Windstar cruise are you dreaming of? Comment below!