One way to combine the rejuvenating benefits of vacation with an opportunity to unite your team and improve your company's leadership is by hosting regular executive getaways. During an executive getaway, your leadership team can see sights and the best places to visit. They'll also get the opportunity to connect and find ways to help your company grow.
Getting some executive getaway ideas allows you to plan a retreat that's refreshing, informative and beneficial for your company and your team members.
In This Article
Benefits of an Executive Retreat for Your Team
Whether you bring only members of the C-suite on the executive retreat or open it up to several managerial levels, there are notable benefits of going away with your team. A retreat helps your company on the organizational level. It can also benefit members of your leadership team individually, as it:
Connects team members: A team retreat provides ample opportunity for executives and managers to bond and connect. Your employees can participate in classic team-building exercises like trust falls and trivia games. They can also enjoy plenty of free time to mix and mingle. The team retreat will allow everyone to get to know each other better.
Provides growth opportunities: An executive retreat allows your team members to grow professionally and personally. You can schedule informative seminars or training sessions for the retreat program. If the getaway is a cruise, your team can take advantage of shore excursions to learn more about the region you're visiting. On-board lectures enrich the retreat and give your team a chance to discover more.
Recharges your team: Going on vacation has numerous health benefits for employees. It gives people a chance to relax, which helps lower stress levels, improve heart health and boost mental health. Scheduling an annual getaway for your team lets them disconnect from the demands of the office. They can explore new locations and participate in rejuvenating activities during the retreat, such as meditation and yoga.
Helps boost productivity: Company retreats often increase productivity when employees return to the office. Taking time away often gives people the energy they need to tackle challenging problems or think creatively.
Aids communication: Going on a retreat together can help your team learn to communicate more effectively. Your team might bond during trust-building exercises. Individual team members can learn more about the people they work with, which can help them understand their colleagues' communication styles.
What to Consider When Planning an Executive Retreat
The best executive getaways for one organization might not be ideal for another. Keep the following in mind when planning the details of your company's retreat:
Your company's location: Your company's headquarters or the location of most of your employees influences the ideal destination for the getaway. You want the destination to be far enough away that it feels like a getaway but not so far away that it's challenging for employees to reach. The destinations you choose will be different if your company is based on the West Coast of the U.S. instead of the East Coast, for example.
Travel ease: Consider how close the destination is to local airports or train stations. If you're bringing your executive team on a cruise, find out if airport transfers are an option.
Time allowed: The length of the retreat matters. You want to give your team members enough time away from the office to relax and recharge while learning a few new things. But you don't want to give them so much time away that the company's productivity flounders. A week or a few days extra is usually the ideal length of a retreat. A long weekend can also be suitable if the retreat location isn't too far from your company's home base.
Budget: Retreats cost money but can ultimately save companies and become an investment, especially if your team gleans new insights during the getaway or productivity levels increase. Consider how much your company can afford to spend on the getaway and if you'll have employees fund some or all of their trip costs.
Goals of the retreat: Think about what you want to accomplish with the getaway. Your goal might be to get members of different departments or teams working together. It might be to revive company culture. Having a clear objective helps you choose a destination and getaway activities.
9 Executive Retreat Destinations
The most enjoyable part of planning a retreat might be choosing the destination. Employees will look forward to the big destination reveal every year if your company starts a tradition of holding annual leadership retreats. Whether your retreats will be routine or a special occasion, consider these destinations:
1. The Caribbean
The islands in the Caribbean can provide the perfect backdrop for your company's next retreat. Your employees will have a chance to relax by the pool or lay on the white sand of a private beach. If you're looking for team-building activities, you can schedule shore excursions with your team to swim with stingrays or glide down a zipline.
Depending on your location, you can book a cruise that starts in Boston and takes your team down the coast to the Caribbean. Another option is to book a cruise that starts and ends from a Caribbean port.
2. Alaska
A retreat based in Alaska might be just right for companies based on the West Coast or that can easily travel to the West Coast. While there won't be beaches or hot weather, a retreat in Alaska gives you a chance to take in the wonder of nature. Your team can visit scenic shorelines and see the unique wildlife that call Alaska home.
A getaway to Alaska offers plenty of opportunities for your team to bond and work together. Executives can go fishing together and fight for bragging rights about catching the biggest fish. Your group can also try to direct a team of sled dogs. The more adventurous among your team can try hiking or biking along coastal paths and trails.
Summer is usually the ideal time to book an executive retreat to Alaska.

3. Mexico
A retreat in Mexico can be perfect for companies based in the Southern portion of the U.S. or near the East Coast. During shore excursions, your team can see pelicans, flamingos and crocodiles up close and personal. You might also be able to swim with dolphins and snorkel with tropical fish.
A getaway to Mexico gives your team a chance to truly relax. They can spread out on a beautiful beach, taking in the sun's rays while enjoying a good book. They'll also have the chance to attend lectures and learn fascinating facts about the area.
Nightlife options can be an excellent way for your team to bond. Going to karaoke or watching a comedy show together helps team members connect as employees and as friends.
4. Canada
Whether your company travels to Montreal, Vancouver or anywhere in between, Canada offers a lot to see and do. Quebec City has all the charms of a European city, all in a convenient North American location. Vancouver has often been recognized as one of the best places to live. And Montreal is known for its exciting takes on bagels and French fries.
Your company's getaway to Canada can be full of microbrewery tours, walking tours and whale watching. Whether you head to the west or east depends on your starting point and how long you want the retreat to last.
Since Canada is a northern country, it does get pretty cold there in the winter. The best time to travel is often from June through October.

5. Greece
Bring your leadership team on a retreat in the birthplace of democracy, Greece. Your company's getaway can be centered on Athens and the ancient marvels it has on display, such as the Acropolis and Parthenon. It can also involve island hopping, with your team getting to visit the unique islands of Greece. Whatever you decide, your employees will get to fully immerse themselves in Greek culture, enjoying the food, drinks and history of the country.
The weather in Greece tends to be nearly perfect throughout the year. Rough seas can make it challenging to travel from island to island in the middle of winter, though. An ideal time to book your company's retreat is in the spring, summer or early fall.
6. Costa Rica
Costa Rica is an ecological wonder. With its beautiful rainforests, spectacular volcanos and cloud forests, it can be the perfect spot for your company's leaders to unwind and reconnect with each other.
During a retreat in Costa Rica, you'll have ample opportunity to relax on the beach. Your team can also participate in group-strengthening activities, such as canopy zipline tours, snorkeling and nature hikes. They can take time out for learning by participating in a cooking demonstration or class. At the end of the retreat, your team will return to work refreshed and ready to tackle the next projects.
Costa Rica's dry season lasts from December through April. If that doesn't work for your company, September through November can also be ideal but slightly wetter times for booking a retreat.
7. Iceland
Iceland's name is a bit of a trick. The northern European country has relatively mild weather, particularly if you travel in the late spring through early fall. Even in the winter, the weather in Iceland isn't much colder than in the northern part of the U.S. It does happen to be dark nearly 24 hours a day in the winter months, though.
That darkness is a must if your team hopes to see the Northern Lights, also known as the Aurora Borealis, on your retreat. The natural, dancing light show is one of life's must-sees and is truly breathtaking. You need dark, clear skies to see it.
A retreat to Iceland also gives your team the chance to see awe-inspiring waterfalls, go whale and puffin watching and explore glaciers.
Iceland is just a short plane ride from Boston and New York, making it an ideal retreat spot for New England or the upper Mid-Atlantic companies.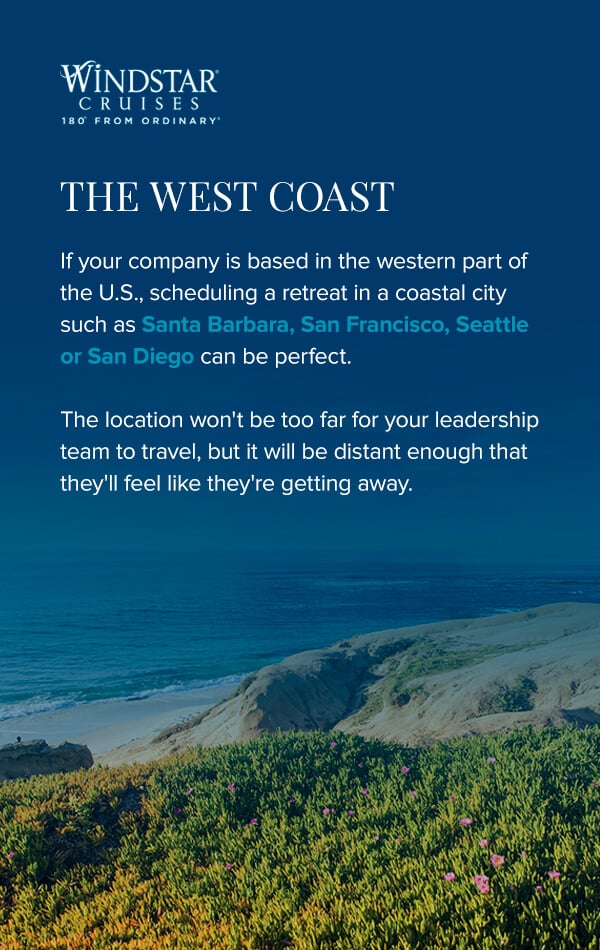 8. The West Coast
The coasts of the U.S. are expansive, and each offers plenty of places for a company retreat. If your company is based in the western part of the U.S., scheduling a retreat in a coastal city such as Santa Barbara, San Francisco, Seattle or San Diego can be perfect. The location won't be too far for your leadership team to travel, but it will be distant enough that they'll feel like they're getting away.
Coastal cities offer a variety of activities. Your team can enjoy culinary treats in the cities you choose, spend the day relaxing on the beach or head out on exciting walking tours of the area.
The weather you can expect depends on the part of the coat you're visiting. Rain is a part of life in Seattle, while San Diego and San Francisco typically have mild weather year-round.
9. Italy
With beautiful beaches, delicious food and enthralling history, Italy has it all. Whether you head to Rome, Venice or the Almalfi Coast, your team will enjoy a restful and relaxing getaway.
Among the activities available in Italy are wine tastings and culinary adventures, such as cooking demonstrations and olive oil tastings. You can also schedule a walking or bike tour for your team members or a motorcoach tour of the sites.
Flights to Italy take about eight hours from the East Coast of the U.S., making it a good option for executive retreats that last for at least one week. One of the best times to schedule a company retreat in Italy is in the summer when the weather is just right and most attractions will be open.

Plan Your Company's Executive Retreat With Windstar Cruises
If you want to give your leadership team a getaway they'll remember, Windstar Cruises can help. We offer a cruise experience that goes beyond the ordinary. Our cruises take place on small yachts, creating a more intimate and relaxing travel experience. With small yachts, we also access small ports, so our travelers enjoy a unique and more customized experience.
Our yachts are designed for relaxation. On board, our guests can relax by the pool, enjoy delicious food and drink indoors and out, take yoga classes and listen to live entertainment. If your company would like to hold training sessions and team-building activities during your retreat, we also have meeting spaces where you can gather.
Contact us today as you plan your company's executive retreat. One of our vacation planners will work with you individually to help you create the perfect getaway.