We're kicking off the launch of our newly enhanced loyalty program by celebrating our past guests during Yacht Club Member Appreciation Week. Each day we'll be profiling a Yacht Club Member to showcase the member's Windstar experiences and memories.
Total Number of Voyages Taken on Windstar Cruises Ships: 127
My wife and I were living and studying in Rome, Italy in 1994.  We had decided to go to Venice for a few days and, as we sat in St. Mark's Square having coffee, we saw Wind Spirit sail into port. It was an amazing sight.  The yacht looked terrific and we ventured over to talk to the crew about the ship.  They told us they were staying overnight and then sailing the next evening for a seven-day cruise from Venice back to Rome. That sounded great, so we asked and were able to book the voyage to Rome.  And that was our first Windstar cruise with only the luggage we had brought for a long weekend.
The next year we were still in Rome and booked our second cruise from Rome to Nice.  Once on board, the Hotel Manager asked us if we wanted to stay on for another week and sail from Nice to Barcelona. They had space, and so we did! He gave us a great deal, and that's how we learned about doing Star Collector Voyages (back-to-back cruises).
From that point on, we were hooked on Windstar Cruises and its sails. 
After we moved back to the US, we began going to the Caribbean every January to snorkel and dive. Back in the 1990s Wind Star and Wind Spirit had great itineraries in the Caribbean, all of which had dive masters on board which was the big draw for us.
We became partial to Wind Surf after she joined the fleet in 1999 and started following her around – the Caribbean in the winter and the Mediterranean in the fall. We'd do back-to-back voyages, twice a year and would sail on the other yachts at times but always looked to the Surf as our first choice due to its spacious decks, lively Compass Rose, multiple room choices and excellent variety of restaurants.
I still sail with Windstar at least two or three times a year, usually for two or three voyages at a time.  I gave up diving a few years back but still enjoy snorkeling and just being on board seeing so many old friends among the crew and guests.  As a tribute to us, after my wife passed away in 2014, our Wind Surf crew, whom we consider family, posted her picture in the photo gallery which remained there for several years.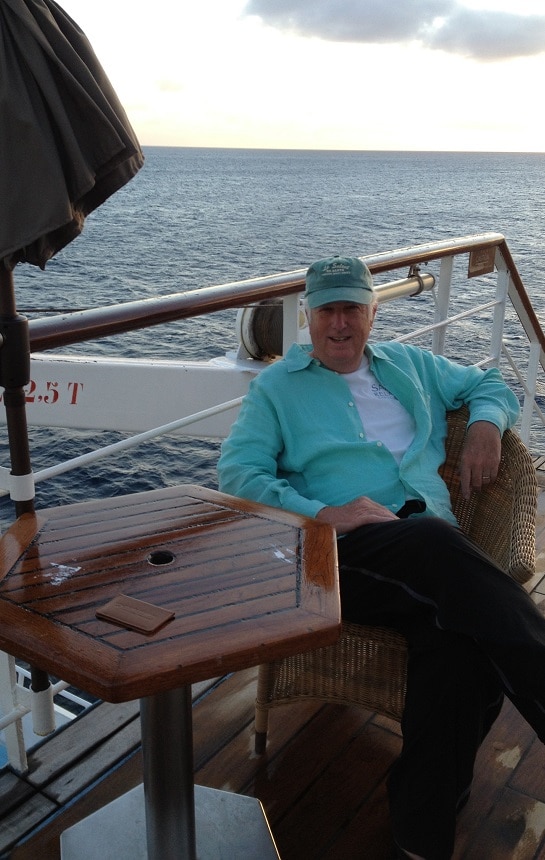 When friends ask me why I don't have a vacation home, I tell them I have a yacht. They take care of it for me.  When I'm ready to travel, all I have to do is call Windstar and ask them, "where's my yacht"?  Then I eagerly join it for another adventure. I've had the chance to go all over the world with Windstar.  
In 2017, we celebrated Bill Hare's 100th Windstar Cruise
On June 10th, 2017 the team aboard the Wind Surf hosted a Yacht Club Reception for all of our repeat guests, where Bill was recognized and presented with items from the Windstar team, which included a personal note from Windstar President, John Delaney, and a certificate for a free cruise.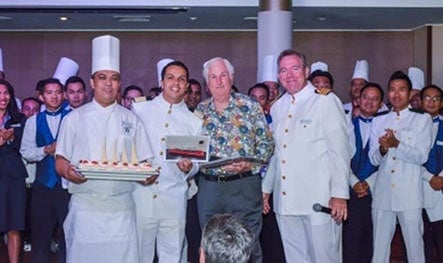 A cake was prepared by the galley team, and was presented by the Hotel Manager and the Captain as they welcomed Bill on stage. The majority of the crew came out to show Bill just how much he means to the Wind Surf team.Visibly touched by the recognition and the fanfare, Bill shared the story of why he started cruising with Windstar and why he continues to come back (mentioning his late wife, Mary Catherine, who sailed so many cruises with him). Everyone at the reception was moved and honored to witness this milestone. Read Bill's interview on the 100th Windstar voyage.
My favorite dive spots:
Bonaire
Barrier Reef
BVI 
Belize
My most memorable Windstar moments:
Moonlit nights on the Surf at Compass Rose with music playing
Sailing out of Venice past St Mark's in the evening with church bells ringing
Caribbean sunsets galore shimmering over the water as we sail across the seas
My favorite Windstar itineraries:
Greek Isles
Baltic
Caribbean
What keeps me coming back:
Crew, crew, crew……they are terrific, friendly and provide outstanding service
Great itineraries, out of the way places, small/intimate atmosphere
Particularly love the Surf – lots of deck space
Insider tips:
Read More Windstar Yacht Club Stories:
Tod & Lisa Johnstone – Windstar Yacht Club Members Profile
Carol & Richard McMakin – Windstar Yacht Club Members Profile
Mary & Michael Sperry – Windstar Yacht Club Members Profile