One of the best things to do on vacation is explore and experience a new location through sightseeing. You can learn about the area's history and see mesmerizing nature and works of art. Art can convey messages that touch your soul or make you think, or it can simply be amazing to look at.
Regardless of the reasons you enjoy art, stopping to appreciate it during your travels can turn your vacation into an unforgettable experience. Here are the top 21 best public art pieces in the world and where you can find them. 
In This Article
1. 11 David Černý Statues: Prague, Czech Republic
David Černý is a famous and controversial Czech sculptor who creates stunning public art installations in locations around Prague. His eye-catching sculptures offer unique representations of significant cultural subjects and figures. You can embark on a self-guided tour in Prague to view these 11 David Černý statues:
Franz Kafka's Head: Franz Kafka wrote visionary fiction in the 1900s.Černý created a stainless steel rotating sculpture of Kafka's head. The statue has a mirrored surface and built-in motors for continuous rotation. You can view the layers as the complexity of Kafka's personality, as astronomical clock clogs — to describe Kafka as a cog caught in society's bureaucracy — or interpret it your way. View this sculpture at the Quadrio shopping and office complex center on Národní Trida Street.
The Piss: This sculpture depicts two grown men urinating over a small pond. Černý said it represents Czech dialogue, where one person always tries to get ahead of another. You can find this sculpture outside the Franz Kafka Museum.
Man Hanging Out: Man Hanging Out depicts Sigmund Freud — founder of psychoanalysis — hanging from a pole high above the ground. The work is in response to the question of intellectuals' role in the new millennium. Černý considers Freud the intellectual face of the 20th century. You can find this sculpture above Husova Street.
Babies: Babiesis a series of sculptures featuring several crawling babies with barcode stamps for faces. The babies represent children from the Communist era who can't reach adulthood because their growth was stunted by totalitarian rule. These sculptures are crawling up the Žižkov Television Tower and on Kampa Island.
Horse: Horse is a parody depicting Wenceslaus I on an upside-down dead horse. Wenceslaus was the prince of Bohemia who sought to spread Christianity. His younger brother assassinated him. You can find the sculpture in Lucerna Palace's main passage.
Trifot: Černý, inspired by "Big Brother" and the walking plant in John Wyndham's novel "Day of the Triffids," created a walking sculpture for the Czech Photo Center. The statue is outside the center and walks as if emerging from the Nové Butovice metro station and heading toward Hůrka station. Trifot's large eye can spot people passing by, activating a camera and displaying them on large screens.
Cyberdog: Cyberdog reflects 21st-century technological development. It's a two-story building shaped like a dog's head and body, made from materials resembling spaceships. The interactive piece has a background informing visitors of the latest in cybernetics, robotics and other science and technology fields. Inside is a wine bar with a robotic server. You can view this piece next to Trifot.
Speederman: Speederman depicts a man frozen in time. The statue represents human evolution reaching superhuman development through technology. It's located in Walter Square.
Lilith: Lilith is a naked woman who turns her head regularly. It symbolizes female independence and equality. The statue is holding up an apartment building in the Karlín District.
Beetle: Beetle is a statue of a Porsche stuck on a pin, like a beetle in a bug collection. It draws attention to the social appeal of driving. The pink car has 11 moving segments. You can see it on Vyskočilova Street.
London Booster: Černý made The London Booster to mark the anniversary of the Olympic Games in London. The sculpture is a London double-decker bus with arms and a human rear end. It periodically groans and does push-ups. You can find it in the Chodov neighborhood.
2. Parque das Nações: Lisbon, Portugal
Parque das Nações is an expo park with modern art that contrasts historic Lisbon. Its public art projects include:
The Iberian Lynx statue: This colorful statue consists of waste materials like computer components and plastic. The Iberian lynx is one of the world's most endangered feline species. Bordalo II, the artist, wanted people to view it and reflect on materialism and consumerism.
Garden Garcia de Orta: Explore urban art, water features and musical exhibitions along the waterfront in this garden.
It takes about half a day to see the Parque das Nações. Aside from the public art pieces, you can enjoy the Oceanário de Lisboa — Europe's finest aquarium with five tanks representing the five oceans — the Casino de Lisboa and a cable car ride.
3. Cloud Gate: Chicago, United States

Cloud Gate is a polished stainless steel piece at the AT&T Plaza in Millennium Park. It is British artist Anish Kapoor's first public outdoor sculpture in the United States. The sculpture's stainless steel plates reflect the city's skyline and clouds. It also features a 12-foot arch, acting as a gate to the chamber beneath the statue, where visitors can touch its surface and see their reflection from various perspectives.
4. East Side Gallery: Berlin, Germany
The East Side Gallery in Berlin is the world's largest open-air gallery, measuring 1.3 kilometers long. Various artists painted the gray Berlin Wall after the German reunification, creating the East Side Gallery. The Soviet Union erected the wall after World War II to separate itself and its dependent Eastern and Central European allies from contact with the West and other noncommunist areas. These creative paintings transform this Iron Curtain symbol into a street art masterpiece representing freedom of expression.
5. Parc Güell: Barcelona, Spain

Park Güell is a 19-hectare public space with countless architectural artworks. These architectural works blend beautifully with nature, creating a magical, fairytale-like world. Antoni Gaudí — a Spanish architect and designer from Catalonia — built the park from 1900 to 1914. It opened as a municipal park in 1926. The United Nations Educational, Scientific and Cultural Organization (UNESCO) declared the park a UNESCO World Heritage Site in 1984.
Antoni Gaudí built Park Güell in a modernist style with Trencadís — mosaics consisting of shards and broken chinaware — architecture, resulting in stunning, fluid structures with curved lines. El Drac — a colorful mosaic dragon near the entrance — is the park's most famous Trencadís mosaic work. The park also features motifs from Catalan religious mysticism and nationalism.
6. Maman: London, England
Maman is a gigantic steel spider that can only fit outdoors or in an industrial-sized building. The spider is above the ground, allowing viewers to walk underneath and around it. A mesh egg sack contains 17 gray and white marble eggs under the spider.
Louise Bourgeois created the sculpture in May 2000 for Tate Modern's opening. Initially, this piece was on a bridge overlooking three tall steel towers titled "I do, I undo and I redo." These titles refer to the emotional development a woman experiences during motherhood. Maman translates to "mummy," an appellation children bestow upon their mothers.
7. Yellow Pumpkin: Naoshima Island, Japan
Yayoi Kusama's yellow pumpkin is a trademark sculpture on Naoshima Island's pier. It symbolizes a connection between Naoshima and the rest of the world. The statue was installed in 1994, but a typhoon in 2021 swept it away and broke it into three pieces. Kusama's production team created a new sculpture, which was installed on October 4, 2022.
The new yellow pumpkin's outer shell is 10% thicker, so it can withstand strong winds and waves, and it has a hook in its stem to drag it to safety in the case of another typhoon.
8. Statue of Liberty: New York City, United States

The Statue of Liberty is a symbol of freedom, hope and inspiration. It's one of the most recognizable national treasures in the world. In 1865, Frenchman Édouard René Lefèbvre de Laboulaye proposed presenting a monumental gift from France to the United States. He was an avid supporter of America and wished to celebrate the Declaration of Independence's 100th Anniversary, the close relationship between France and America, and the abolishment of slavery.
Sculptor Frédéric Auguste Bartholdi heard Laboulaye's proposal and began drafting Liberty Enlightening the World — which later became the Statue of Liberty. The Statue of Liberty has many symbols, such as:
Crown: Lady Liberty's crown represents light.
Crown spikes: The spikes represent sun rays extending out to the world.
Tablet: The tablet has the date July 4, 1776, in Roman numerals — the day the United States gained independence.
Broken shackle and chains: The broken shackle and chains at the Statue's foot symbolize the abolishment of slavery.
The Statue of Liberty was separated into pieces and transported to the United States. Richard Morris Hunt designed the granite pedestal, and on October 28, 1886, President Cleveland oversaw the statue's dedication.
9. Stravinsky Fountain: Paris, France
Igor Stravinsky was a Russian-born composer whose modernist compositions revolutionarily impacted musical thought and sensibility before and after World War I. La Fontaine Stravinsky (The Stravinsky Fountain) is in the Centre Pompidou — a pedestrian-only square — and was designed by Niki de Saint Phalle and Jean Tinguely. It features 16 colorful sculptures spouting water streams to represent Stravinsky's works.
10. La Joute: Montreal, Canada
La Joute is the only fountain sculpture by Jean-Paul Riopelle — one of Canada's most prominent artists. Riopelle created the statue for the Olympic Games in 1976, and it was initially at Montreal Olympic Park. Today, you can view it in the Quartier International de Montreal.
The sculpture features 30 elements that surround the "Tower of Life." These elements depict mythological figures and animals from the artist's imagination and childhood, including the Owl, Bear, Dog and Fish. There is also a circle of fire around the work, added after its reinstallation but in line with Riopelle's original vision. You can watch the flames rise and dance from mid-May to mid-October.
11. Flying Balloon Girl: West Bank, Israel
Flying Balloon Girl is a political piece painted by Banksy in 2005 on a wall in the West Bank. Banksy is the most well-known graffiti artist in the world, yet his true identity is unknown. Most of his work — typically sculptures or paintings created with oils, acrylics and spray paints — brings serious matters like child soldiers to light.
One of Banksy's most famous artworks is Flying Balloon Girl. Many believe the piece represents children trapped by the conflict between Palestinians and Israelis who long to fly away to freedom.
12. Shadows: Sydney, Australia
Shadows is a site-specific photographic artwork by Sabine Hornig. It connects the three Sydney International Towers at Barangaroo South. The towers feature printed transparent images embedded in their glass entrances and exits. Each image is of the flora in Sydney.
Sabine Hornig laid the images over the glass to allow viewers to experience different realities, times and perspectives simultaneously. The natural wonders and ecological treasures connect the new buildings with Sydney's ancient past. This artwork is beautiful and mesmerizing, and the ancient plants show how the land may have looked before settlement and modernization.
13. Eveleigh Treehouse: Sydney, Australia

Eveleigh Treehouse is in Eveleigh Green Park. It was created by Sydney-based visual artist Nell. Nell wanted to pay homage to the Gadigal land where the site is, as well as the history of the Eveleigh Railway Workshops. The artist is also personally connected to the piece because their great-grandfather worked as a boilermaker at Eveleigh.
Eveleigh Treehouse is a place of retreat, imagination and observation. This artwork consists of interconnected pods created from individually forged steel gum leaves. The pods nestle among the existing gum trees at Eveleigh Green. Carriageworks partnered with Eveleigh Works to run workshops to teach participants basic blacksmithing skills. Then, the participants forged the steel leaves and engraved their initials on them.
14. Floralis Genérica: Buenos Aires, Argentina
Floralis Genérica is a 20-meter-high sculpture by Argentine architect Eduardo Catalano, who donated it to the United Nations Square. It was the first moving sculpture controlled by a hydraulic system and photoelectric cells. The statue is a stainless steel and aluminum flower that opens its petals during the day and closes them at night.
15. Puppy: Bilbao, Spain

Since 1997, Puppy has stood in front of the Guggenheim Museum Bilbao. It's a white terrier over 40 feet tall and covered in flowers. Puppy references 18th-century elite European formal gardens and modern popular culture images and objects like tiny pets.
Workers replace the plants with fresh, seasonal varieties biannually. Puppy grows pansies in fall and winter, and during the spring and summer, it boasts begonias, petunias and impatiens. The sculpture contains hidden turf and pipes to encourage growth and keep the plants fed and watered daily.
16. Jacob's Ladder: Auckland, New Zealand
Gerry Judah's Jacob's Ladder is one of many sculptures at Gibbs Farm Sculpture Park in New Zealand. The park has over 30 monumental sculptures from contemporary artists, including Anish Kapoor, Richard Serra and Andy Goldsworthy. Jacob's Ladder is a 34-meter tall curving ladder consisting of 480 steel lengths stacked on top of one another to create varying layers. In Christianity, angels are said to use Jacob's Ladder to enter and exit heaven.
17. A-maze-ing Laughter: Vancouver, Canada

Yue Minjun's A-maze-ing Laughter features many bronze statues depicting the artist's laughing image with wide grins and closed eyes. The laughing figures show the contradiction between their poses and silent forms. Minjun states his intention with the piece was to touch every visitor's heart with enjoyable art. A-maze-ing Laughter is on display at Morton Park in Vancouver.
18. Colonnes de Buren: Paris, France

Colonnes de Buren is a site-specific work by French artist Daniel Buren. It features countless black and white striped columns of various heights in the interior courtyard of the Palais-Royal in what was previously a parking lot. The work was commissioned to cover the ventilation shafts, but it became controversial because the columns contrasted with the elegant palace. Pools of water sit at the column bases.
19. Angel of the North: Newcastle, England
The Angel of the North is as synonymous with Gateshead as the Statue of Liberty is with New York City. Sculptor Antony Gormley designed the sculpture in 1994, and it was placed on the site of a former colliery — coal mine — in Gateshead in 1998. Angel of the North is believed to be the largest angel sculpture in the world at 20 meters high with a 54-meter wingspan. It can withstand winds greater than 100 miles per hour.
Gormley says he chose an angel because people need to keep imagining them. The angel reminds people that workers toiled in the dark coal mines below for 200 years, represents grasping the future and the transition from the industrial to the information age, celebrates the mining industry, and focuses on people's hopes and fears.
20. The Shoes on Danube Promenade: Budapest, Hungary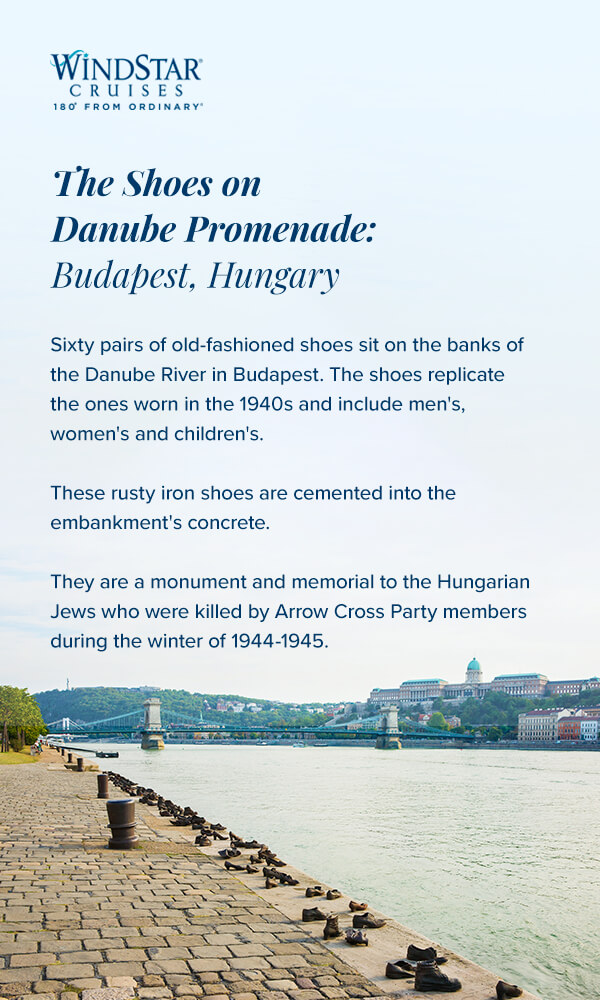 Sixty pairs of old-fashioned shoes sit on the banks of the Danube River in Budapest. The shoes replicate the ones worn in the 1940s and include men's, women's and children's. These rusty iron shoes are cemented into the embankment's concrete. They are a monument and memorial to the Hungarian Jews who were killed by Arrow Cross Party members during the winter of 1944-1945. Shoes were valuable during World War II, and the Party members could trade them on the black market or use them themselves.
At three separate locations are memorial signs mentioning the shooting. Film director Can Togay and artist Gyula Pauer collaborated to create the memorial.
21. Rose Il: Hong Kong, China
Isa Genzken's Rose II is a memorable piece with stunning beauty. The giant rose debuted in New York in 2010 but now stands in Hong Kong as a stark contrast to the city's architecture. It is nearly 30 feet tall and turns the intimate act of gifting a rose into a community effort. Its vibrant color conveys feelings of warmth, energy, passion and strength — all representative of Hong Kong.
View Captivating Artwork Around the World With Windstar Cruises

Traveling the sea is one of the best ways to begin your excursion around the world. Cruise ships allow you to stop and see various places on your journey, so you can kick back and enjoy the ride. You can see the world on any cruise ship, but Windstar's private yachts can grant you access to smaller ports and public art that larger ships do not.
Imagine standing in front of the Statue of Liberty in New York City or the Stravinsky Fountain in Paris. Windstar Cruises can take you wherever your heart yearns to be. Explore our unforgettable cruises today or contact us online for more information.
We look forward to embarking on this peaceful journey with you!