Traveling with friends is an excellent option for any vacation. You can reconnect with your friends, experience new cultures and make lasting memories. The experience can relieve stress and enhance your creativity, making it a reinvigorating opportunity for everyone in your travel group.
But with so many destinations to choose from, planning your vacation might feel overwhelming. Finding a place that excites all your friends and meets everyone's interests is essential. Whether you pick beautiful beaches or bustling cities, you're sure to plan an extraordinary trip.
In This Article
Top Vacation Destinations to Visit With Friends
Learning about different vacation ideas can help you select the right one for you and your friends. Here are 16 ideas for the best vacations for a group of friends.
1. Alaska
Alaska is an unforgettable destination for your friend group. The state contains a wide range of natural landmarks, from glaciers and shorelines to breathtaking mountains and crowded cities. Alaska is famous for its natural beauty and wildlife, making it an excellent option for friends who love the outdoors. 
You can explore its nature up close with activities like:
Bear viewing tours
Day cruises
Northern lights viewings
Flightseeing tours
Kayaking tours
Guided hikes
You could also visit Alaskan cities like Anchorage, Fairbanks or Juneau. These cities are full of unique attractions and make perfect jumping points for outdoor exploration.
Alaska also has many opportunities for lodging and food. From earthy campgrounds to plush hotels, groups of friends can find the accommodations that suit them best.
2. Tokyo, Japan
Another example of the best places to go on a trip with friends is Tokyo, Japan. Tokyo is a fast-paced and beautiful city, known for its technology, historical sites and delicious food. It has a unique blend of modernity and tradition, with new skyscrapers resting next to ancient temples.
The busy streets of Tokyo have much to offer for travelers. From endless shopping opportunities to interactive museums, you and your friends can find activities that match your interests. You could visit the Sensoji Temple, the oldest religious site in Tokyo, or explore the Tokyo Skytree. Or, you could explore Akihabara, a neighborhood dedicated to manga and electronics. No matter how you spend your time, be sure to taste Tokyo's extraordinary food, from sushi to tempura.
3. Melbourne, Australia
If your friends are up for a relaxing adventure, consider visiting Australia. Melbourne is one of the country's most popular cities, located deep in wine country. It has a laid-back personality, with locals and tourists moving at a more leisurely pace. 
While in Melbourne, you can explore attractions like these.
Nightlife: Melbourne is famous for its nightlife. If you and your friends are interested in going out and letting off steam, you'll find a range of pubs, clubs and live music.
Sports: Sports are a way of life in Melbourne, and attending a game with your friends can be an unforgettable experience. Their most famous sport is rugby, which is similar to American football.
Cafes: You can also try one of Melbourne's many cafes, which line the city. While you're there, try the flat white, an Australian coffee specialty with espresso and milk.
4. Reykjavik, Iceland
Iceland is a one-of-a-kind travel experience. The country's dramatic landscape features volcanoes, mountains, glaciers, hot springs and more. Its capital city, Reykjavik, is an excellent destination for you and your friends.
If you're interested in an extended Iceland trip, Reykjavik is the best place to start. The city has the largest airport in Iceland and many ports for ships to arrive. Iceland has many types of lodging, from hostels to campsites. But if your friends prefer more traditional accommodations, Reykjavik has all sorts of hotels and resorts.
Reykjavik also has many opportunities for adventure-seekers, from hiking and skiing to helicopter tours and aurora borealis viewings. Their geothermal swimming pools are another highlight. Soaking in steaming water provides ultimate relaxation and cleansing, making it the perfect way to decompress during your vacation.

5. Boston, Mass.
Boston is another excellent vacation option. This busy city offers shopping, activities, historical sites, delightful food and more. You can explore Boston's wide range of shopping plazas, with everything from small boutiques to massive department stores. The Downtown Crossings area is full of restaurants, stores, kiosks, galleries and everything in between.
If your friends are interested in history, Boston has many landmarks to discover. For instance, you could check out the Boston National Historical Park, which explores the events leading up to the American Revolution. Or, you can walk through one of the many history museums throughout the city.
Your friend group could also try a guided tour, which leads you through all the city's noteworthy landmarks. With so much to offer, you can tailor your trip to meet your friends' interests and have the most fun possible.
6. St. Maarten
Many friend groups look for the perfect beach vacation, and St. Maarten can exceed your expectations. With its combination of European and Caribbean cultures, St. Maarten provides a unique travel experience. Its sunny weather and pristine beaches create an idyllic tropical getaway. You and your friends can lounge on the beach or try other water-based activities, from kayaking to snorkeling to parasailing. 
St. Maarten also has many nightlife activities, with many bars, clubs and casinos. And you can choose from many high-end hotels and resorts for your stay. Overall, St. Maarten could be the beach getaway your friends have been seeking.
7. Costa Rica
Another tropical destination for your group of friends is Costa Rica. This gorgeous location has a diverse range of nature, from rainforests to volcanoes. If you have any animal lovers in your group, Costa Rica is full of exotic wildlife you can view up close. Watch a rare bird soar through the sky or spot a shark in the blue water.
You can rest on the beautiful beaches or sample the tasty local food offerings. Costa Rica also offers various wellness activities, like immersive body wraps or hydrotherapy. It's an ideal place for refreshing and relaxing from work or other life stressors. And once you learn new relaxation techniques, you can integrate them into your lifestyle at home.
8. Athens, Greece
In Athens, you can immerse yourself in Greek culture and the elegant landscapes. Athens is one of the world's oldest cities, displaying centuries of history and culture. Greece is an unforgettable vacation spot, with breathtaking landscapes and historical monuments. You and your companions can visit everything from historical temples to theatres, either on foot or on a bike. Athens has endless opportunities for dining, exploration and leisure, allowing your travel group to create an itinerary that matches your needs.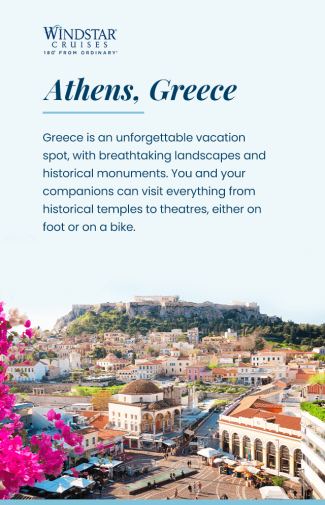 9. Venice, Italy
Italy is a classic destination for world travelers, and your friend group can enjoy its beauty and culture during a group vacation. One of the country's most noteworthy cities is Venice, an enchanting destination with waterways, cobblestone passageways and historic buildings. Venice is famous for its magical atmosphere, which you and your friends can take in as you wander through the city.
You can ride on a gondola through the winding waterways or tour landmark buildings like St. Mark's Basilica. Or, book a ticket to a world-renowned opera nearby. When you get hungry, you could enjoy the city's famous seafood, like clams or sea bass. Your friends can also explore Venice's wine bars, which offer many high-quality and local options.
10. Barcelona, Spain
Barcelona is one of the world's most popular tourist destinations. Located by the sea, its wide range of architecture spans from narrow alleys to sacred churches. Exploring the entire city can take weeks, and your friends will find abundant activities to try and places to visit.
One famous Spain landmark is Las Ramblas, a series of streets packed with nightclubs, restaurants and boutiques. You can also visit sites like the astonishing La Sagrada Familia, a famous cathedral that finished in 2010. With so much to explore, you might consider a guided tour to ensure you visit all the essential sites.
11. Lisbon, Portugal
Lisbon is one of the best places to travel with friends in Europe. The city rests upon seven hills, creating a unique landscape and culture. You and your friends can wander through the centuries-old buildings, often painted bright colors like yellow or turquoise. Lisbon has everything from soft beaches to hilly peaks. From relaxing in coffee shops during the day to letting go in the clubs at night, your friends can find many adventures in Portugal's capital city. Whether you're with a best friend or an entire group, the city has much to offer. 
12. Amsterdam, Netherlands
Amsterdam is a famous travel destination, and for a good reason. The city's iconic canals, ancient buildings and cobblestone lanes build a beautiful atmosphere for travelers worldwide. Whether your friends are interested in history, adventure or anything in between, Amsterdam has an activity for you.
You can visit cultural attractions like the Anne Frank House, or immerse yourself in the city's extensive art scene, from galleries to world-class museums. Many visitors explore the city without a defined plan, ambling through coffee shops and quaint boutiques. This picturesque city is sure to excite your friends.

13. Mexico City, Mexico
Your friends could also visit Mexico on your next vacation. The stunning coastlines, mouthwatering cuisine and historic sites make an excellent tropical getaway. Mexico City is the capital of Mexico and a lively and popular destination. 
While there, you can explore Aztec temples or ancient basilicas and cathedrals. Your friend group can also view local murals, art museums, statues, parks and many other landmarks. And don't miss the city's delectable food options, from tacos and tortas to churros. You can dine at a restaurant or try a street-based food stall. No matter how you spend your time, your travel group will remember your trip to Mexico City for years to come.
14. London, England
London is a renowned city for travel. The city has endless activities, from theatrical plays and museums to guided tours and shopping malls. Some of the city's most popular attractions include:
The British Museum
The Tower of London
Borough Market
The West End theatre district
Buckingham Palace
Westminster Abbey
Kensington Gardens
Shakespeare's Globe Theater
With so much to choose from, your travel companions will stay busy throughout your trip. You can also try traditional British food, like fish and chips, or grab a drink at a local pub. If your group wants to explore other nearby cities, London has many public transportation options. For instance, you can travel between London and Paris in only about two hours.
15. Tahiti
Tahiti is another one of the best places for travel, characterized by clear waters, thick forests, luxurious resorts and French cuisine. This remarkable island provides the ultimate relaxation experience, surrounded by warm sunshine and fresh fruit. It's one of the best beach vacations for large groups.
One of the top ways to experience Tahiti is by cruise. You and your friends can ride through crystal-clear water to reach this paradise-like island. Once you're there, explore the nearby waterfalls and gardens. Or, spend all day on the beach, with its pure white sands and clear blue waters.
16. Auckland, New Zealand
Lastly, your friends could visit Auckland, New Zealand. This city is home to New Zealand's largest cosmopolitan center, and also has everything from towering skyscrapers to volcanic islands. Auckland has an excellent blend of natural beauty and urban bustle, and your friends can create a trip that combines both features.
Some of Auckland's notable attractions include the following
Touring Hobbiton and the Waitomo Caves: If you have any Lord of the Rings fans in your friend group, this stop will be especially meaningful. During this tour, you can view the famous site of Hobbiton from the movie series. See the hobbit homes up close on a fully guided tour, then visit the nearby Waitomo Caves to see their radiant glowworm lights.
Visiting Mount Eden: Mount Eden is the highest natural point in Auckland, offering stunning views of the entire city. The site rests on a dormant volcano covered with plush grass. Many travelers recommend visiting at sunrise or sunset to take in the entrancing view.
Looking at Auckland Zoo: Another great idea for passing the time in Auckland is at its famous zoo. Your group can see everything from lions to penguins.
Contact Windstar Cruises Today
Traveling with your best friends is one of the most enriching experiences you can have. Whether you journey to the mountains in Iceland or the beaches in Florida, you can create unforgettable memories with your friends at these best destinations.
At Windstar Cruises, we work hard to create the perfect travel experiences for our travelers. We move beyond regular vacations and offer authentic and immersive cruise adventures. We have designed our intimate cruise ships for small groups, allowing you to absorb the new cultures and activities. You can experience a more personal trip with fewer crowds on board. And with such a wide range of available destinations, you're sure to find a cruise that matches your group's needs.
Contact Windstar Cruises today for help with planning an unforgettable friends' trip.