Elegant cruises. Tropical paradises. Pristine beaches. A new lease on life. You can enjoy it all when you visit Puerto Rico.
Puerto Rico is a Caribbean island with a rich culture and history, as well as some absolutely stunning beaches. Read on to discover the best beaches in Puerto Rico for couples and solo travelers. 
In This Article
18 of the Best Beaches in Puerto Rico
From soft sand to crystal-clear waters, explore the most beautiful beaches in Puerto Rico, perfect for travelers looking to bask in the sun.
Condado Beach
Condado Beach is a large, public-access beach situated in a popular resort area, and it is one of the best beaches in San Juan. This beach offers a vibrant city atmosphere with busy restaurants right on the beachfront — including the famous 1919 Restaurant and the highly rated Niche Restaurant.
Condado Beach is an ideal stop for first-time and returning travelers since it offers everything you could dream of for the quintessential beach visit. This spot has convenient features, including umbrella rentals, beach chairs and even watersports for the adventurous explorer.
It's also perfect for relaxing on the sand and soaking up the sun. However, keep in mind that this beach is generally not recommended for swimming, as the undercurrents are pretty strong.
Ocean Park Beach
Are you dreaming of a resort destination with white sands, deep blue waters and a hedge of palm trees? Then Ocean Park Beach is the right pick for you! Located on the eastern edge of the Condado district, the beach's easiest access point is from the Último Trolley.
Ocean Park is quieter and more secluded than Condado Beach, mainly because it does not have bathrooms, changing rooms or showers. But its proximity to resorts means that all essential amenities are close by, so this is a nice stretch of beach if you want the best of both worlds.
Playa Peña
"Peña" means rock and alludes to the rocks that sparkle on the shoreline of this beautiful, sandy beach. Playa Peña is nice and secluded while still being within walking distance of San Juan. The beach has no facilities but is close to town and ideal for visiting for an hour or two.
You can access Playa Peña using the stairs next to the San Juan Bautista statue across from the Capitol Building (El Capitolio de Puerto Rico). Although it is a tranquil spot, the waters have strong currents, so be careful if you swim.
Icacos Beach
Icacos is a small uninhabited island off the coast of Fajardo, Puerto Rico. You can sail to Icacos from San Juan via water taxi or catamaran. This beautifully secluded getaway boasts pristine white beaches and clear, shallow turquoise waters that are perfect for snorkeling and exploring the coral reefs. Private tours are ideal if you want a full experience, as they often feature lunches and rentable snorkeling equipment.
El Escambrón Beach
Escambrón is a popular, family-friendly beach in San Juan. Escambrón's golden shores, crystal waters, fantastic weather and top-notch facilities — including bathrooms, showers and food stalls — all contribute to the beach's Blue Flag award.
Head to Escambrón Beach to embark on a snorkeling excursion or relax and try some of the island's delicious cuisine. It's easy to see why Escambrón Beach is on the map of the best beaches in Puerto Rico.
Flamenco Beach

Situated on the northern shore of Culebra, Flamenco Beach is often recognized by tourists and experts as the best beach in Puerto Rico. The beach has everything you need, including showers, bathrooms, umbrella rentals and a picnic area. Flamenco Beach is also the perfect spot for snorkeling with its clear and shallow waters.
The beach is a picturesque tropical paradise with palm trees, white sands and a touch of quirky character thanks to the rusting remains of M4 Sherman tanks — complete with graffiti — resting on the shore.
Sun Bay Beach
Sun Bay is an idyllic beach in Vieques complete with facilities, lifeguards and even a cafeteria. Sun Bay is an exquisite escape for couples and sets the scene with soft white sands, aquamarine waters and horses that roam wild on the beach! The horses are such a unique and beautiful part of the Sun Bay experience. They do have owners but are allowed to roam freely.
Luquillo Beach
Luquillo Beach is one of the best Puerto Rico beaches for enjoying an idyllic beach day andtraditional Puerto Rican cuisine! The beach is located next to kiosks selling traditional Puerto Rican cuisine, providing travelers with a budget-friendly way to enjoy a taste of local foods and fresh seafood. Luquillo Beach is a popular place with a bustling atmosphere, warm waters and myriad palm trees that provide shade from the tropical sun.
Boquerón Beach
Boquerón Beach is a popular destination situated in Cabo Rojo. It is a staple on traveler itineraries thanks to the good food, beautiful beaches, hiking trails and budget-friendly accommodation options. The beach has crystal-clear waters and facilities, including bathrooms, showers, lifeguards and parking — all within close proximity to enticing food stalls. Boquerón is also a favorite spot for visitors to watch the sunset.
Cerro Gordo Beach
Cerro Gordo Beach in Vega Alta is a favorite among locals, largely due to the beautiful turquoise waters that are perfect for snorkeling and surfing. There is also lots to do at Cerro Gordo Beach apart from water activities — including camping and exploring the nearby hiking trails. Cerro Gordo Beach has bathrooms, showers, lifeguards and other amenities like gazebos.
Crash Boat Beach
Crash Boat Beach is situated along the northwestern coast of Puerto Rico in Aguadilla. The beach gets its curious name from its history — the Crash Boat Beach docks were a launching site for United States military rescue boats.
Crash Boat Beach showcases a colorful, vibrant landscape and is a hotspot for watersports. If you feel adventurous, you can even dive off the pier into the beautiful waters. One side of the beach has facilities like parking, bathrooms and showers, while the other side features kiosks and watersport equipment rentals.
Tortuga Beach
Tortuga Beach is located west of Culebra on Culebrita Island. It is one of the best spots to visit for an entire day — you can hike, explore historic landmarks like the old lighthouse, and snorkel to view amazing sea life like sea turtles. Plus, you can only get there by water taxi or private boat, making it an ideal escape.
Playa Sucia

Playa Sucia is on the southwestern coast of Cabo Rojo and is part of the town's nature reserve. Playa Sucia means "Dirty Beach" in Spanish, but it's a picturesque spot created for relaxation.
Playa Sucia is an ideal location if you crave natural surroundings and a true escape, as it does not feature any amenities or nearby resorts. The beach has a feeling of true wilderness, making it one of the most beautiful beaches in the area.
Cayo Aurora
Cayo Aurora — also called Gilligan's Island — is one of three mangrove-covered cays that form part of Cayos de Caña Gorda. Cayo Aurora features shallow, clear waters, making it a good spot for snorkeling. Cayo Aurora gives you a complete travel experience and can only be reached by kayak or private boat.
La Poza del Obispo
La Poza del Obispo is a small beach on the north Coast of Arecibo. This unique beach flaunts shallow, turquoise waters formed by beautiful rock formations.
Poza del Obispo also offers golden sands and waves that surfing enthusiasts will love. The beach is excellent for snorkeling and observing the coral reef and colorful tropical fish.
Tamarindo Grande Beach
In Culebra, Tamarindo Grande Beach has a unique coastline with beautiful rock formations and stunning scenery to complete the picture.
One of the top reasons to visit this beach is the sea turtles! You can enjoy a rare opportunity to see sea turtles nesting in their natural environment — thousands of turtles come ashore to lay their eggs from midyear to December. The island even offers guided Night Turtle Nesting Tours.
There are no rentals, so you must come prepared with everything you need for your visit.
Seven Seas Beach
Seven Seas Beach is part of a nature reserve on Puerto Rico's northeastern coast in Fajardo. Seven Seas offers beautiful, calm waters and amenities like gazebos, showers and bathrooms. It's an excellent spot for relaxing, swimming and snorkeling, making it an exquisite place to include in your travel itinerary.
Mar Chiquita Beach
Mar Chiquita Beach is situated in Manati on the island's northern shore, and it's an absolute dream. Explore the tiny coves of a beach bordered by giant walls of natural limestone and miles of shoreline with breathtaking views. Mar Chiquita Beach boasts crystalline waters and nearby caves but only offers a few facilities, including a parking area and some food stalls on weekends.
Traveling to Puerto Rico: FAQ
Puerto Rico is a beautiful, diverse island and an absolute joy to visit. If you're considering a trip to Puerto Rico, consider the answers to the following frequently asked questions.
Is It Safe to Visit Puerto Rico?
Yes! Puerto Rico is generally a safe place to visit. As with any travel destination, you will want to exercise caution to prevent incidents like pickpocketing. You should also follow all local safety recommendations and any public health measures.
What Is the Weather Like in Puerto Rico?
Puerto Rico is an excellent destination if you want to enjoy warm, sunny weather for most of the year. It's a tropical paradise, but it can also be humid. The south tends to be a couple of degrees hotter than the island's northern regions. The mountainous area inland — the Cordillera Central — is also generally cooler than the rest of the island.
What Can You Expect When You Travel to Puerto Rico?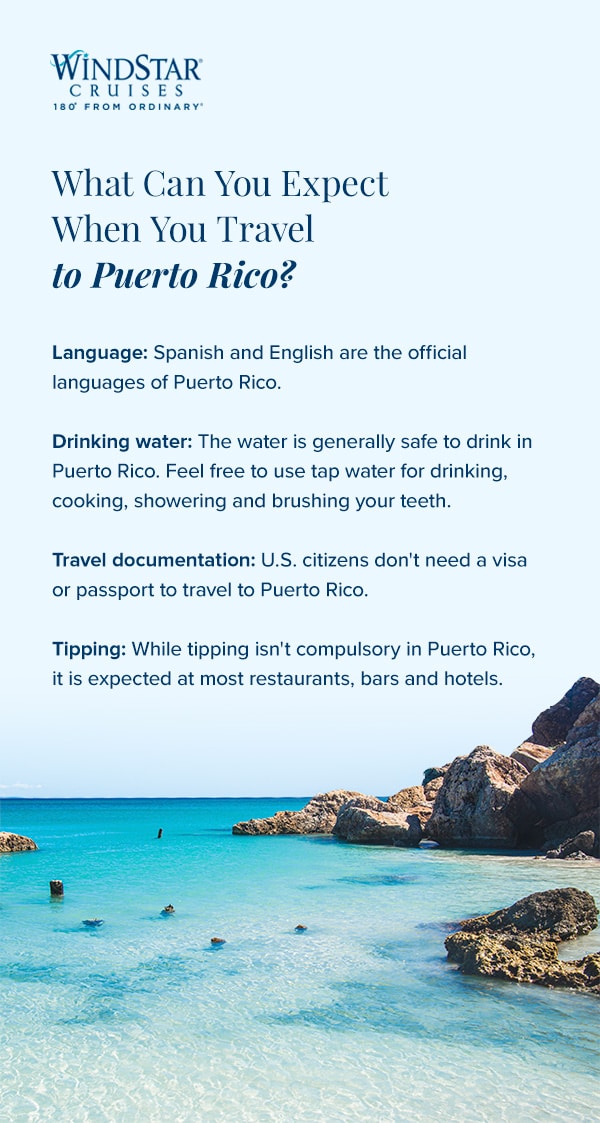 Puerto Rico is a popular travel destination, so it's great to know a little more about what to expect while visiting the island:
Language: Spanish and English are the official languages of Puerto Rico. You will get by just fine speaking only English in the popular tourist spots, but you can also immerse yourself in your travel experience by learning some basic Spanish.
Drinking water: The water is generally safe to drink in Puerto Rico. Puerto Rico's Water and Sewage Authority treats and distributes tap water. Feel free to use tap water for drinking, cooking, showering and brushing your teeth.
Travel documentation: U.S. citizens don't need a visa or passport to travel to Puerto Rico. All you need is a government-issued ID card, such as a driver's license.
Tipping: While tipping isn't compulsory in Puerto Rico, it is expected at most restaurants, bars and hotels. You may also tip Uber and cab drivers.
Which Side of Puerto Rico Has the Best Beaches?
That depends entirely on your preferences! Head to the north if you are seeking a vibrant and social scene. Beaches like Condado Beach and Ocean Park are busy and full of life, with lots of restaurants and resorts nearby. You can head to the west and southwest to enjoy exhilarating and memorable experiences like surfing or sightseeing. Or, escape to the eastern parts of the island to spots like Culebra for secluded beaches and a personal paradise.
Of course, the whole island is peppered with beaches showcasing the clearest waters. From Tortuga Beach to Playa Sucia, Puerto Rico's turquoise beaches will earn a spot in your top travel destinations for years to come.
What Should You Bring to the Beach?
Travel is always more enjoyable when you come prepared. Here is a good checklist of items to bring to the beaches in Puerto Rico:
Towels
Snorkeling gear
Mini first-aid kit
Sunblock
Portable phone charger
Waterproof phone case
Moisturizer and leave-in hair conditioner
Extra pairs of sunglasses and prescription glasses
Travel umbrellas
Mosquito repellent
Portable camera like an Instax
Cash
Identification
Bathing suit
Extra shorts and tops
Sunhat
Sandals
Sneakers
What Is the Best Time to Cruise to Puerto Rico?
High season is one of the best times to take a cruise to Puerto Rico. The high season is anytime from mid-December to mid-April. These are the best times to travel because of the milder temperatures and the lesser rainfall. Plus, you can escape the colder temperatures of your hometown during these months.
See the Best Beaches in Puerto Rico With Windstar Cruises
Experience the excitement of travel with Windstar Cruises. Our world-class yachts accommodate up to 342 guests so that you enjoy an intimate and immersive travel experience from the moment you board. We're also always looking for hidden gem destinations and excursions to provide guests with unique and memorable travel experiences. Additionally, our ships are small enough to explore secluded docks and coves, getting you closer to the sights you're excited to see.
If the beautiful beaches of Puerto Rico are calling your name, plan your world-class journey across San Juan and The Virgin Islands with Windstar Cruises, or contact us to request a brochure and explore more incredible destinations!