From food carts to upscale cafes on the water, the cuisine in Italy, Spain, France and beyond is just as impressive as the scenery and historical sites. Even if you don't consider yourself a foodie, you might change your mind after a trip across the Mediterranean Sea. Here are some of our favorite local foods, whether you're looking for a snack or a sit-down meal: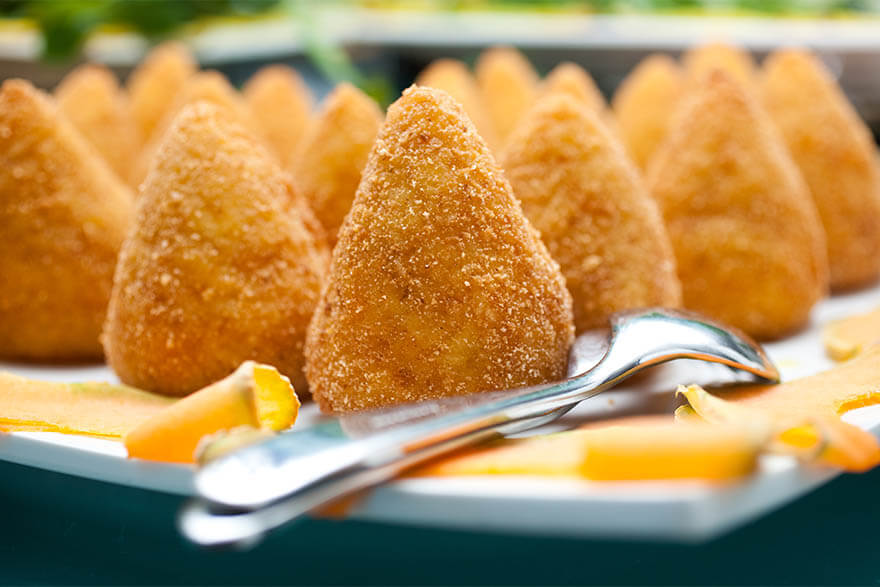 When it comes to irresistibly delicious appetizers, arancini is at the top of the list. Thought to have originated in Sicily, these balls of rice are stuffed with meat sauce, mozzarella and sometimes peas, breaded and then fried to perfection. While pizza and pasta may be the first entrees that come to mind, Italian cuisine goes far beyond these world-famous staples. Risotto is one of the most popular dishes across the country, and if you've never had it, try it in Italy. Rice and broth are cooked over low heat until rich and creamy, and then topped with Parmesan cheese, herbs, saffron, mushrooms, peas, pancetta and even seafood. If you've had your fill of carbs, consider ordering a Florentine steak (bistecca fiorentina), which is cut like a classic T-bone and made from the prized Chianina cattle in Tuscany. 
You'll find tiramisu on most dessert menus in Italy, along with classics like gelato and panna cotta, but a trip to the Mediterranean wouldn't be complete without sampling cannolis in Sicily. Tube-shaped shells of fried pastry dough are filled with sweetened, creamy ricotta cheese and topped with powdered sugar, chocolate and sometimes nuts.  
From slices of jamón ibérico (aged ham from the Iberian Peninsula) to gambas al ajillo (garlic marinated shrimp sautéed in olive oil), there are an endless number of small plates to try at Spain's many tapas bars. Gazpacho can also be found at tapas bars — and at restaurants across the Mediterranean coast. Gazpacho is a delicious blend of tomatoes, olive oil, garlic, bread, peppers and cucumber, served chilled in a bowl or a glass. 
You've probably heard of paella, but did you know the rice dish originated in the coastal city of Valencia? Traditionally made with rabbit, chicken and sometimes duck, there are a handful of variations, including paella de marisco (seafood paella), paella mixta (paella with meat and seafood) and paella negra (paella with squid ink, which has a unique flavor).  
Crema Catalana is one of the most popular desserts in Spain, hailing from the Catalonia region. Nearly identical to creme brûlée, this custard is made with milk instead of cream, and it is often flavored with cinnamon and lemon zest. Churros are also a beloved treat, and the crispy, sugary pastry sticks are often served with a small pot of chocolate sauce for dipping.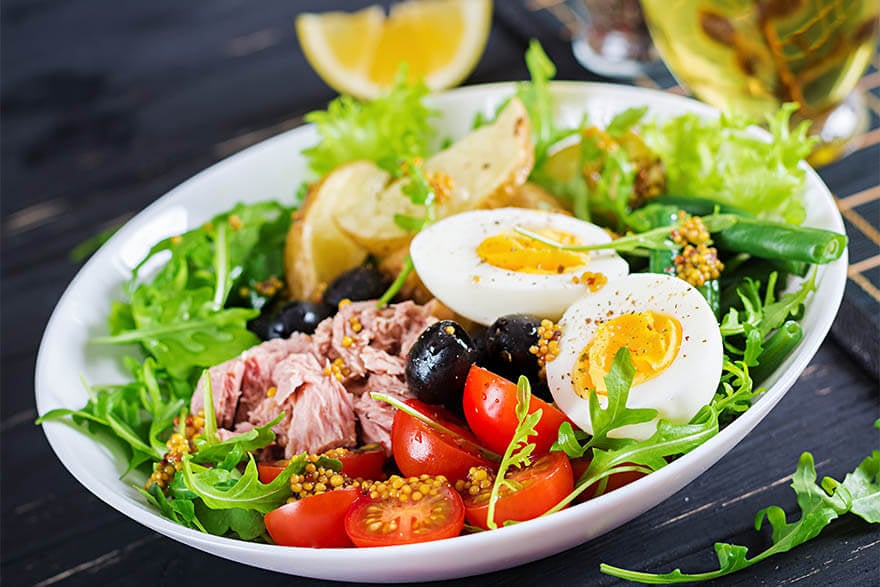 Salade Niçoise originated in Nice in the early 20th century, and this dish is served all over the Mediterranean. There are a few variations, but most contain fresh tomatoes, green beans, tuna, hard-boiled eggs and olives, topped with vinaigrette. If you're looking for a simpler starter, order socca, a crunchy chickpea flour pancake that is served with either sweet or savory toppings. Ratatouille also originated in Nice, and the veggie stew is slow cooked with garlic and herbs de Provence. If you're a fan of seafood, consider bouillabaisse, a traditional fish soup from Marseille.  
You'll find macarons everywhere, as the colorful cookies are a classic French dessert, but if you're looking for something fancier, sink your fork into a piece of tarte tropézienne. Created in St. Tropez, this cake was a favorite of legendary French actress Brigitte Bardot. The light and fluffy brioche cake is filled with sweet cream, often vanilla and citrus flavored, and topped with crunchy pearl sugar.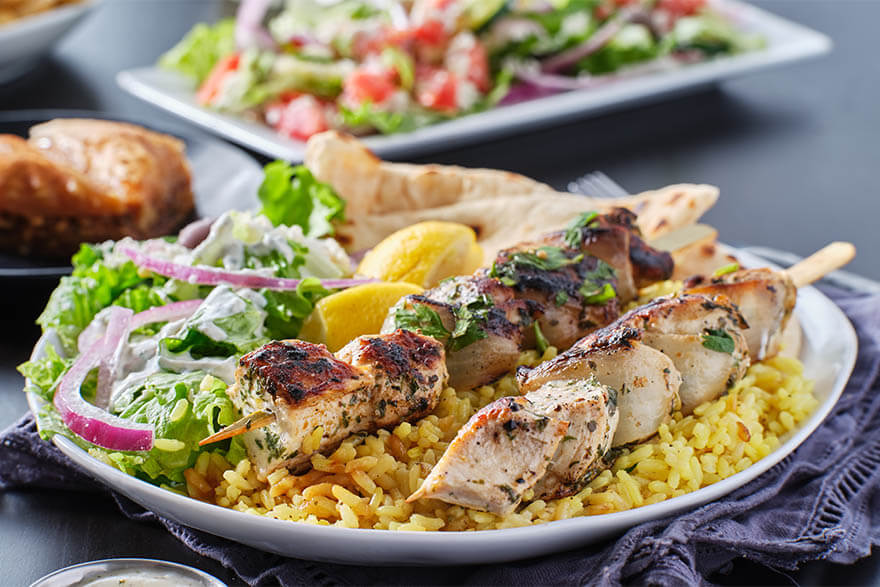 Souvlaki is one of the most popular dishes in Greece, and it is served in a few different ways. Lamb, chicken, beef or pork is grilled on a skewer, and you can eat the meat right off the stick, pile it on a plate with rice and vegetables, or wrap it in a pita. Souvlaki is different from gyros, which are thinly sliced pieces of meat shaved from a large vertical rotisserie. Another favorite is moussaka, which is very similar to lasagna. Spiced lamb or beef is cooked in tomato sauce and layered between slices of fried eggplant and bechamel sauce, making for a rich, creamy entree. 
Galaktoboureko is one of the more indulgent desserts, so be sure to save room for this one. Layers of crispy, buttery filo are filled with an ample serving of custard and topped with hot syrup, often with a hint of orange flavor. Looking for something lighter? Kourabiedes are almond cookies flavored with rosewater and topped with powdered sugar, and if you're visiting a street market, try loukoumades, which are Greece's version of doughnut holes, soaked in hot honey syrup and topped with cinnamon, toasted sesame seeds or chopped nuts.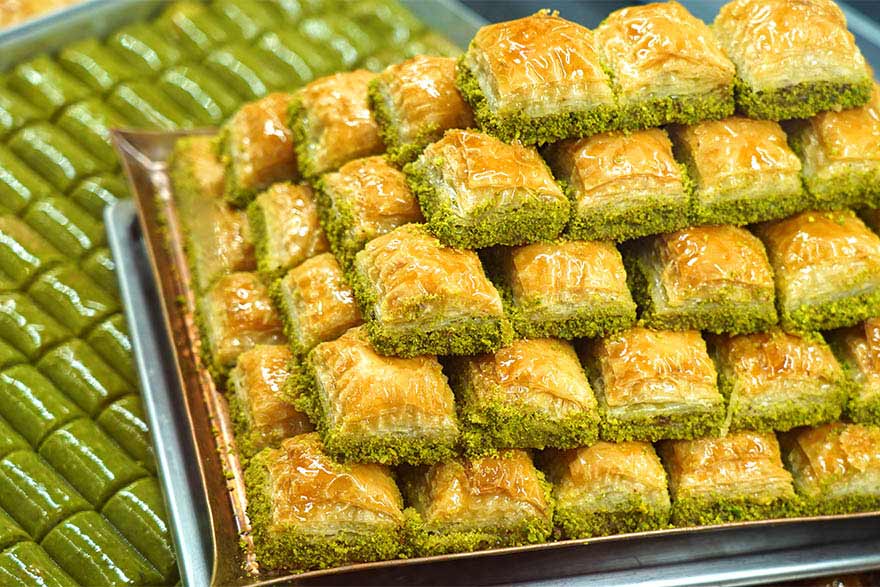 The kebab (or kebap) is a Turkish staple, and from grilled eggplant to ground lamb stuffed in flatbread, you'll want to try a few varieties. The kebab is skewered and grilled to perfection, and while lamb is the most common meat, beef has become more popular over the years. Another local favorite? Manti, which are tiny dumplings stuffed with lamb and topped with tomato sauce, garlic yogurt, mint and chili flakes. 
For dessert, there is nothing quite like baklava. Each sheet of paper-thin filo pastry dough is brushed with butter, and ground nuts are sprinkled between every few layers. The pastry is topped with syrup and baked, and often served with a spoonful of heavy cream, or kaymak. Turkish ice cream, or dondurma, is especially unique with its taffy-like consistency, thanks to the addition of powdered orchid bulbs, or salep. The most common flavors are pistachio and cocoa, or plain dondurma, which has orchid flavor.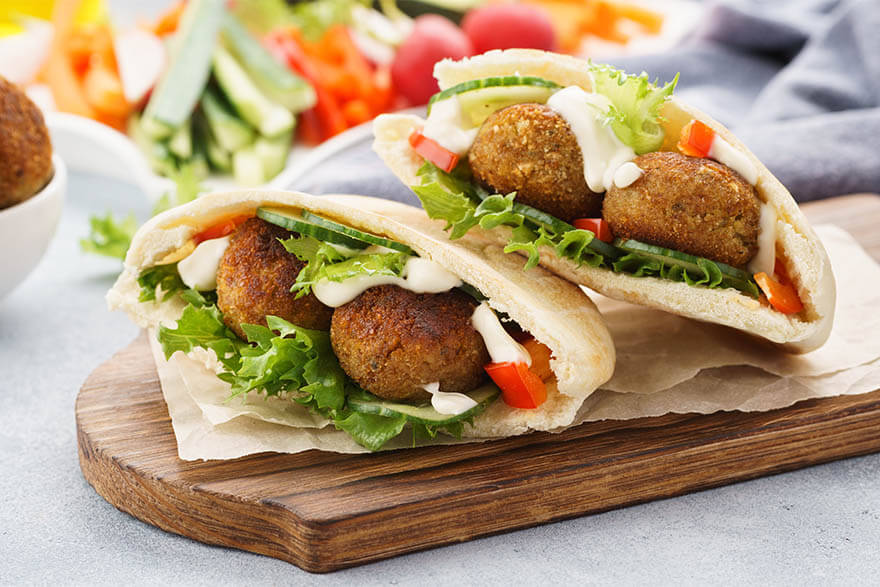 While some say Shakshouka is a popular breakfast dish, others might argue it's the perfect meal for any time of day. Shakshouka originated in Northern Africa in the 16th century, and it became a classic meal when Jewish immigrants brought the dish to Israel in the 1950s. Poached eggs are served in a pan of hot tomato sauce seasoned with chili, garlic and onion, with salad and bread on the side.  
Falafel is Israel's national dish, and you'll find the chickpea fritters in street markets and restaurants. You can enjoy falafel as a tasty snack with a side of hummus or stuffed into a pita with salad (usually finely diced cucumbers, onion, tomatoes and peppers), hummus, pickles and tahini sauce. Sabich is another popular pita meal, stuffed with fried eggplant slices, salad, hard-boiled eggs and tahini sauce. 
Malabi is one of Israel's most popular desserts, and the creamy milk pudding is often topped with rose water jelly and crushed pistachios. Sesame candy, chocolate balls and halvah are also high on the list of sweet treats, and if you're exploring a street market, be sure to grab a sfenj, which is essentially a doughnut, but served hot and coated with honey or powdered sugar.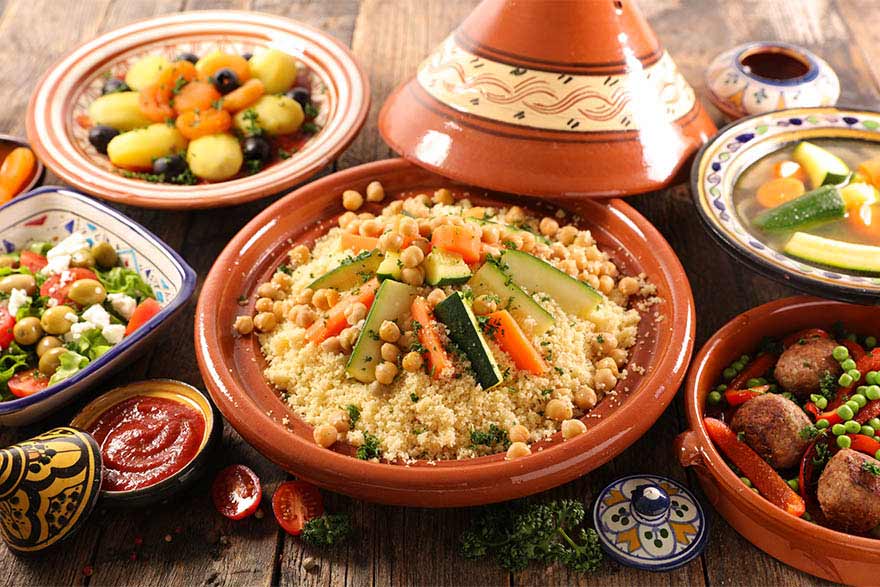 If you're visiting a street market, you'll likely be tempted to try maakouda, or fried potato cakes served with spicy harissa sauce. Another popular dish is tajine (or tagine), a slow-cooked stew usually made with chicken or ground beef. Tagine is seasoned with onions and spices, usually saffron, paprika, ginger, cumin and cinnamon, and some stews even use apricots or raisins to add sweetness. Couscous is probably the most famous Moroccan dish, and it is said to have originated among the Berbers of Algeria and Morocco sometime in the 12th century. The tiny balls of durum wheat pasta are steamed, and when served, couscous is typically shaped into a pyramid with vegetables pressed into the sides. 
Craving something sweet? Mhancha is a traditional Moroccan dessert consisting of thin dough stuffed with a mixture of almond paste, orange blossom water and cinnamon. The stuffed dough is rolled into a spiral shape, baked and topped with powdered sugar or honey and chopped almonds. Another delicious treat is shebakia (or chebakia), a fried sesame cookie dipped in honey.