Bedouins are nomadic people who have lived across the Middle East and North Africa for centuries, migrating between deserts and cultivated land, depending on the season. The word Bedouin is an English adaptation of the Arabic word "badawiyin," which means desert dweller, and this term helps distinguish nomadic tribes raising camels, sheep and goats from settlers on farms. Bedouin tribes were generally based on the livestock they raised, and they have historically occupied large territories in Jordan, Egypt, Syria, Palestine, Israel, Saudi Arabia, Iraq, Yemen, Morocco, Sudan, Algeria, Tunisia and Libya. 
Most modern-day Bedouins live in semi-permanent communities and only travel locally, and many have opted to work in the tourism industry as guides. Bedouins are known for their warmth and generosity, and an exchange or stay with Bedouins is a quintessential part of any trip to the Middle East. 
Bedouin tribes are believed to have originated on the Arabian Peninsula in the 14th century, and approximately 4,000 years ago they domesticated camels, which were key for both transportation and food. Due to the dry and often inhospitable desert climate, most tribes lived a nomadic lifestyle and moved their livestock, rather than settling around rivers and the coast. The Bedouins would often use oases in the desert as trading posts, as the Arabian Peninsula was a hotspot for trade with a number of African countries, importing spices, herbs, ivory and gold. While the Bedouins often raided desert communities, they were also known for their code of honor, which was established and overseen by their leaders, or Sheikhs, who were elected by tribal elders. 
However, everything changed with the rise of the oil industry, and as grazing ranges shrank and drought became more prevalent. By the 1950s, many Bedouins abandoned nomadic life and settled in urban areas. Furthermore, government policies, coupled with a desire for modern amenities have prompted many Bedouins to seek permanent residences over the last few decades.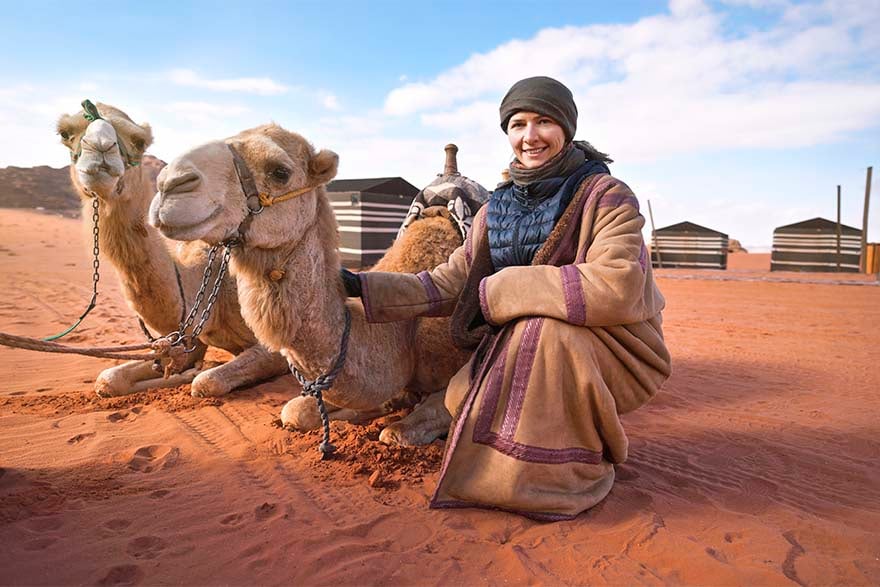 Most Bedouins speak Arabic and identify as Sunni Muslims, generally observing Muslim holidays and traditions. Bedouin society is tribal and patriarchal, with men generally taking on a more public role, while women have a more private presence in the community. When Bedouins were truly nomadic, they lived in tents, which were divided into two sections. One area was for men and their guests, and the other section was for women, which served as a reception area for female guests, and the space where meals were prepared. Bedouin camps vary in size, with anywhere from several to fifteen tents, depending on the family and community.  
The traditional Bedouin diet consisted of meat, milk and dairy products, plus bread, rice, dates and beans. Bedouin meals are generally prepared over an open fire, and eating is generally a communal event. In addition to coffee, tea is an especially important part of Bedouin culture and social life. Tea is often served as a welcome offering for guests, and while it is a simple (yet strong) mix of black tea leaves and sugar, sometimes sage, mint, cardamom and cinnamon are added for extra flavor. 
Aside from their nomadic lifestyle, Bedouins are perhaps best known for their hospitality, frequently offering weary travelers tea, a meal and a place to rest. It is considered an honor to host guests, and it should come as no surprise that many Bedouins now work in the tourism sector, both operating lodging camps and working as guides in the vast desert regions.
A number of Windstar itineraries offer day tours with Bedouin guides. Embark on an exciting 4×4 adventure to Jebel Harim, the highest peak on Oman's Musandam Peninsula, and from there you'll visit Sayah, a picturesque Bedouin village surrounded by Palm Trees. (The "4WD Tour to Jebel Harim" is available on Sparkling Sands and Cities of the Persian Gulf, Star Collector: Bedouin Beauty and the Arabian Sea, Dubai In-Depth and Persian Gulf Cruise Tour, and Emirates, Qatar and the Span of Oman, among other itineraries.) Or, explore the desert via a camel ride and enjoy a famous cup of Bedouin tea on the "Tea With Bedouins" tour from Sharm el Sheikh, Egypt. For the best of both worlds, you can enjoy a camel ride, a 4×4 tour and lunch in a Bedouin camp on the "Desert Safari with Lunch" tour from Hurghada, Egypt. (Both Egypt shore excursions are available on the Wonders of Arabia, Arabian Nights and Egyptian Days and Red Sea Revelries via the Suez Canal  itineraries, among others.)