Traveling with Windstar is all about getting intimate with the port of call that your private yacht is visiting on any given day. The intimate size of the six-ship fleet of sailing and power yachts allows guests to enjoy incredible local experiences embracing the culture of the destination, allowing for a more immersive travel experience than on a mass-market cruise.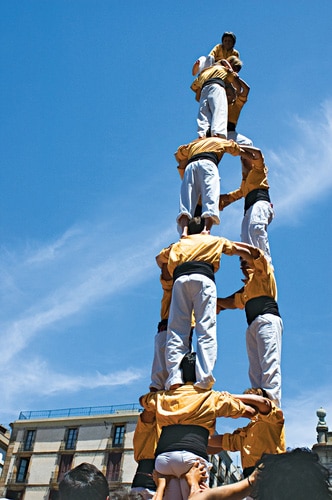 If you're a frequent visitor to this blog or have sailed with Windstar recently, you know about our Destination Discovery Events. Launched in 2015, every Windstar cruising features a spectacular onshore Destination Discovery Event. These events are exclusive and complimentary for Windstar guests, allowing for an in-depth and authentic local experience that complements the voyage, destination, and local culture.
In 2016, we're excited to begin 11 new Destination Discovery Events in Europe, increasing guest opportunities for these immersive local experiences through six new Destination Discovery Events in the Mediterranean and five new Destination Discovery Events in Northern Europe.
New in the Mediterranean on the 8-day cruise Treasures of Southern Spain & Morocco itinerary aboard Wind Star and Wind Surf, a centuries-old tradition comes alive during the Giants, Big-Heads & Human Towers Destination Discovery Event in Tarragona, Spain. This specially curated Windstar event is held at the spectacular Roman Amphitheater of Tarragona, built in the first century A.D. and an UNESCO World Heritage Site. The event begins with the building of a castell, an incredible tower of people standing one on top of the other, often ranging a story or more high. This festival tradition was first documented in 1712 and is now on the UNESCO Intangible Cultural Heritage of Humanity List. Windstar guests watch as the castell is built and dismantled. Throughout the Destination Discovery Event guests sip sangria and nosh on Catalan tapas, including world-famous Iberian ham, all the while entertained by outlandish Catalan Giants (larger than life papier-maché figures), and Big-Heads (festival figures with huge heads that are worn on the head and shoulders of a normal sized person).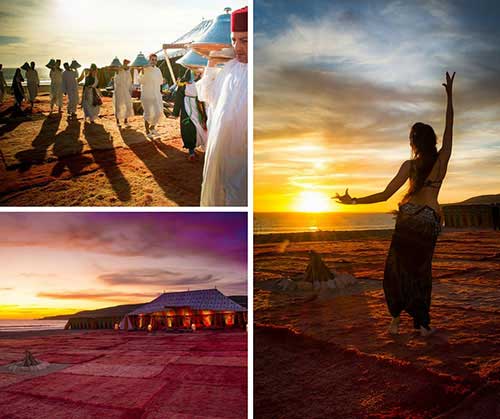 Brand new this year in exotic Agadir in the Mediterranean, Windstar guests experience magical Morocco eating a traditional meal served in a desert tent while lively locals entertain. The Moroccan Meal & Entertainment in a Desert Tent Destination Discovery Event is offered on the 8-day Morocco & The Canary Islands cruise. The first treat Windstar cruisers enjoy during this exclusive Moroccan event is the drive to the laidback fishing village of Taghazout, considered Morocco's premier surfing destination. In your air-conditioned coach you will pass local villages, a variety of habitats, and groves of Argan trees, endemic to Morocco. Upon arrival guests are welcomed with true Moroccan hospitality and seated in tents overlooking the ocean. You'll be served a traditional meal in a private camp location set up exclusively for Windstar guests. As you enjoy your delicious meal you will be treated to a variety of wonderful local entertainment, including a belly dancer and the rhythmic music of two folkloric bands.
"This event was a definite 'wow' and guests have been talking about it all day today."
~ Travis LaMarche, Windstar Destination Manager, Product Development Team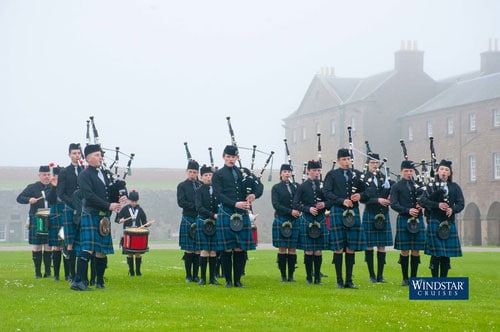 New in Northern Europe on the 11-day cruise Lands of the Midnight Sun itinerary aboard Star Legend is Molde: The Magnificent Caves of Bergtatt Destination Discovery Event. The day begins with a scenic drive north to the marble caves of Bergtatt, where guests take a boat deep into the glistening caves, traversing an underground lake aboard a comfortable barge. These caves are not navigated in total darkness – light from elegant chandeliers installed within the caverns reflects on the crystal clear water to illuminate the journey. After leaving the boats and entering into the main hall, guests enjoy traditional Norwegian fare like lefse, a soft Norwegian flatbread made with potatoes, flour, butter, and milk, and drink sparkling wine while being entertained by local singers and dancers. Also sure to delight in Northern Europe is the St. Petersburg: Artistry in Ballet at Musical Comedy Theatre on the Baltic Delights cruise itinerary during which Windstar guests are treated to an exclusive ballet performance in the ballet capitol of Russia at the Musical Comedy Theatre.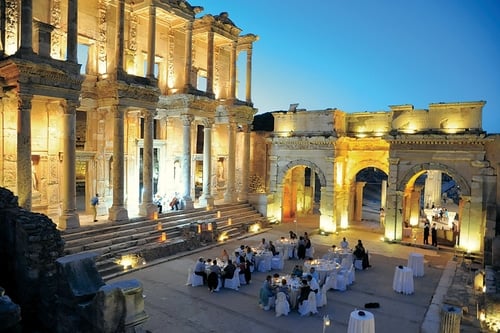 Windstar's Private Event program has given guests the opportunity to experience a unique cultural tradition within their chosen destination and has quickly become a brand differentiator in the cruise industry. Current guest favorites include Kusadasi: Evening in Ephesus, where guests enjoy a private dining experience in the Library of Ephesus, an UNESCO World Heritage Site, accompanied by a trio from the Aegean Chamber Orchestra (Greek Isles & Turkish Delights, Treasures of the Greek Isles); and Culloden: Fields of the Bonnie Prince, where guests are transported back in time to the moor where Bonnie Prince Charlie and the Highlanders lost to the Duke of Cumberland for an exclusive after-hours tour, accompanied by a Beating Retreat – a traditional military ceremony from 16th century England (Gaelic Explorers).
Windstar's other new European Destination Discovery Events include:
· Bergen, Norway: Romantic Inspiration – Lands of the Midnight Sun
· Seydisfjordur, Iceland: Natural Splendor & Quirky Charm – Around Iceland
· Porto, Portugal: Unique Riverboat Cruising with Songs & Spirits of Portugal – Best of Europe's West Coast
· Dubrovnik, Croatia: Spectacular View, Wine & Folklore at Park Orsula – Classic Italy & Dalmatian Coast
· Tangier, Morocco: Mystery, Romance & Espionage – Treasures of Southern Spain & Morocco
· Katakolon, Greece: Magna Grecia – The Spirit of Greece Itself – Venetian Passageways
· Portofino, Italy: Beloved Villa Durazzo, Pesto Demo & Tastings – Glitter & Glam of the Rivieras, Riviera Enchantment, Mediterranean Mosaics: Islands & Rivieras
Windstar sails to more than 100 ports in Europe including popular ports such as Barcelona, Spain; Santorini, Greece; Dublin, Ireland, and St. Petersburg, Russia as well as quaint smaller harbors offering more exclusive access including Gythion, Greece; Sorrento, Italy; St-Malo, France; Visby, Sweden and Isle of Man, Scotland.
On every sailing in Europe, Windstar offers one of 23 exclusive and elaborate Destination Discovery Events ashore included as a complimentary cruise element. Guests also are entertained by local musical and dance performers that come aboard or perform shore-side and on numerous Northern European cruises in 2016. All of these enrichment experiences tie in to Windstar's greater philosophy of surprising and delighting guests each day of their journey with local food specialties and authentic experiences.
Have you ever experienced one of our Destination Discovery Events? What did you think? We'd love to hear your feedback in the comments!