Hidden off the coast of Abu Dhabi in the United Arab Emirates (UAE), Sir Bani Yas Island is the perfect escape for travelers to explore and discover a hidden paradise. This captivating island is a haven of untamed beauty, offering an enchanting escape for solo adventurers and couples seeking a unique and intimate travel experience.
With its pristine landscapes, diverse wildlife and many exciting activities, Sir Bani Yas Island is an alluring destination that promises to mesmerize travelers. From thrilling safaris in the Arabian Wildlife Park to indulging in the island's rich heritage and savoring its culinary delights, take a closer look at the wonders of Sir Bani Yas Island and discover extraordinary ways to make the most of your visit. Prepare to embark on a journey of a lifetime as you uncover the secrets of this captivating island sanctuary.
In This Article
1. Know How to Get to the Island
Getting to the island is easy and seamless, with accessible transportation options that suit your preferences and ensure a hassle-free journey. Here are three ways to get to Sr Bani Yas:
By Air
The most convenient way to reach Sir Bani Yas Island is by air. Fly into Abu Dhabi International Airport, the main gateway to the UAE. From there, you can go ahead and arrange a transfer from the airport to Jebel Dhanna, the departure point for the ferry to Sir Bani Yas Island. The scenic drive will give you a glimpse of Abu Dhabi's modern skyline and the surrounding desert landscapes.
By Land and Sea
For travelers who prefer a road trip adventure, driving to Jebel Dhanna is a fantastic option. Jebel Dhanna is approximately 150 miles west of Abu Dhabi city, and the journey will take you through picturesque desert highways and charming coastal scenery. Upon reaching Jebel Dhanna, you can board a ferry that will transport you to Sir Bani Yas Island, providing breathtaking views of the Arabian Gulf.
By Cruise
You can arrive in style and experience the allure of Sir Bani Yas Island when you travel by cruise. Wherever you sail from, the journey offers breathtaking views of the Arabian Gulf and a seamless passage to this captivating destination. Discover the island's untouched beauty as you approach its shores, setting the stage for an enchanting and unforgettable experience.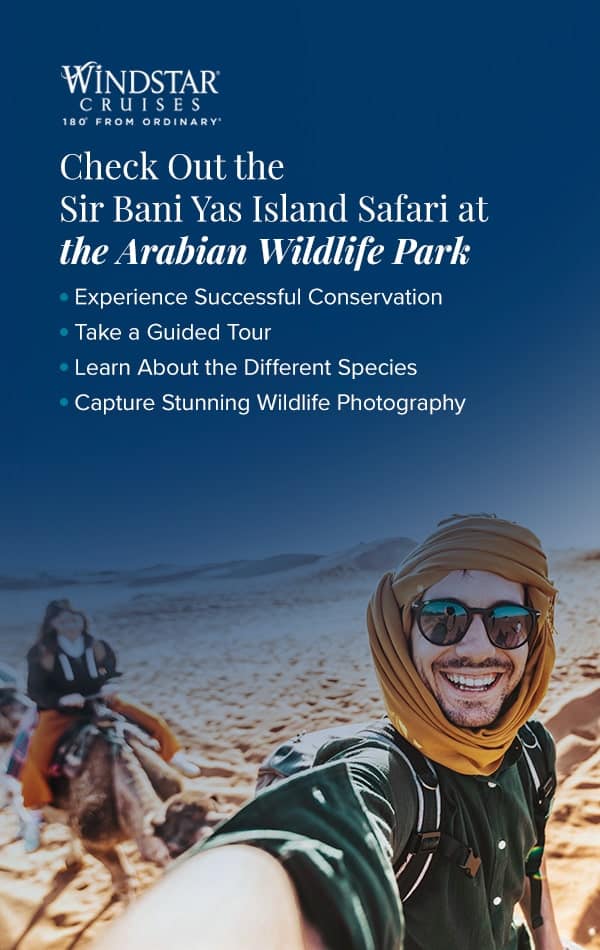 2. Check Out the Sir Bani Yas Island Safari at the Arabian Wildlife Park
Sir Bani Yas Island Safari offers a thrilling adventure that takes you into the heart of the Arabian Wildlife Park. Spanning over 4,000 acres, this vast sanctuary is home to more than 13,000 free-roaming animals, including the graceful Arabian Oryx, majestic giraffes and elusive gazelles.
This expansive sanctuary offers a captivating opportunity to witness free-roaming animals as well as the island's rugged terrains and lush landscapes, making it a must-visit destination for nature enthusiasts and wildlife lovers.
Experience Successful Conservation
The Arabian Wildlife Park prioritizes preserving and protecting endangered species, most notably the majestic Arabian Oryx. Once nearly extinct, the successful conservation efforts have allowed these graceful creatures to roam freely in their natural habitat on Sir Bani Yas Island. Witnessing the Arabian Oryx gracefully traversing the landscape in their herds is a heartwarming and awe-inspiring experience.
Take a Guided Tour
Embark on a guided tour of the Arabian Wildlife Park to gain insights into the conservation efforts and eco-friendly practices implemented on the island. Knowledgeable guides will provide valuable information about wildlife's biology and behavior, as well as the steps taken to protect these precious species. Learn about the island's dedication to sustainability and preserving the fragile ecosystem. To make the most of your safari experience, consider the following options:
Private safari tour: For a more personalized experience, opt for a private safari tour with an expert guide. This allows you to tailor the safari according to your interests and spend more time observing the wildlife up close.
Photography-focused safari: Join a photography-focused safari led by a professional wildlife photographer. Capture incredible moments of the island's diverse fauna in their natural habitat, ensuring you return home with stunning wildlife photographs.
Sunset safari: Experience the magic of transitioning from day to night on a sunset safari. The animals become more active as the sun sets, offering a unique opportunity to witness their evening behaviors.
Birdwatching safari: If you're an avid birdwatcher, take advantage of the chance to join a birdwatching safari. Spot the island's diverse avian species, including flamingos and raptors, as you explore their natural habitats.
Learn About the Different Species
The Arabian Wildlife Park is a wildlife sanctuary with a passion for education and awareness. Engage in informative sessions and interactive exhibits showcasing biodiversity conservation's importance. Discover each species' significant role in maintaining the ecological balance and how the park's conservation initiatives contribute to a sustainable future for the region.
Capture Stunning Wildlife Photography
As you embark on a safari through the Arabian Wildlife Park, bring your camera to capture stunning wildlife photography. The opportunity to photograph the Arabian Oryx in its natural habitat, along with other unique wildlife, is an unforgettable experience. Frame the beauty of the island's fauna against the backdrop of breathtaking landscapes, ensuring lasting memories of your remarkable safari adventure.
3. Explore Sir Bani Yas Island Activities for Watersport Enthusiasts
Sir Bani Yas Island is a paradise for water enthusiasts, offering many water activities to suit every preference. Whether you prefer exploring beneath the waves or staying above water, the island has something for you:
Guided snorkeling tour: Embark on a guided snorkeling tour to the island's best underwater spots. Plunge into the clear waters of the Arabian Gulf to explore colorful coral reefs overflowing with marine life.
Kayaking eco-tour: Discover the island's mangrove forests on a kayaking eco-tour. Paddle through winding waterways and learn about the ecological significance of these unique ecosystems.
Windsurfing lessons: Challenge yourself with windsurfing lessons and perfect your skills with the guidance of professional instructors. Feel the rush of the wind as you glide across the water.
Deep-sea fishing: If you enjoy fishing, consider going on an excursion with experienced anglers. Explore the best fishing spots around the island and try your luck at catching some impressive fish.

4. Uncover the Historical Sites
Steeped in history, Sir Bani Yas Island has numerous archaeological sites and ruins that await exploration. Immerse yourself in the island's past through the following experiences:
History-focused walking tour: Take part in a history-focused walking tour led by an archaeologist. Gain in-depth insights into the island's heritage as you visit ancient sites and learn about their historical significance.
Interactive archaeology workshop: Engage in an interactive archaeology workshop where you can handle ancient artifacts and learn about the process of preservation and historical analysis.
Ancient forts and watchtowers: Wander through the remnants of ancient forts and towers that once guarded the island's shores. These historic structures offer a glimpse into the island's strategic past.
5. Go to the Beach
Explore one of the following beautiful beaches that line the island's shores.
Danat Beach
Danat Beach is a true oasis of tranquility, offering beach lovers a secluded and peaceful atmosphere. The soft, golden sands invite you to bask in the warm sun and soak in the breathtaking views of the Arabian Gulf. It's an ideal spot for those seeking a serene beach experience away from the crowds. Lay back on a comfortable lounger, listen to the gentle waves and savor the feeling of pure relaxation.
Al Yamm Beach
Al Yamm Beach is a unique destination where you can see flamingos gracefully wading in the nearby mangrove lagoon. The shallow waters and rich biodiversity around the beach make it a fantastic spot for birdwatching and exploring vibrant marine life. Walk along the shoreline, surrounded by the lush greenery of the mangroves and revel in the harmony of nature's colors.
Desert Islands Beach
Desert Islands Beach presents an intriguing blend of natural wonders, with opportunities to discover ancient fossils and shells as you stroll along the coast. This fascinating aspect of the beach makes it a must-visit for those interested in paleontology and marine life enthusiasts. Marvel at the well-preserved remnants of creatures that roamed the island millions of years ago, providing insight into the region's geological history.
Sir Bani Yas Beach
Sir Bani Yas Beach boasts some of the island's most pristine waters and powdery white sandy shores. It's the perfect destination for beachcombing, sunbathing and swimming in the sky-blue waters of the Arabian Gulf. While relaxing on the beach, stunning vistas of the clear sea merging with the horizon treat you to a mesmerizing sight. The tranquil ambiance and natural beauty of Sir Bani Yas Beach will leave you rejuvenated and refreshed.

6. Explore Heritage Sites
Uncover the island's storied past through ancient artifacts and immersive experiences, offering a glimpse into its fascinating cultural heritage. Immerse yourself in a culturally enriching stay and discover the island's captivating history:
Sir Bani Yas Church and Monastery: Dating back to the 6th century, Sir Bani Yas Church is an ancient Christian monastery that offers visitors a glimpse into the island's rich history as a thriving Christian community during the early centuries.
Historic Forts and Watchtowers: Wander through the remnants of ancient forts and watchtowers that once guarded the island's shores. These historic structures offer insights into the strategic significance of Sir Bani Yas throughout history.
Sir Bani Yas Island Discovery Center: Unearth the island's history and cultural heritage at the Sir Bani Yas Island Discovery Center. Interactive exhibits, historical artifacts and multimedia presentations offer an engaging journey through the island's past, from its prehistoric origins to its transformation into a nature reserve and luxury destination.
7. Take a Horseback Riding Adventure
Unleash your inner equestrian and explore Sir Bani Yas Island's rugged terrains on horseback. Discover diverse landscapes, from sandy shores to lush greenery, offering a unique perspective of the island's beauty:
Scenic trail rides: Enjoy scenic trails that take you through the island's varied landscapes. Traverse sandy beaches, meander through lush forests and marvel at the island's untouched beauty.
Horse riding clinic: Participate in a horse riding clinic to learn horsemanship skills and build a deeper connection with your steed. Experienced instructors will guide you in mastering the art of horse riding.
Sunrise horseback ride: Set off on a magical sunrise horseback ride, witnessing the island awakening in the soft morning light. This tranquil experience offers a unique way to start your day.
Horseback ride to an ancient site: Combine adventure with cultural exploration as you discover the island's heritage on horseback. Take a horseback ride to an ancient site guided by an expert who shares captivating stories of the island's history.
8. Go on a Sunset Cruise
End your day with a romantic sunset cruise around Sir Bani Yas Island. Embrace the captivating hues of orange and pink as you sail peacefully on the tranquil waters of the Arabian Gulf:
Private sunset cruise: Opt for a private sunset cruise, exclusively for you and your partner, complete with champagne and gourmet canapés.
Capture stunning photographs: Bring your camera along and capture stunning sunset photographs from various vantage points on the boat.
Combine sunset cruise with stargazing: Combine your sunset cruise with a stargazing experience for an extraordinary evening. Witness the celestial wonders above as night falls upon the island.
9. Try Delicious Gourmet Delights
Enjoy the island's culinary offerings that showcase the finest Emirati flavors and international cuisine. Here are a few traditional Emirati dishes:
Machboos: A must-try Emirati dish, Machboos is a flavorful combination of fragrant rice, tender meat — usually chicken, lamb or fish — and a medley of aromatic spices. The dish is typically garnished with nuts and served with tangy sauce, adding a burst of flavor to the succulent meat.
Al Harees: Savor the traditional Ramadan dish of Al Harees, a wholesome porridge-like delicacy made from ground wheat and slow-cooked with tender meat. The slow cooking results in a comforting, creamy, hearty, satisfying texture.
Luqaimat: In a popular Emirati dessert called Luqaimat, sweet, bite-sized dumplings are made from deep-fried dough and drizzled with a date or sweet sugar syrup. These delightful treats offer a perfect balance of sweetness and warmth.
Saloona: Saloona is a hearty Emirai stew made with chicken, lamb or fish, vegetables, and various vegetables and various spices. The dish is simmered until the flavors meld together, resulting in a comforting and flavorful stew.

Book Your Sir Bani Yas Island Adventure with Windstar Cruises Today
Sir Bani Yas Island promises an extraordinary journey for solo travelers and couples seeking a unique blend of adventure, tranquility and cultural exploration. And the perfect way to journey to Sir Bani Yas Island is with Windstar Cruises.
With our smaller size advantage, Windstar Cruises ensures an unparalleled and intimate experience that sets us apart from bigger cruise liners. Escape the crowds and immerse yourself in the island's untouched allure, guided by personalized attention and exceptional service.
Embark on an unforgettable adventure and experience the untouched allure of Sir Bani Yas Island with Windstar Cruises. Whether you snorkel in crystal-clear waters, witness the Arabian Oryx roaming freely in the wildlife park or bask on the tranquil beaches, Windstar Cruises guarantees a journey that transcends the ordinary. Contact Windstar Cruises to plan your dream trip or excursion to Sir Bani Yas Island, and set sail on a voyage.