Mexico is home to 35 UNESCO World Heritage Sites, including 27 cultural sites, six natural sites and two mixed sites. With so many to choose from, how can you decide which sites to visit on your travels?
That's what we're here for. We compiled our favorite Mexican World Heritage Sites into one easy list so you can get a better idea of everything there is to explore in the country.
In This Article
Top 10 Must-Visit World Heritage Sites in Mexico
With its fascinating history and rich cultural diversity, Mexico offers endless possibilities to explore. In fact, Mexico has more UNESCO World Heritage Sites than any other country in North America. Here's a list of our favorites.
1. Franciscan Missions in the Sierra Gorda of Querétaro
When the Spaniards arrived in Mexico in the late 16th century, they brought their Catholic beliefs with them. Mendicant preachers — mostly religious brothers — were sent to evangelize the indigenous population, which is why Catholicism is still the most common religious affiliation in Mexico to this day.
During the last phase of evangelization in the 18th century, the missionaries built a series of missions with indigenous artisans in the Querétaro region. Their Mexican Baroque facades are instantly recognizable, but they also feature motifs of local flora and fauna that reveal the indigenous connection to the land. If you're interested in history, spirituality or architecture, you'll want to check out one of these missions.
The five missions are spread across the following municipalities:
Jalpan de Sierra: Santiago de Jalpan and Nuestra Señora de la Luz
Landa de Matamoros: Santa Maria del Agua de Landa and San Francisco del Valle de Tilaco
Arroyo Seco: San Miguel Concá
If you'd like to visit one of the missions during your trip, we recommend booking a guided tour with a qualified tour company. A good tour guide can help make the missions come to life with historical and social context.
2. Agave Landscape and Ancient Industrial Facilities of Tequila
Agave culture is an important part of Mexican heritage, which is why taking some time to explore this 34,658-hectare stretch between the Rio Grande River valley and the Tequila Mountain is a must for any tourist.
Mexican farmers have used the blue agave plant to make tequila since the 16th century, but its history stretches back even further. For more than 2,000 years, the indigenous people of Mexico have considered the plant to be a sacred symbol of health and fertility. In addition to using it in religious ceremonies, they used it to make cloth and other fermented beverages.
While you're in the area, consider stopping by one of the many distilleries for a tour and tequila tasting. You'll get to try fresh tequila right from the source, and you can learn all about how farmers grow and harvest the agave.
3. Monarch Butterfly Biosphere Reserve

Outdoorsy travelers will love visiting this beautiful nature reserve in the state of Michoacán. Every autumn, millions of monarch butterflies migrate south across the continent to this specific reserve for the winter — and in the spring, the next generation makes the journey again.
Unlike other migratory animals, monarch butterflies only live four to five weeks. While a gray whale might migrate multiple times within its lifespan, the typical butterfly will only migrate once, and it may never begin the return journey. That's what makes these creatures so puzzling. Scientists are still unsure how they know where they're going with such short lifespans.
Want to see these beautiful creatures for yourself? Make sure to bring plenty of water and good walking shoes, as you'll be doing plenty of hiking while you're in the reserve.
Peak tourist season lasts between January and February when the migration is in full force. If you want a more intimate experience, we recommend visiting early in the season, from late November to December.
4. The Chinampas of Xochimilco
Located 28 kilometers south of Mexico City, the Borough of Xochimilco is a great place to spend an afternoon exploring. The borough comprises a network of canals and chinampas — human-made islands dating back to the days of the Aztecs.
The most common way to explore Xochimilco is to ride one of the brightly colored barges, or trajineras, through the canals. Depending on your itinerary, you might make stops at other landmarks during your excursion or sail right through the afternoon. Just make sure you let the operator know your plans before you set out!
Here are some of the top sights to see in Xochimilco:
La Isla de las Muñecas: One of the most well-known chinampas is La Isla de las Muñecas, or the Island of the Dolls. Rumored to be haunted, the island's tragic backstory and unsettling forest of decaying dolls have drawn explorers from around the world.
Ajoloterías: Xochimilco is the only place in Mexico where axolotls live, which is why you need to visit an ajolotería while you're there. Although you're unlikely to see them in their natural habitat due to the murkiness of the water, you can see them in an enclosure for an additional fee.
Museo Frida Kahlo: Frida Kahlo is one of Mexico's most iconic artists and historical figures. You can see her work and learn all about her life at this museum in south Mexico City, a perfect stop during your Xochimilco exploration.
If you plan to explore Xochimilco, try to go on a weekday to avoid the biggest crowds. Additionally, be sure to bring some small change with you in case you get hungry — you'll find plenty of options for food along the canals.
5. Historic Center of Morelia
Once known as Valladolid, this 16th-century city combines traditional Mesoamerican and Spanish Renaissance architecture, creating a unique style known as Morelian Baroque. With more than 200 historical landmarks to see, you can easily spend multiple days exploring this pink-stone city.
The city was renamed in 1828 to honor Mexican revolutionary priest José María Teclo Morelos Pavón y Pérez, who was a native resident of Valladolid. A man of mixed heritage, Morelos took over command of the Mexican independence movement after the death of Miguel Hidalgo in 1810. In those days, there was a sharp divide between people of different ethnicities, so his leadership is notable for bringing people together.
Some of the most notable places and landmarks in the city include:
Acueducto de Morelia: One of the most important aqueducts in colonial Michoacán, this 16th-century structure was in use until 1910.
Catedral de Morelia: This majestic 18th-century cathedral is itself a World Heritage Site, making it worth a trip on its own. Be sure to join a guided tour for a deeper look into its history and architecture.
Jardín de las Rosas: While you won't actually find any roses here, the Conservatory's garden is a lovely spot to relax after being on your feet all day.
Biblioteca Pública de la Universidad Michoacana: Once a convent for the Society of Jesus, this public library is full of breathtaking religious and secular art.
Museo del Dulce: Love sweets? Visit the Candy Museum to learn about the history of candy and sample some unique Mexican treats.
While Morelia is beautiful any time of year, the weather is usually best from December to April. Rain is less likely during these months, and the temperature and humidity are usually comfortable for most people.
6. Uxmal

Widely considered to represent the peak of Mayan architecture, the pre-Hispanic city of Uxmal is one of the Yucatán peninsula's largest Mayan cities. Interestingly, the city's layout isn't geometric as in other Mesoamerican cities — instead, it directly corresponds to the movements of astronomical bodies.
Believed to have been constructed between C.E. 700 and 900, the city is home to an enormous complex of ceremonial ruins, including the massive Great Pyramid and the Spanish-named Pyramid of the Soothsayer. The Pyramid of the Soothsayer is covered in elaborate symbols and sculptures depicting Chaac, the Mayan rain god, and it makes an excellent backdrop for photos.
Thinking of visiting? The ruins are open year-round from 8 a.m. to 5 p.m. daily, but whatever time of year you visit, you'll want to explore the city in the morning. Heavy afternoon rains are common during Yucatán's rainy season, which lasts from May to October, and the midday heat is strong throughout the year. Be sure to bring good walking shoes, a refillable water bottle with a filter, sun protection and a little cash for snacks and souvenirs.
7. Casa Luis Barragán
Luis Ramiro Barragán Morfín was one of Mexico's most prominent architects. His unique style combined traditional Mexican design elements with Modernist principles, which you can see in his former house and studio. The house comprises three stories as well as a small outdoor garden, which you can explore with a tour guide or by yourself at your own pace.
While you're in the area, you might want to consider adding some other attractions to your itinerary for the day. Some popular choices include the National Museum of Anthropology, Chapultepec Castle and the Papalote Children's Museum.
To guarantee entry to the museum, you'll want to reserve tickets online well before your visit. You might be able to get a ticket at the door, but admission is limited. Check the museum's website for more information on daily hours and other important visiting information.
8. Whale Sanctuary of El Vizcaino
Wildlife lovers simply have to visit the Whale Sanctuary of El Vizcaino, located in central Baja California. The coastal lagoons of La Laguna Ojo de Liebre and La Laguna San Ignacio are important habitats and breeding grounds for various migratory animals, including North Pacific gray whales, blue whales, elephant seals, bottlenose dolphins and more. The sanctuary is also home to four species of marine turtle, including the endangered green and loggerhead turtles.
Here are some visitor's tips for the perfect trip:
When to visit: Peak whale watching season lasts from late January to March, when the mother whales are nursing their young and teaching them to swim.
What to bring: Make sure you bring your camera! Whales swim right up to boat tours, creating great photo opportunities. And yes, you can touch the whales!
Good to know: You'll want to book your tour well in advance to guarantee a spot. Boating in the lagoons is under tight control, so only a certain number of boats can be on the water on any given day — which limits the number of tourists they can accommodate.
9. Popocatépetl Monasteries
Atop the Popocatépetl stratovolcano in central Mexico sits some of the earliest Spanish monasteries in the country. According to the UNESCO World Heritage website, the monasteries feature outward-facing courtyards, which played an important role in evangelizing to the native population who traditionally worshipped in public spaces. The art in the monasteries is also unique, as it reflects the style and physical features of the native population rather than those of the Spanish missionaries.
The monasteries are open to visitors year-round, so be sure to stop by one if you get the opportunity. Based on typical weather patterns for the region, the best time of year to visit Popocatépetl is January and February.
Although the Ruta de los Conventos in Morelos connects many of the monasteries, there is a significant distance between most of them. Plan to visit one or two on your trip to make sure you have plenty of time to explore.
10. Chichén Itzá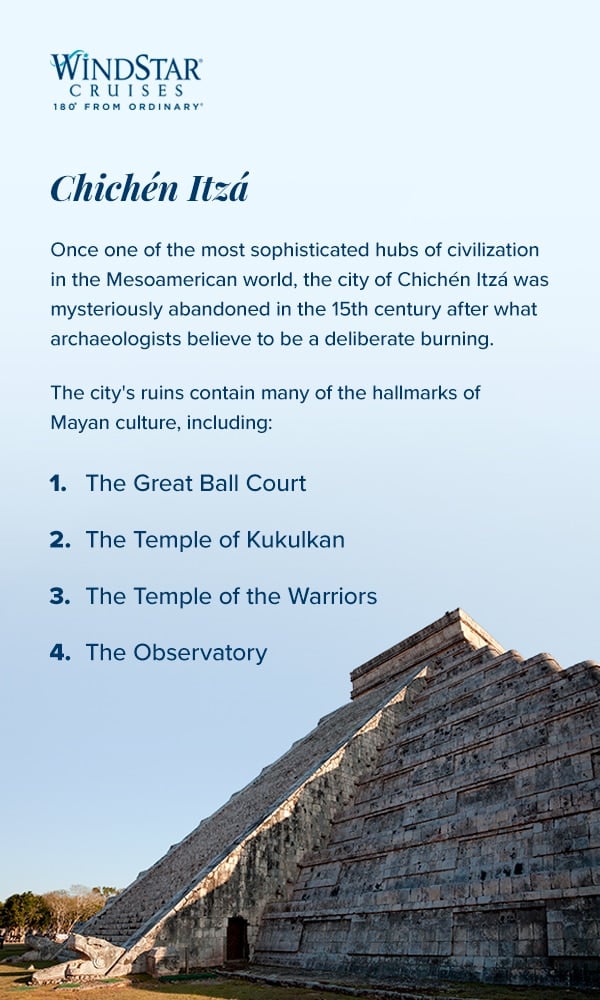 Once one of the most sophisticated hubs of civilization in the Mesoamerican world, the city of Chichén Itzá was mysteriously abandoned in the 15th century after what archaeologists believe to be a deliberate burning. The city's ruins contain many of the hallmarks of Mayan culture, including:
The Great Ball Court: One of the most fascinating elements of Mayan culture was their tradition of sacred ball games, where the winner would become a sacrifice to the gods. While most Mayan ruins feature at least one ball court — Chichén Itzá itself has several — the Great Ball Court is one of the largest of all the Mayan sites.
The Temple of Kukulkan: The most well-known monument on the site, the Temple of Kukulkan, was dedicated to the feathered serpent god Kukulkan, who played a vital role in the Mayan creation myth. The temple is also known by its Spanish name, El Castillo (the castle).
The Temple of the Warriors: Thought to have been a sacred place for Mayan warriors, this temple is one of the largest structures in the whole city. Some of the most prominent features include the many statues of warriors as well as hundreds of stone pillars lining the temple entrance.
The Observatory: The ancient Maya are known for their astronomical prowess, and this temple may once have served as a scientific hub for studying the stars. In Spanish, the Observatory is known as El Caracol (the snail) due to its unique circular design.
In addition to its status as a UNESCO World Heritage Site, Chichén Itzá is also one of the New Seven Wonders of the World, making it a special destination for any world traveler.
Many tourists visit around either the spring or autumn equinox, as this is when you'll see the Descent of Kukulkan. If you prefer a quieter experience, though, you'll want to arrive early in the morning. Make sure to bring a bottle of water and a good pair of walking shoes as well as some money for the entrance fee. Food is available around the site, but you can also bring some of your own if you prefer.
Let Windstar Cruises Take You on Your Mexican Getaway

If you're feeling excited about exploring Mexico's complex history and vibrant natural landscape, Windstar can help you get there. We pride ourselves on our ability to provide an intimate, personalized experience.
With exciting immersion experiences, fascinating enrichment lectures and fresh, locally-sourced gourmet meals, our cruise will let you discover Mexico at your own pace.
Ready to embark on the adventure of a lifetime? Schedule a call with a Windstar vacation planner today to get started.