By Kitty Bean Yancey
Visitors to France often are intimidated by French style and formidably rigid etiquette — not to mention café waiters who may ignore awkward outsiders.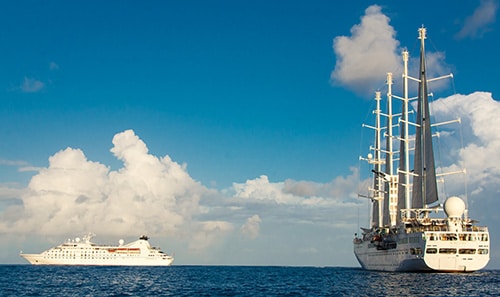 It can be a shock to go from being a pampered insider on a yacht-like luxury cruise such as those offered by Windstar to feeling at sea in the Riviera's fashionable ports, where seeing and being seen is an art form.
But you can fit in. Here's expert guidance from Frédéric Castel, a Paris journalist with relatives in the South of France, and Elaine Sense, a well-traveled personal shopper who holds dual U.S. and French citizenship:
Look the Part. Foreign tourists, especially Americans, are famed in France for their clunky athletic shoes, T-shirts with slogans and overall unfashionable garb.
Sense says women can go two ways on the Riviera —"bling-bling" or classic good taste. For the former, slather on Guerlain bronzer, slither into skin-tight Acne Studios white jeans and slip on Giuseppe Zanotti sandals. Drape yourself in Cartier jewelry (the current fad is wearing not one but two gold LOVE bracelets on one arm). Pack Chanel sunglasses. At night, wear something from Versace or Hervé Leger.
If going classic, pair white slacks with a striped long-sleeved sailor's shirt ("un peu cliché," Sense says, "but I wear them all the time"). Simple espadrilles or sandals complete the look. Eres swimsuits are favored by upscale French women. At night, choose a flowing dress, nothing loud or fussy. Evening pants with tunic top work as well.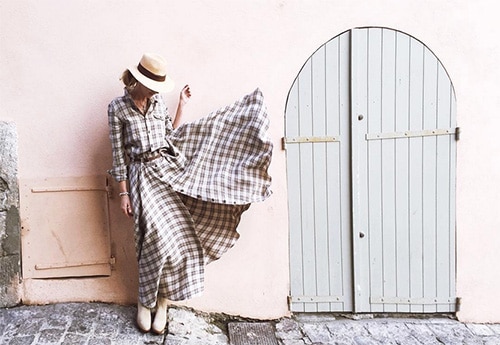 Castel's first rule for both sexes: No flip-flops. No baseball caps, unless you're a teen. Straw hats such as white fedoras with a black band are très chic for men and women.
Shorts are fine for daytime, he says, but worn nearly knee-length. "Not tennis shorts unless you are playing tennis." Lacoste polo shirts are ever in style for men, as are crisply ironed Oxford shirts left un-tucked. Forget sneakers "that look as if you could walk in them on Mars," he adds. Leather boat shoes are better choices.
At night, men will blend in wearing "light-colored elegant trousers" and soft leather loafers worn with no socks, he says. They could be paired with a blazer or lightweight sweater casually tied around the shoulders. You can wear jeans if dining in an open-air café, he says. But they're considered a faux pas in expensive restaurants.
Learn the code. The French have rules for everything, even in a relaxation haven such as the Riviera.
Master key words and phrases, advises Sense. It will be appreciated. When entering a shop or other business, say "bonjour" or bonsoir" as the locals do. While leaving or after paying for a purchase, say, "merci, au revoir."
Around others, use your inside voice. "What strikes French people is that Americans in particular speak too loudly," Castel says.
Master restaurant behavior. Turn your cell phone off, and if you get an important call, "step outside," Castel says. Talking on the phone is prohibited in many elegant restaurants.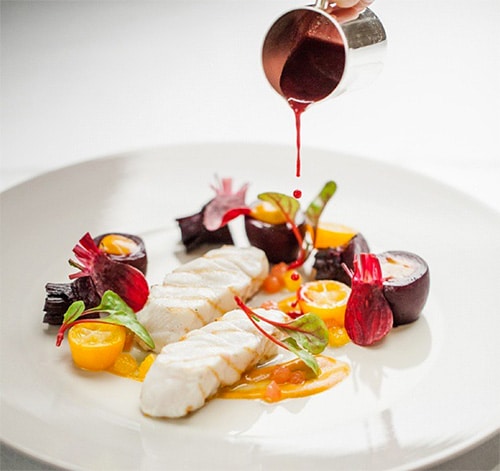 Don't let table manners give you away as an outsider. Tear off little pieces of bread, butter them and pop them in your mouth, he says. "Whatever you do, don't bite a piece of bread like it was a sandwich."
Details are important. You needn't eat with your fork in your left hand after cutting meat, as many Europeans do, but "don't grip the knife like you are a baby," Castel says. Hold it gently with the index finger extending down the top.
Americans tend to over-tip, perhaps forgetting that a service charge is included on French restaurant bills. French custom is to leave extra change after having coffee or a soft drink at a café (a euro or two if your party is larger or you've ordered a snack, Castel says). At a nice restaurant, "10% extra" is generous, he says. Since you typically can't write in tips on credit card bills in France, use euro notes. For good service on a 300-euro dinner, he would leave an extra 15 or 20 euros.
Order like an insider. Though it's changing, the French traditionally don't drink cocktails before dinner. Champagne and kir (Sauvignon Blanc wine with a splash of blackcurrant liqueur) are traditional French apéritifs, Sense says. Anise-flavored Pernod or Ricard also are popular quaffs on the Riviera.
With dinner, order wine and/or sparkling water (Badoit is a chic brand, says Castel). "Never ask for a Coke at dinner," he says. "In a café or on the beach, it's OK."
Don't miss Mediterranean seafood such as loup or lobster. Order salade niçoise (greens with tuna, tomatoes, green beans, hard boiled egg and anchovies) for lunch.
Know where to go. People-watch over a drink at Senequier at the port in Saint-Tropez, Sense suggests. Shoppers should navigate the back streets of Saint-Tropez or the rue d'Antibes in Cannes behind the famed La Croisette beachfront walk. "That's the Rodeo Drive of Cannes," Sense says. Take home Provence-print tablecloths or napkins from shops in the old part of Nice. In Monaco, she suggests visiting the Belle Époque Casino de Monte-Carlo (seen in James Bond films) after dining at elegant Le Louis XV, an Alain Ducasse restaurant.
As for the Riviera's legendary topless and nude beaches (many line the shore near Saint-Tropez), elegant French women may sunbathe topless while lying face down on a chaise, showing nothing to ogle at. Otherwise, "be discreet," Castel says. "The rule is not to stare."
IF YOU GO:
Wander the chic boutiques and star-studded beaches of Cannes and experience the fairytale kingdom of Monte Carlo, with winding boulevards leading to the Royal Palace, Grand Casino, and striking views of your yacht nestled amongst the Riviera's hoi polio. Choose the "Riviera Enchantment" sailing roundtrip from Rome or "Glitter & Glam of the Rivieras" cruising between Rome and Barcelona offering scenic cruising along the French Riviera and discover your best "French self" basking in the glamour, the enchantment, and the exquisite élan of the world's most famous yachting playgrounds. For more information contact your travel professional or Windstar Cruises.