Spectacular ruins, dewy gardens, remnants of some of the world's oldest civilizations — Israel's grandeur is unmatched, inspiring awe in the travelers who make their way to visit the Holy Land. Israel is a beacon for pilgrims and an iconic destination for travelers worldwide — experts forecast the number of international tourists visiting Israel will reach 5.68 million by 2025.
Navigating Israel can be a challenge on a self-guided trip, but a cruise provides an immediacy that makes your trip truly remarkable. Taking a cruise to Israel can help you escape the crowds and have an immersive experience in the area. This guide will provide all you need to know for your Holy Land cruise so you can plan the journey of a lifetime.
In This Article
The Benefits of Cruising to Israel
From solemn sites among the ancient holy cities to mouthwatering cuisine, there's a lot about Holy Land cruises that can excite travelers. A wealth of stunning architecture, serene hilltop scenes and one-of-a-kind experiences awaits in the Holy Land. Here are a few benefits of taking a Holy Land cruise.
1. Immersive Encounters With Israeli Culture
Cruising to Israel is one of the best ways to get close to the incredible sights and experiences you can only find there. A cruise allows travelers to immerse themselves in several cities along Israel's coast and explore further inland to experience multiple sites in one swoop.
Travelers can access various cultural experiences while on a cruise in Israel, like touring ancient holy sites on the Temple Mount or sampling seafood at a local restaurant overlooking the Mediterranean. A cruise in the Holy Land offers travelers a rich experience from sunrise to sunset.
2. Relics From Some of the Oldest Civilizations
The territory of Israel contains an incredible abundance of historical sites that bring travelers to the heart of several ancient civilizations. From the remnants of Roman architecture to Arabic artifacts, Israel's museums, ruins and historical sites are some of the oldest in the world. Experiencing some of these sites by land would require far more planning — and time — than is necessary for a cruise.
History enthusiasts and global students alike will enjoy Israel's treasure trove of relics and artifacts. On a cruise to Israel, travelers can explore Roman and Talmudic ruins in Zippori (or Tzipori) National Park from Haifa one day and view ancient artifacts in the Museum of Philistine Culture in Ashdod the next.
3. The Origins of World Religions
Israel's religious sites are noteworthy for any traveler, whether your interests are sacred or secular. Israel contains some of the world's most revered destinations for three major religions — Islam, Christianity and Judaism. Jerusalem is home to significant religious and cultural sites that attract thousands of pilgrims every year, though travelers can visit others located outside the city as they make stops along their cruise journey.
Travelers can venture into the Church of the Holy Sepulchre in Jerusalem, the site of Jesus Christ's crucifixion and tomb, according to ancient Christian tradition. The oldest Islamic shrine, the Dome of the Rock, is nearby.
Travelers interested in Arabic or Jewish food will find plenty of both. Some of the best-loved dishes are kebabs, falafel and shawarma. A taste of Israel's seafood scene should include local shrimp, scallops and calamari.
A well-known aspect of Israel's food culture is its markets brimming with local vegetables and fruits, fresh cheeses and aromatic spices. For travelers looking for a sweet treat, must-haves include baklava and halva, a dessert featuring nut butter and sugar.

8 Must-Visit Places in Israel
Whatever your reasons for taking a Holy Land cruise, here are the top eight sites you can't leave without seeing.
1. Jerusalem's Old City
Jerusalem is a can't-miss destination for anyone visiting Israel. You can arrive in Jerusalem within an hour from your cruise's port in Ashdod. The best place to begin a tour of Jerusalem is Jerusalem's Old City. This area is at the heart of the three Abrahamic religions and has many historical sites for people of all interests.
Here are a few of the most culturally significant places to visit in Jerusalem's Old City.
The Western Wall: Left over from the Roman destruction of the Jewish temple in 70 C.E., the Western Wall — or Wailing Wall — is a meaningful prayer site for Jews. Even non-Jews will customarily place a prayer inside the wall's cracks when they visit.
The Mount of Olives: The Mount of Olives has great significance for Christians. This site also offers a fantastic view of Jerusalem.
The Dome of the Rock: The Dome of the Rock is on the Temple Mount. Non-Muslims can tour the compound and Al-Aqsa Mosque nearby.
The Tower of David Museum: This museum tells the history of Jerusalem from the second millennium B.C.E. to the modern day. You can find the museum in the restored Citadel of the Old City near the historic main entrance to the city.
2. Jerusalem's New City
For a taste of modern Jerusalem, explore Jerusalem's New City. You can find an array of local restaurants and bars to satisfy your street food and cocktail cravings. Another excellent stop is Mahane Yehuda Market, with fresh vegetables, fruits, cheeses and freshly baked bread piled high. Wander around the market to sample dried fruits, Israeli candies and herbal tea blends. You'll want to try everything on display.
Jerusalem's New City also has a vibrant art scene and dozens of art galleries where locals display their craftsmanship. Whether you want to window shop or take home a piece of your Jerusalem experience, the art galleries in Jerusalem's New City have something to offer. You can find galleries dedicated to everything from ceramics and mosaics to photographs and pop art.
3. Haifa
Haifa is an ancient seaport and the largest port in Israel, with nearly 30 million tons of cargo passing through every year. This port is a popular stop for many Holy Land cruises, as the hillside city offers lots to see and do. One of the best-known sites is Elijah's Cave, which many believe to be the final resting place of Elijah the prophet. Travelers may also be interested in taking a cable car to the Stella Maris Carmelite Monastery, which features lavish frescoes.
Take a tour with a private guide through the city to get the fullest experience and personalize your time away from the cruise ship. Haifa has a lot to offer, from trendy restaurants to shopping centers and museums.
4. The Dead Sea
The Dead Sea is between Israel and Jordan and is accessible from Ashdod. This ancient salt lake is at the Earth's lowest point, over 1,400 feet below sea level. The lake is hypersaline and can only support some types of bacteria. The caves in the wilderness surrounding the Dead Sea housed the ancient biblical manuscripts, the Dead Sea Scrolls.
Travelers can remove their shoes and wade further into the lake or take a dip in the Dead Sea. The water is so saline that people can float with minimal effort!

5. Nazareth
Nazareth is in Israel's Northern District, the most popular district for travelers visiting historical sites in Israel. And it's no wonder — the city contains such locations as gorgeous mansions from the Ottoman period and the Basilica of the Annunciation, where Mary, the mother of Jesus, supposedly received news of his birth from the angel Gabriel.
Travelers may also enjoy taking a trip back in time at the Nazareth Village, an open-air museum that recreates life during the first century C.E. Nazareth. An old marketplace where the locals bargain over spices completes the town's quaint feel.
6. Zippori National Park
Travelers interested in Israel's natural flora and fauna might enjoy Zippori National Park, which also encompasses several archeological and historical sites. The park is about a 45-minute drive from Haifa and offers breathtaking views of the Galilee Mountains. Zippori National Park is a must-see for archaeology fans and a testament to the various communities that have made their homes in the area.
A few sites in Zippori National Park include:
The partially restored ruins of a 4,500-seat Roman theater built during the first century C.E.
The Mona Lisa of the Galilee, a beautiful mosaic.
Remnants of a Jewish residential quarter, including ritual baths.
A crusader castle dating to before 1187 C.E.
7. The Baha'i Hanging Gardens
Located in Haifa, the Baha'i Hanging Gardens are the world's largest. The United Nations Educational, Scientific and Cultural Organization named this landmark a World Heritage Site in 2008.
The Baha'i Shrine, with its glittering gold dome, is one of the holiest sites of the Baha'i religion. This landmark is a pilgrimage site for many of the Baha'i faith. Take a stroll through the immaculate gardens and admire the shrine's architecture. Be sure to visit the Sculpture Garden and take in the striking views of the bay.
8. Mount Carmel
Mount Carmel is accessible from Haifa, about a 10-minute drive. This mountain ridge houses historic sites like Elijah's Cave and several modern towns. One of the best places to visit near Mount Carmel is Carmel Winery, where travelers can take a tour and sample the wines and artisanal cheeses.
Another excellent stop is the Mount Carmel National Park and Nature Preserve. This park's rich biodiversity earned it a spot as a UNESCO Biosphere Reserve. Mount Carmel National Park offers winding hiking and biking trails with periodic scenic outlooks to take in the views of the upper Galilee region. Driving through the villages of this area gives travelers an experience of local artisans.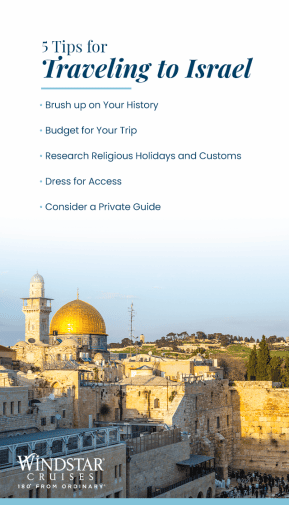 5 Tips for Traveling to Israel
As you plan your Holy Land cruise, remembering a few travel tips can help make your trip the best it can be.
1. Brush up on Your History
Even if you aren't a history buff, doing your due diligence before arriving in Israel makes the experience much more enriching. Several cultural groups have made their home in Israel, going back to the time of Abraham.
Spend a few days researching the area's history, so you know what you're looking at when you visit. Learn about the religious, cultural and secular sites.
2. Budget for Your Trip
When deciding how much money to take on a cruise, your destination and the excursions you plan to take all make a significant impact. Israel is no different.
Dining and shopping in Israel may be more expensive than in other locations. However, since a Holy Land cruise provides sleeping accommodations and some meal options, you may be able to spend more on other aspects of your Israel trip. Plan which activities you want to do and consider that some sites may have entrance fees. You may want to bring cash for tips and meals, but it's best to use a card for most transactions.
3. Research Religious Holidays and Customs
Many shops and even public transportation in Jerusalem close on Friday evening for the Jewish practice of Shabbat. This highly valued celebration begins at sundown on Friday and ends at sunset on Saturday. Israeli people also observe other religious holidays, and researching these ahead of time can help you decide where to spend the day.
4. Dress for Access
Expectations for dress in Israel vary by location. For example, Jerusalem's religious atmosphere has led many sacred sites to require "modest" clothing that honors the area's solemnity. On the other hand, you might find Haifa's secular nature more relaxed.
In Jerusalem, restraint should characterize clothing choices. Avoid shorts, which religious sites often do not allow. If you plan to wear a skirt, its hem should fall at least to your knees. Keep your shoulders and upper arms covered. Look for travel clothes that meet these standards while providing breathability in Israel's hot climate.
5. Consider a Private Guide
Renting a car in Israel's larger cities can be nerve-wracking. Public transportation is widely available, but hiring a private guide may be a better option for a cruise ship traveler. This local expert may help you avoid crowds and narrow streets and make it back to your ship on a tight deadline. A private guide can also provide more information about famous landmarks and help you maximize your time.
Experience Israel With Windstar Cruises
A cruise to the Holy Land promises a rich experience full of gorgeous gardens, fantastic food and sites full of cultural and religious significance. From the tranquility of ancient ruins to the hustle and bustle of Jerusalem's modern markets, Israel's unique heritage provides an experience you can't find anywhere else. With some advanced research and planning, a cruise to Israel will amaze and inspire you as the region has thousands of others for generations.
At Windstar Cruises, our crew cares about making your experience the best it can be, providing unfailingly attentive service at all times and helping you plan a memorable trip. Our small, elegant ships carry fewer than 310 travelers, so you can escape the crowds and explore Israel intimately in comfort. This immersive approach brings you closer to your destination and the characteristics that make it outstanding. To plan your cruise to the Holy Land, contact Windstar Cruises today.