A solo cruise is an amazing way to travel, whether you're looking to see the world, get away from it all or meet new people! Before you dive in, though, there are a few things you'll want to know.
A solo cruise is slightly different from a cruise with someone else and calls for a different mindset. If you know what to expect, cruising by yourself can be everything you want and more.
In This Article
5 Benefits of Cruising Solo
Let's start by going over what makes a solo cruise so enticing. Here are just a few of the reasons why people choose to cruise alone.
1. It's a Safe Way to Travel
While you may be traveling alone, with fellow travelers and crew around, someone is always nearby if you need help or company. Many people are nervous about solo travel because it puts them in an unfamiliar place without a support system. Cruising solves this problem.
2. You'll Get Some Alone Time
Solo traveling means it's finally "you" time. You set your schedule, so go wild sleeping in, eating delicious meals and deciding if you want to work it off or not — no one is judging! Attend a wellness seminar or cooking class, go on a shore excursion, get on a complimentary paddleboard while visiting a new port or simply lay by the pool and read that book you've been putting off. It's all about you.

3. You Can Rediscover Yourself
If you are like most people, you probably work 40+ hours a week, have pets or a family to care for and might not use your vacation time each year. Solo traveling is a unique opportunity. Take this time to remember what you like to do, what invigorates you and what brings you joy. Use the time to rediscover yourself.
4. It's a Great Way to Make New Friends
Whether you have a few close friends or a wide social circle, a cruise is a great time to make new connections. On a Windstar Cruise, you travel with fewer than 350 guests, so you can be alone when you want and have company when you feel like it. However, you will quickly find yourself meeting people every day and making friends every step of the way — if you want to, of course.

5. You'll Get Tons of New Experiences
Traveling alone makes you evaluate and appreciate what's really important to you. You'll discover places you want to revisit, learn what you like and what you don't and likely return home with a new understanding, ready to plan your next adventure.
What to Know About Cruising Solo
If you're thinking about taking a cruise solo, you'll want to keep a few things in mind:
You might get a few odd looks: Not everyone understands the value of traveling alone. Some people may think you'll have less fun without a travel companion. Of course, that's not true. Try teaching them something new and showing them the benefits of traveling solo. Who knows? Maybe you'll open up the world of travel to someone whose friends can never coordinate their vacation time.
You may need to get ready to break the ice: If you want to make friends and are usually a little shy, get ready to break out of your shell a bit. You might need to put yourself out there or attend activities outside your comfort zone. Trust us — once you do it a few times, it'll get easier. Plus, everyone's there to have fun! You might be surprised at how friendly your fellow passengers can be.
You can stay solo if you want: On the other hand, it's okay if you just want to enjoy time to yourself. There are plenty of ways to relax on your own, like finding a quiet lounge or cafe.
You'll likely need to pay a single supplement: A single supplement is an additional fee you pay for using a double-occupancy stateroom as a solo cabin. This supplement can nearly double your cost on some cruise lines, but at Windstar Cruises, we believe you should be able to travel alone without breaking the bank. We offer reduced single supplements as low as 20% of the voyage cost.
Tips for Cruising Solo
A few little tweaks can take your cruise experience from nice to amazing. Here are our tips for going on a cruise by yourself.
1. Socialize at Dinner
Meals are the perfect backdrop for socialization. Opting for an assigned seat that puts you at the same table every night is a great way to get past the initial "getting to know you" phase. As you see familiar faces across the ship, you'll start to build stronger relationships. You can catch up with your fellow passengers over dinner every night. If you're on Windstar, those conversations will happen over meals created by some of the most talented chefs in the industry.
Try to choose a large table. Some people will end up dining at other places throughout the trip and a larger table gives you a better chance of always having a dining companion.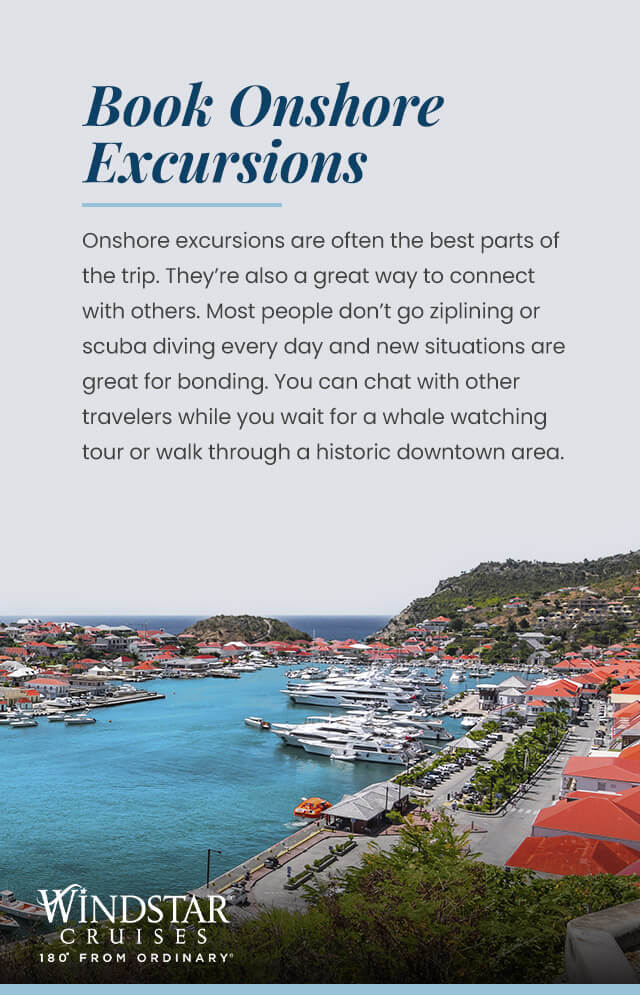 2. Book Onshore Excursions
Onshore excursions are often the best parts of the trip. They're also a great way to connect with others. Most people don't go ziplining or scuba diving every day and new situations are great for bonding. You can chat with other travelers while you wait for a whale watching tour or walk through a historic downtown area.
Some people are comfortable diving into new settings on their own, but others may find it intimidating. Excursions are also a safer way to explore. You're surrounded by other travelers from your ship and a guide to stick with you throughout the day. They'll help ensure that you end up back on your ship when it's time to set sail again.
3. Look for Solo Traveler Events and Activities
There's so much to do on a cruise ship, some specifically geared toward solo travelers or even singles. Keep an eye out for mingling events like brunches or parties.
Don't forget about the power of social media, either. Try searching the name of the ship you'll be on and see if you can find a Facebook group for your cruise. You can make a few friends beforehand and have some built-in contacts. Many of these groups will hold meetups — if you don't see one, you can set it up yourself! If you want to avoid the single supplement, social media can even help you meet up with potential roomies.
4. Choose Your Ship and Voyage Carefully
Your destinations and the ship you take are both vital to creating a stellar solo cruise. The route needs to fit your travel style. Do you want to go on new adventures, dig into international history or just sit back on a beach with a margarita? Look for a voyage that scratches that itch.
For example, our Northern Europe trips are great for exploring quaint old cities and fascinating, centuries-old cultures. You could sail through Spain, Iceland, Ireland, the Netherlands and so much more. If you're looking for something that gets the blood pumping, try an adventurous trip along the Alaskan coast or Costa Rica, where you can take excursions to go kayaking, explore a glacier or zipline around a volcano. And if you'd rather relax, the options are endless — go for a classic like Tahiti or the Caribbean or try a themed cruise that gives you a window into something you love, like food or the Monaco Grand Prix.
The other crucial part of your trip is the cruise ship you take. Many cruise lines pack thousands of passengers onto each ship, meaning your trip is jam-packed with people. Whether you want to make new friends or just relax on your own, consider a boutique ship. You'll get a more intimate, immersive experience and have a better chance of seeing the same folks around the ship. A smaller yacht also means you can access unique ports and places that the big ships just can't get to.
Why Choose Windstar for a Solo Cruise
Windstar is the ideal cruise line for solo travelers. We pride ourselves on our smaller ships, which usually carry around 250-300 passengers, a far cry from the 3,000+ on big cruise ships.
Our yachts give you the chance to connect with your fellow passengers and crew. You'll probably encounter familiar faces during the trip as you enjoy close-knit excursions like snorkeling or wine tastings. And if you want to keep to yourself, avoiding big crowds is easy.
While the other cruise lines might charge you double the price because you're traveling alone, we make single supplements affordable — for many voyages, they're as low as 20%. With that, you'll get a beautiful stateroom all to yourself along with everything that Windstar has to offer, including:
An amazing selection of cocktails and drinks.
World-class culinary experiences created in partnership with the James Beard Foundation.
All-inclusive packages for just $79 per day.
Guided tours to immerse you in the local culture and explore new places.

Plan Your Solo Cruise Today
Being on your own should never stop you from seeing the world and treating yourself to a great experience. Windstar offers a welcoming, intimate environment for meeting people, going on adventures and doing whatever else your dream cruise entails. Ready to hop on board? Check out our cruises to find one that speaks to you, or reach out to us with any questions!