Cruise vacations offer adventure and relaxation, promising unforgettable memories. One of the secrets to an impeccable voyage lies in timing — selecting the perfect moment to set sail. Each region offers different adventures, from the sun-kissed Caribbean to the historic Mediterranean. There isn't necessarily a best month to go on a cruise, but there are factors to consider to determine your best cruise time. Let's explore the best times to go on a cruise and have the ultimate vacation experience. 
In This Article
Understanding Cruise Seasons
Knowing travel terminology can help you understand when to book your vacation and where to go. Here are a few phrases to learn:
Peak season: Peak season is the prime time to go on vacation. Usually, peak season is aligned with school vacations and popular holidays, and there is a surge in demand. With sunny skies and busy ports, traveling during peak season promises vibrant energy at the cost of crowds and higher prices.
High season: As the peak season rush begins to wane, the high season takes the stage. This period offers a balanced blend of comfortable weather and manageable crowds. While prices might still be high, the experience remains enjoyable.
Shoulder season: Vacationers can save money by traveling during the shoulder season between high and low seasons. Shoulder season offers a chance to experience locations with fewer people and pleasant weather.
Low season: Low season beckons those who seek tranquility and savings. The attraction is fewer crowds and lower prices, but the weather may be challenging.
Booking during shoulder seasons often yields better rates. Spring and fall are popular shoulder seasons in various regions. This time offers a blend of favorable weather and fewer crowds. However, booking a cruise during peak seasons may be well worth it to enjoy the best weather. Additionally, traveling on a yacht-style cruise means you can enjoy a more intimate and less crowded experience during any season.
Best Time of Year to Go on a Cruise
The best time of year to go on a cruise depends on the location you want to visit. Consider the following destinations and the best times of year to explore them on a cruise.
When to Go on a Caribbean Cruise
Visiting the Caribbean from December to April offers wonderful weather and a lively atmosphere. Here's what you can expect when traveling to the Caribbean during different seasons:
Winter: If you live in an area with harsh winters, you may want to head to the Caribbean islands for a warm escape. The peak season for travel to the Caribbean starts in early December because of the holidays. If you want a less crowded experience, you can wait to embark on your journey until January or February.
Spring: Spring is part of the dry season in the Caribbean, making it an excellent time to board a ship. Additionally, spring break makes March to April an optimal travel time for many. The weather during the springtime is also perfect!
Summer: Summer marks the start of the rainy season in the Caribbean. However, many people travel during the summer because school is on break. You may experience pop-up storms if you travel to the Caribbean during this time, but when these storms pass, the weather goes back to beautiful.
Fall: Hurricane season is primarily in the fall. However, many islands — especially those further south — are not affected by storms. Additionally, many cruise lines offer significant savings during the fall since fewer people want to set sail.
The Caribbean is a paradise of tropical beauty, ideal for those who love beaches and warm weather. The Caribbean's allure lies in its captivating diversity. Each island is a microcosm, ranging from bustling markets to secluded beaches. The inviting atmosphere of colors, flavors and sounds creates a memorable journey.

When to Go on a Mediterranean Cruise
The Mediterranean's allure is undeniable, casting a spell on all who seek its embrace. This area has a variety of cultures and has beautiful scenery. Every spot has a story to tell. Choosing the time of year for your Mediterranean cruise depends on several factors:
Winter: When winter rolls in, the temperature drops and makes things pretty chilly. If you don't mind cold weather and occasional rain showers, you can head to the Mediterranean from November to April. There's still much sunshine to be had, and there will be fewer people, so you can have a more peaceful experience.
Spring: The transition from winter to spring means warmer temperatures and more sun. If you're thinking of cruising, this is the jackpot time. Countries like Morocco, Greece and Malta are incredible destinations. For the ultimate peaceful Mediterranean cruise, mark your calendar for May to June.
Summer: July to August is also an exceptional time to cruise to the Mediterranean region. Beaches are buzzing with tourists, and the weather's hot and sizzling. The summertime means hot days, warm waters and hordes of folks flocking to the coastline.
Fall: September and October offer a comfy autumn atmosphere. The weather's still warm, the skies are clear and the scene is pleasant. It's another sweet spot for visiting the Mediterranean. You can explore the region among fewer people.

When to Go on a Cruise of the United Kingdom
Cruising the U.K. offers a journey through history and an exploration of captivating landscapes. Deciding when to cruise to the United Kingdom depends on several elements:
Winter: There's a unique charm to cruising through the U.K. during the winter. From November to February, you can enjoy a quieter side of the U.K., with fewer tourists and a cozy atmosphere. While the weather might be chilly, it's also the perfect excuse to enjoy hot tea or mulled wine while cruising past iconic landmarks. Be sure to pack your winter coat and a sense of adventure.
Spring: Spring is a fantastic time to set sail. Think of blooming landscapes, lively cities and a cool breeze. From March to May, the weather starts to shake off its winter coat, and you'll find the perfect balance between warmth and avoiding the summer crowds. Whether you're exploring London or the stunning Scottish coast, a springtime U.K. cruise promises pleasant days and fewer tourists.
Summer: The United Kingdom comes alive with energy from June to August. It's the peak cruise season — and for good reason. The temperatures rise, the sun emerges and the cities and countryside alike are abuzz with activities.
Fall: As the U.K. bids farewell to summer, autumn steps in gracefully. September to October brings a touch of golden hues to the scenery and briskness to the air. It's a wonderful time to embark on a cruise if you want a quieter, more contemplative experience. The summer crowds have thinned, yet the weather remains fairly pleasant.
When to Go on an Australia and New Zealand Cruise
Take a cruise in the Southern Hemisphere and explore the beauty of Australia and New Zealand. Here's what you need to know:
Winter: June to August marks winter in Australia and New Zealand. While these countries might not be synonymous with a winter wonderland, there's something magical about the crisp air and quieter ambiance. Explore vibrant cities like Sydney and Melbourne or discover Fiordland National Park.
Spring: Springtime — from September to November — is a fabulous time for an Australia and New Zealand cruise. There are blossoming landscapes and mild temperatures. A spring cruise promises the perfect mix of pleasant weather and captivating sights without the summer crowds.
Summer: As the Northern Hemisphere heads into winter, Australia and New Zealand are just getting started with summer. From December to February, the sun-soaked season peaks, giving you warm days and ample daylight. It's prime time to embark on a cruise, with the Great Barrier Reef and New Zealand's landscapes calling you to explore.
Fall: Fall quietly arrives from March to May. The temperatures are mellow, and the landscapes showcase a rich tapestry of warm hues. This is your window if you're after a relaxed cruise experience. The tourist rush has waned, allowing you to immerse yourself in the cultures and natural wonders.

When to Go on a Cruise of the Middle East
The cooler months, spanning from November to April, are the best times for Middle East cruises. During this period, temperatures are milder, making exploration comfortable and enjoyable. Here are a few things to consider when planning your cruise:
Winter: December to February brings winter to the Middle East. While it might not be as frosty as other regions, the weather is milder and more comfortable for exploration. It's an excellent season for a cruise, especially if you prefer to avoid extreme heat and larger crowds.
Spring: Spring is a splendid time to set sail. From March to May, there are milder temperatures and blossoming landscapes. Whether you're exploring the ancient wonders of Egypt or the modern marvels of Dubai, spring offers a comfortable climate for your voyage. It's an ideal window to experience the Middle East's rich history and vibrant culture without the scorching summer heat.
Summer: The Middle East heats up as the calendar flips to June through August. While this is the peak of summer and the high season, it's also when the desert sun can be quite intense. If you're up for the heat and want to explore iconic cities like Abu Dhabi or soak in the beauty of the Red Sea, summer might be your go-to.
Fall: With the arrival of September to November, the Middle East starts to cool down from the scorching summer. It's a fantastic time to embark on a cruise, as the temperatures become more manageable and the tourist crowds begin to thin.

When to Go on a Cruise in Asia
Take a journey of exploration that unveils modern marvels and ancient customs. Here's what to expect when cruising Asia:
Winter: December to February marks winter in Asia, characterized by milder temperatures. It's a wonderful time for a cruise, particularly if you prefer cooler weather. This is a chance to discover the region's attractions without the summer hustle. From the bustling streets of Hong Kong to the tranquil beauty of Vietnam, a winter cruise in Asia offers a different perspective on these captivating destinations.
Spring: Spring, from March to May, is a fantastic time to embark on your adventure. As cherry blossoms bloom and temperatures rise, the continent comes alive with vibrant energy. Spring offers a delightful climate and a chance to witness the region's cultural festivities without the intensity of summer.
Summer: From June to August, you may experience tropical heat and monsoon rains. It's the peak of the summer, which means bustling tourist spots and some rainfall. This could be your ideal time if you're ready to brave the humidity and enjoy beachside escapes in places like Thailand or Bali. Just remember your umbrella!
Fall: As September to November approaches, Asia experiences a shift in climate. The scorching summer temperatures give way to more moderate conditions, making it a prime time to go on a cruise.

When to Go on an Alaskan Cruise
Cruising in Alaska means experiencing rugged beauty and untamed nature. Here are a few elements to consider when cruising to Alaska:
Spring: May to early June is a captivating time to cruise in this breathtaking region. The landscape bursts into life with blooming wildflowers and snow-capped mountains. From spotting migrating whales to witnessing glaciers calving into the sea, spring offers a unique spectacle. It's a prime opportunity to experience the Last Frontier before the peak tourist season.
Summer: Lasting from late June to August, this is the prime time for an Alaskan cruise. The days are long, the weather is milder and wildlife is full of force. From the Inside Passage to Denali National Park, summer is your ticket to witnessing iconic landscapes and catching glimpses of grizzlies. This is the high season, so expect more fellow travelers along the way.
Fall: As September arrives, fall casts its golden hues upon Alaska. The season lasts until early October, bringing magic to the scenery. The summer crowds have thinned, but the beauty of the landscape remains. It's a fantastic time for a more serene and reflective cruise. Marvel at the Northern Lights or hike through the vibrant autumnal forests.
Winter: For those seeking a unique Alaskan adventure, November to March presents a snow-covered wonderland. While cruise options are limited during this time, you can explore the coastal towns and partake in winter sports. Be prepared for chilly temperatures and to experience Alaska's quieter side.

When to Go on a Cruise of Mexico and Central America
Cruising through Mexico and Central America introduces you to tropical beauty and rich cultures. From Mexico's bustling markets to Central America's archaeological wonders, here's what you have to look forward to:
Spring: March to May is an ideal time to embark on this journey. With warm temperatures and a vibrant atmosphere, the region comes alive. From exploring ancient Mayan ruins to indulging in the coastal beauty of Mexico's beaches, spring offers a comfortable climate for your voyage.
Summer: The heat is on in Mexico and Central America from June to August. This is the peak of summer, bringing sunny days and balmy nights. This could be your prime time if you're all about embracing the warmth and experiencing lively energy.
Fall: As September to November arrives, the tropical region experiences its rainy season. While this might not be the most popular time for a cruise, it does have its charms. The landscape is lush, the crowds have thinned and you might get great deals. Fall offers a more tranquil and budget-friendly cruise option.
Winter: December to February brings cooler, drier months to Mexico and Central America. It's a splendid time to explore. You can discover the stunning beaches of Mexico or Honduras's archaeological wonders without the intense summer heat.
Tips for Timing Your Cruise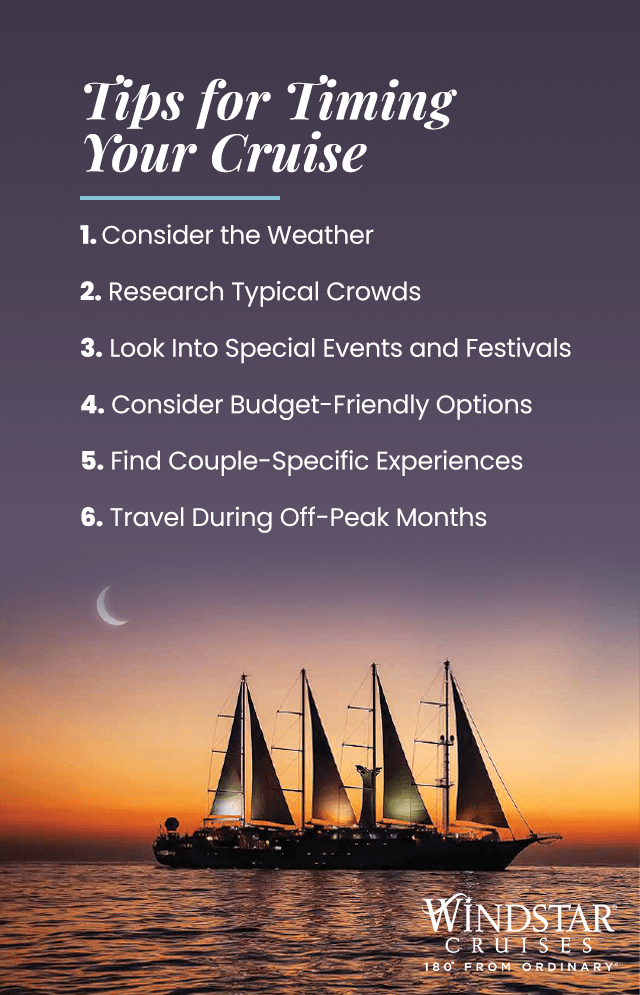 Timing your cruise is a strategic art that can impact your voyage experience. From ideal weather conditions to avoiding peak crowds, choosing the right time to set sail can transform your cruise into an unforgettable adventure. Here are some valuable tips to help you navigate the world of cruise timing:
1. Consider the Weather
Weather, a steadfast companion on any voyage, holds the power to elevate or dampen the cruise experience. The idyllic image of a sunny deck or the enchantment of exploring a port city can be influenced by Mother Nature's whims. Understanding the climatic changes of your destination is vital in enjoying your trip. Researching historical weather patterns helps set realistic expectations for your voyage and reveals how you should pack.
The connection between weather and destination exploration is profound. Sunshine can boost the enjoyment of beaches and outdoor attractions. Then again, cooler temperatures provide a more pleasant experience for city tours. Considering the weather when planning shore excursions makes for an amazing experience.
2. Research Typical Crowds
Opting for a cruise during shoulder or low seasons can transform your journey into a more intimate and enjoyable experience. You'll encounter fewer tourists, shorter lines and a more relaxed ambiance during these times. Avoiding peak crowds enhances your ability to explore destinations. Popular attractions, restaurants and local experiences are more accessible, allowing you to immerse yourself in the culture without the hustle and bustle.
3. Look Into Special Events and Festivals
Timing your cruise to coincide with local festivals and events can add extra excitement to your voyage. From Carnival in Rio de Janeiro to the Lantern Festival in Taiwan, participating in these celebrations offers a unique window into a culture's traditions and customs. Festivals infuse destinations with vibrant colors, music and energy. They provide opportunities to engage with locals, witness traditional performances and savor authentic cuisine that might be unavailable during other times.
4. Consider Budget-Friendly Options
Timing can influence cruise prices. Peak seasons often come with higher costs due to increased demand. If you're looking for options, consider cruising during shoulder or low seasons. Many cruise lines offer discounted rates during these times. Watch for special promotions, early booking discounts and last-minute deals. Subscribing to newsletters from cruise lines can help you find cost-effective options.
5. Find Couple-Specific Experiences
Families often align their cruise timing with school breaks like summer vacations or holiday breaks. Couples seeking a more romantic and tranquil experience should consider off-peak times. These periods allow more opportunities for couples to enjoy quieter moments onboard and explore destinations in a more serene setting.
6. Travel During Off-Peak Months
Cruising during less-traveled months offers a unique chance to enjoy destinations without crowds. Imagine strolling through historic streets or lounging on pristine beaches with ample space. The serenity of off-peak months allows for a deeper connection with the destination and your fellow travelers. You'll have more time to engage with locals, savor authentic experiences and create memories.
Embark on Your Perfect Voyage With Windstar Cruises
Windstar Cruises offers a unique way to explore the world. Smaller ships with a personal touch offer an exceptional sailing experience where guests can get close to the stunning destinations they visit. They can also enjoy a variety of excursions to explore each destination's culture, history and beauty.
With Windstar Cruises, you can experience the world in a new light. Let Windstar Cruises guide you to unlock the world's most stunning destinations. Explore our website for cruise options and expert guidance to make your cruise dreams a reality. Please reach out to us today and set sail into a world of limitless exploration!